05 November 2015
Introducing our newest Digital Curator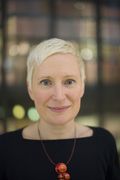 Hi! I'd like to introduce myself. I'm Mia Ridge, the newest Digital Curator in the British Library's Digital Scholarship team. The Digital Scholarship Department works to enable innovative research based on the British Library digital collections, which is an exciting, but almost dauntingly open-ended task! Luckily I'll be working alongside Nora McGregor, Stella Wisdom, Aquiles Alencar Brayner and Neil Fitzgerald in the Digital Research team, and working closely with the Western Heritage Collections teams (which includes printed, manuscript and archival resources from Britain and the wider world).
I'd been working with the Digital Curators team for a while as I taught two of the workshops on the Digital Scholarship Training Programme ('Data Visualisation for Analysis in Scholarly Research' and 'Crowdsourcing in Libraries, Museums and Cultural Heritage Institutions') since its inception, but the view from inside an institution is always different. Since I started here, I've been struck by the scale of the Library's collections. It's not only the number of items - 150 million or so - but their variety. The Western Heritage Collection alone includes manuscripts in Western languages from 300 B.C.E to 1950, maps from 1400 to the present, printed and manuscript music, antiquarian printed books and periodicals, bookbindings, philatelic collections and prints and drawings. Some of these have been digitised for various projects over the years, and one of the challenges is making sure that  digitised collections are available via the Library's website and other places as appropriate for different uses.
Before I joined the library, I'd completed a PhD in digital history/digital humanities (Department of History, Open University). Prior to that I was Lead Web Developer at the Science Museum Group, and had previously worked at the Museum of London and Melbourne Museum, as well as having several residencies and fellowships at various other universities and cultural institutions. I submitted my thesis 'Making digital history: The impact of digitality on public participation and scholarly practices in historical research' over the summer, and my role here is a neat continuation of that interest in digital scholarship.
I'm also interested in crowdsourcing, user experience design and research, participatory history and open cultural data. In addition to the nuts-and-bolts of making digitised material more accessible to researchers and working with various teams to help the Library understand the future needs of digital scholars, I'm currently wondering about the applications of machine learning and data mining in generating contextual information and new forms of knowledge, particularly in conjunction with crowdsourcing/online volunteering.
Given the scale of the collections, it will take me some time to understand the stories behind the them (as BL Labs colleague Mahendra Mahey puts it), but if you've got ideas for the British Library's digital collections, get in touch! You can email [email protected], or get in touch via twitter - I'm @mia_out and we use #bldigital to keep track of conversations across twitter.
Posted by Mia Ridge