24 November 2011
Digitised Manuscripts 500 landmark
The British Library's Digitised Manuscripts was launched on 27 September 2010. Just over a year on, we have now published online and in its entirety our 500th item.
The most recent upload comprises another 75 Greek manuscripts (approximately 26,000 images), ranging in date from the 9th century to the 18th century. Items in Greek currently constitute by far the greatest part of Digitised Manuscripts, and we hope that, by digitising these manuscripts in full, and by providing enhanced descriptions, we have revolutionised access to this hugely important resource. We are extremely grateful to the Stavros Niarchos Foundation for its generosity and foresight in funding this project.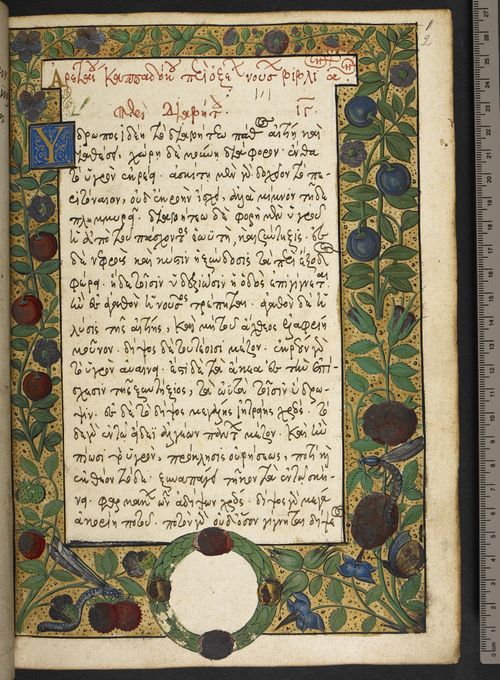 Aretaeus, De curatione diuturnorum morborum, Book II, 16th century: London, British Library, MS Harley 6326, f. 2r
Digitised Manuscripts at present contains images of 508 items from the British Library's wide-ranging collections, including the Lindisfarne Gospels, a Bach autograph, Civil War papers, India Office records, and Thai astrological drawings. Apart from our Greek manuscripts, more medieval content, comprising scientific books in Latin and various western European vernacular languages, will be published to the site in the coming months.
A full list of the recent Greek upload is given below. Among the highlights are a 9th century copy of Basil of Caesarea's In Hexaemeron, a 16th century volume of Psalms and Proverbs in English, Latin, Hebrew and Greek, works of St John Chrysostom and St Basil of Ancyra dating from the 11th century, and a copy of Homer's Odyssey dating from 1479.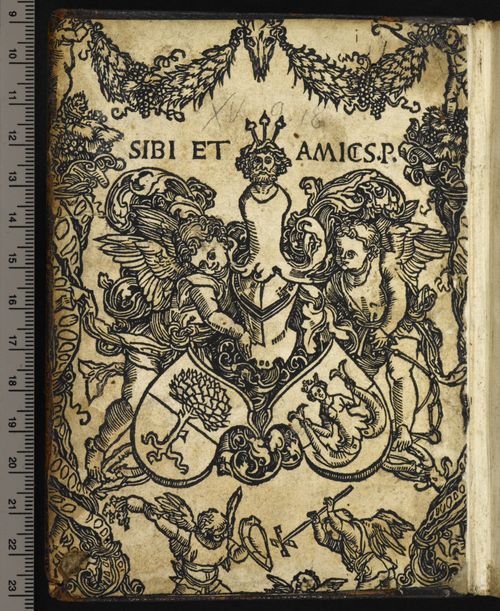 Aristophanes, Plutus and Nubes, 15th century: London, British Library, MS Arundel 530, inside front cover
| | |
| --- | --- |
| | Appian of Alexandria, Historia Romana, 16th century |
| | Greek-Latin dictionary, 17th century |
| | Georgios Boustronios, Chronicle of Cyprus, 16th century |
| | Works of Hesiod and Euripides, 1489 |
| | Constantine Manasses, Chronicle, 1312–1313 |
| | Four Gospels, 11th century |
| | Letters of Phalaris, 1470 |
| | Manuel Chrysoloras, Erotemata, 15th century |
| | Compilation for Makarios, Bishop of Helicz, 15th century |
| | Aristophanes, Plutus and Nubes, 15th century |
| | Basil of Caesarea, In Hexaemeron, 9th century |
| | Works of Theodoros Balsamon, 14th century |
| | Theophylact of Bulgaria, Commentary on the Letters of Paul, 14th century |
| | Ascetic works of Isaac the Syrian, 14th century |
| | Medical tracts, 15th century |
| | Hippocratic works, 15th/16th century |
| | Euripides, Hecuba, Orestes and Phoenissae, 15th century |
| | Grammatical works of Hermogenes, 15th century |
| | St John Chrysostom, In Ioannem, 14th century |
| | Thucydides, Peloponnesian War, 15th century |
| | Works of Theodoret of Cyrrhus and Palladius of Helenopolis, 16th century |
| | Elements of Euclid, 16th century |
| | Sermons of St Gregory of Nazianzus, 11th century |
| | Letters of Ephraim Pagitt, 1635 |
| | Extracts from the Psalms and St Paul, 1623 |
| | Cassianus Bassus, Geoponica, 16th century |
| | Collection of Hymns and Epigrams, 15th century |
| | Collations of the Greek Bible, c. 1640–1659 |
| | Psalms and Proverbs in English, Latin, Hebrew and Greek, 16th century |
| | Works of Philipp Melanchthon and others, 17th century |
| | Extracts from Greek and Latin authors, 17th century |
| | Anonymous commentary on the Apophthegmata, 16th century |
| | Psalter, 12th century |
| | Tetrastichs on the New and Old Testaments, 16th century |
| | Kekragaria, with late Byzantine notation, 17th century |
| | Plato and Aristides, 15th century |
| | Extracts from Plato, 16th century |
| | Polybius, 'Excerpta Antiqua', 16th century |
| | Psalms and Odes, 15th century |
| | Greek Lexikon, 13th century |
| | Heron of Alexandria, 16th century |
| | Photius, Bibliotheca, 16th century |
| | Collection of fragments, 15th/16th century |
| | Heron of Alexandria, Pneumatica and De automatis, 16th century |
| | Liturgies, 15th/16th century |
| | Hephaestion, Enchiridion de metris, c. 1453–1470 |
| | Chronicle of Constantinople, 1555 |
| | Nectarius, Patriarch of Jerusalem, Περὶ τῆς ἀρχῆς τοῦ πάπα ἀντίρρησις, 1672–1682 |
| | Plutarch and Philostratus, 16th Century |
| | Patristic miscellany, c. 1600 |
| | Patristica, 16th century |
| | Psalter, 15th century |
| | Letters of scholars, 17th century |
| | Grammatical extracts from Herodian, Tryphon, 15th century |
| | Homer, Odyssey, 1479 |
| | Olympiodorus, Commentary on Plato's Gorgias, 16th century |
| | Nicetas, Metropolites of Heraclea, Catena on the Psalms, 17th century |
| | St John Chrysostom and St Basil of Ancyra, 11th century |
| | Four Gospels, 15th century |
| | Grammatica, 15th century |
| | Porphyrius, De abstinentia, 17th century |
| | Michael Glykas, Letters, 1595 |
| | Priscian, Psellus, Adamantius, Themistius, 15th century |
| | Euripides, Hecuba, Orestes and Phoenissae, 16th century |
| | Greek-Latin dictionary, 17th century |
| | Galen, c. 1500 |
| | Johannes Stobaeus, Anthology, Books 1 and 2, 16th century |
| | Lycophron, 16th century |
| | Ovid, Hesiod, Oracula Sibyllina, 15th century |
| | Aretaeus, 16th century |
| | Extracts from J. G. Graevius, Thesaurus Antiquitatum Romanarum, 1697–1698 |
| | Chrysoloras, 15th century |
| | Epitome of Livy, Greek glossary, 15th century |
| | Constantine Lascaris, Grammar, 16th century |
| | Miscellaneous correspondence of John Covel, D.D., 1672–1711 |