06 December 2011
Apocalypse Now
A casual glance at the current list of best-selling books reveals that cookery, biography and natural history whet the modern appetite. Modern readers can learn about global warming, 20th century warfare and vegetarian cooking, while simultaneously reading Gangsta Granny to their children.
In medieval England, in contrast, illustrated copies of the Apocalypse (the book of Revelation) were amongst the most popular books. The manuscripts in question are richly illustrated, with the text supplying captions to the images. Most of the surviving copies are in French (the language of the English aristocracy of the time), which suggests that they were intended for a wider audience than if they had been written in Latin.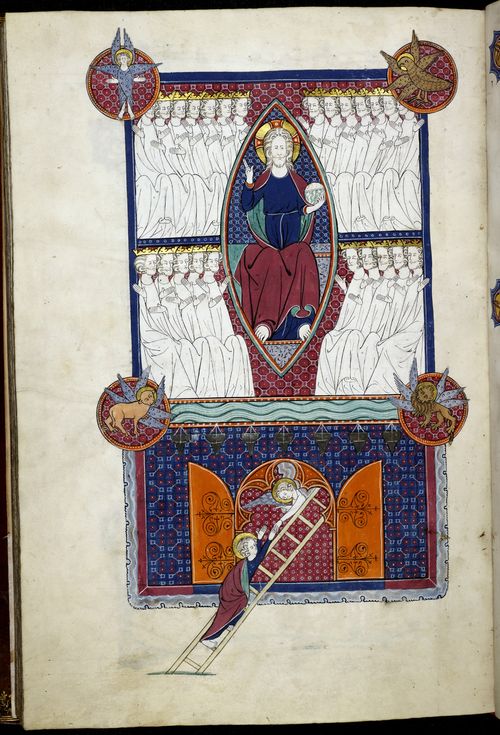 Miniature of Christ enthroned with the twenty-four elders and, in the lower register, the door opened in Heaven, illustrating Revelation 4:2-9: Royal 15 D. ii, f. 117v
Royal 15 D. ii is one such illustrated Apocalypse, made in England during the 14th century. Its original owner is unknown, but by 1430 it was included in an inventory of the books of Leo, 6th Baron Welles (d. 1461). Leo's son, John, Viscount Welles (d. 1499), married King Edward IV's daughter Cecily (d. 1507) in 1488; and Cecily clearly used this Apocalypse, since her name (subsequently erased) is found at the front of the book. The Welles estates were seized by Henry VII (r. 1485-1509), and the manuscript may have become part of the Old Royal Library at this time.
Typically Apocalypses have large illustrations, either running along the upper portion of each page or, as in this manuscript, integrated within the text. The biblical verses are highly abridged, and are coupled with simplistic commentaries. This points to an aristocratic lay audience, who may have derived as much pleasure from the images as from the text itself.
This beautiful manuscript and many others are featured in our exhibition Royal Manuscripts: The Genius of Illumination (11 November 2011-13 March 2012).