30 December 2011
The First View of London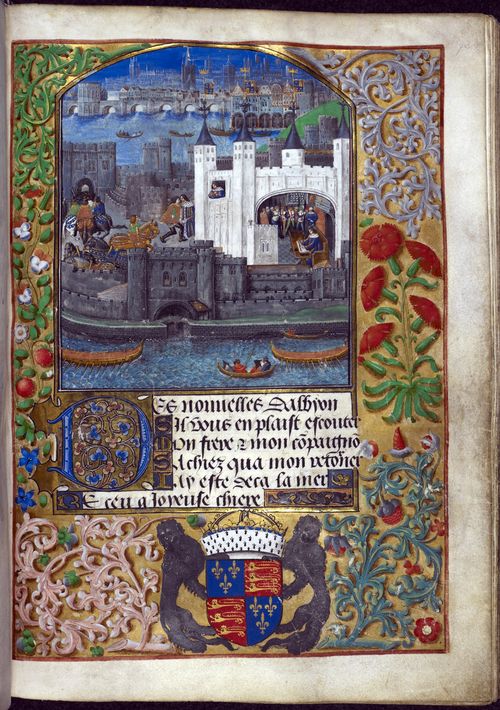 A view of London with the Tower of London, and Duke Charles d'Orléans writing in the Tower, Bruges, c. 1483 (this image) with later additions, c. 1492 – c. 1500: Royal MS 16 F. ii, f. 73
This extraordinary image is justly famous as the earliest-known topographically accurate depiction of London. It is found in Royal 16 F. ii, a collection of the poems of Charles, Duke of Orléans (d. 1465), and accompanies the verses Des Nouvelles d'Albyon (News from England). Charles had been captured at the battle of Agincourt (1415), and spent the next twenty-five years in England, part of the time imprisoned in the Tower of London, where he composed these poems.
Royal 16 F. ii is one of the splendid manuscripts on view in the exhibition Royal Manuscripts: The Genius of Illumination. The Tower is visible prominently in the foreground of this image, and within it Charles is shown pen in hand. Perhaps he is writing the poem copied on this page, addressed to his cousin Philip the Good, Duke of Burgundy (r. 1419-1467), who ultimately paid Charles's ransom.
Charles's poems were disseminated widely, this lavish copy including a selection of his verses about politics or romance. The presence in the book of the arms of England, supported by emblems such as the Yorkist white rose, suggests that this was one of the large-scale manuscripts intended for King Edward IV (1461-1483). Interestingly, this is the only one of Edward IV's manuscripts that is not a work of history.
The book was apparently unfinished at Edward's death, but the rest of the decoration was completed for King Henry VII (r. 1485-1509), whose arms were added to the border around the first large image.