07 January 2012
Illuminations: The Private Lives of Medieval Kings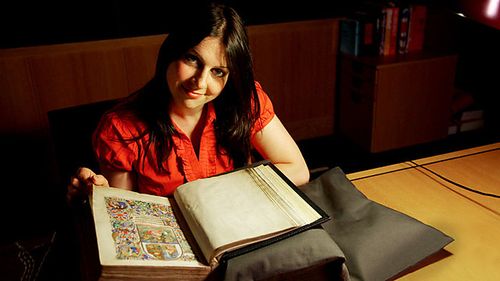 Dr Janina Ramirez in the British Library. Photo courtesy of Oxford Film and Television
Dozens of medieval manuscripts from the Royal and other British Library collections will be featured in a television series to air on BBC Four, beginning next week.  Presented by art historian Dr Janina Ramirez, Illuminations: The Private Lives of Medieval Kings is a three-part series examining in detail what these manuscript treasures can reveal about the hidden lives of England's monarchs. 
The series was produced as part of The British Library's ongoing collaboration with the BBC, and in conjunction with our exhibition of manuscripts from the Royal collection.  Many of the manuscripts featured have never before appeared on film (a few of our curatorial team will be making their television debuts as well).
Dr Scot McKendrick, Head of History and Classics at the British Library, served as a series consultant on the programmes. He says, 'There is no doubt that this collection held by the British Library provides us all with unique opportunities to explore in-depth the lives of our kings from the medieval period.  The beauty and ingenuity of these manuscripts, that have stood the test of time, also tells us a great deal about a relatively forgotten period of our history. We are delighted to be telling this fascinating story through the British Library's exhibition and through this mesmerising series with BBC Four.'
The first episode, called Ruling by the Book, will air on BBC Four on Monday 9 January at 21:00, and will also be available after the broadcast on BBC iPlayer.
Further information is available from the British Library's press release, and there is also a review of the programme in the Daily Mail.  This review ends with a reference to the long-running debate over whether or not gloves should be worn by curators handling illuminated manuscripts, a topic previously discussed in our blog.