Hebrew Illuminated Manuscripts Online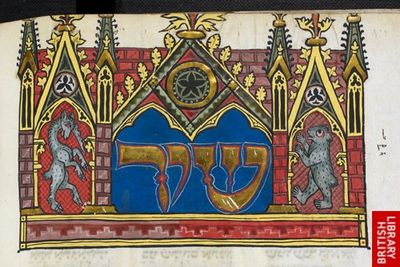 'Duke of Sussex's German Pentateuch', Germany, 14th century (Additional MS 15282, f. 296v). Initial-word panel Shir (song) inhabited by a bear and a unicorn.
Last year we told you about the British Library's project to catalogue our Hebrew illuminated manuscripts. Here is an update with a list of the books in question.
The British Library holds one of the world's most important collections of Hebrew manuscripts, of which about 300 have some decoration. All of the illuminated manuscripts and those with significant decoration are now in our Catalogue of Illuminated Manuscripts. Their inclusion was made possible through grants from the American Trust for the British Library in memory of William T. Golden, the Harold Hyam Wingate Foundation, Roger and Julie Baskes, and an anonymous donor. We're pleased to announce that more images will be made available in the next upload to the site.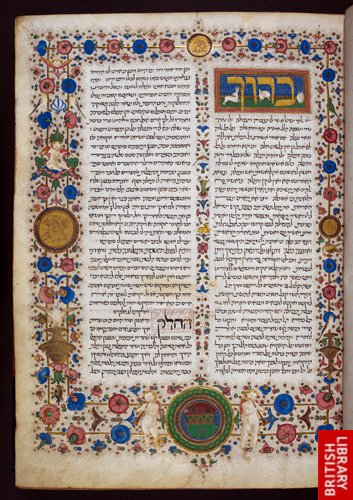 Jacob ben Asher, Arbaah Turim (The Four Pillars), Italy, 1475 (Harley MS 5716, f. 8). Frontispiece to the first pillar of Arbaah Turim, Orah Hayyim (The Way of Life). The initial-word panel Barukh (blessed) is inhabited by three white rabbits. The lower medallion contains the coat of arms of Joab Emmanuel.
These Hebrew illuminated manuscripts range in date from the 10th to the 18th century, and their geographical division is just as wide, encompassing Europe, Northern Africa and the East. Most of them contain religious works, such as biblical and liturgical texts, but there are also a number of legal, philosophical and scientific books. You can read more here about the decoration and script of our Hebrew manuscripts.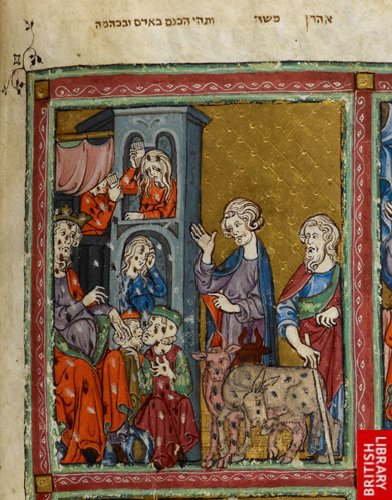 'Golden Haggadah', Catalonia, 14th century (Additional MS 27210, f. 12v). Detail of a miniature of the plague of lice.
From the 13th century, Jewish books were examined by Christian censors in order to eliminate passages that were considered blasphemous. The first official list of prohibited Hebrew books (Index autorum et librorum prohibitorum) was published in 1559, but the expurgation or destruction of certain Hebrew books had started much earlier. Official revisers, usually converted Jews, were appointed to revise Hebrew books and implement the restrictions. Many of the Hebrew items in the Catalogue of Illuminated Manuscripts were present in Italy at some point and include evidence that they were examined by censors.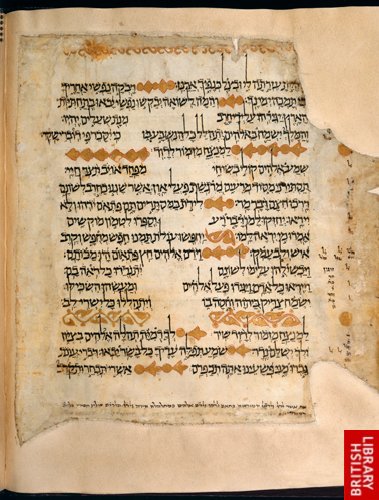 'First Gaster Bible', Egypt, 10th century (Oriental MS 9879, f. 14v). Text page with punctuated Oriental script, ornamental space fillers and marginal decoration.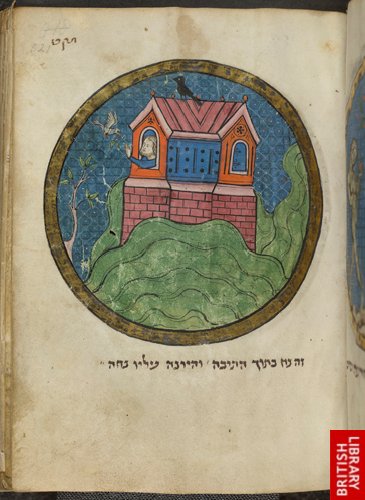 'The Northern French Miscellany', France, 1277-14th century (Additional MS 11639, f. 521). Full-page miniature of Noah's Ark with the raven seated on the ark and the dove returning with a sprig of olive in its beak.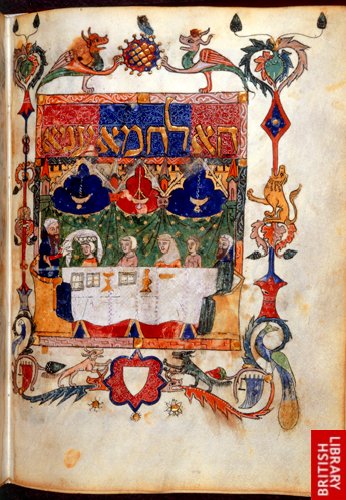 'Barcelona Haggadah', Barcelona, c. 1340 (Additional MS 14761, f. 28v). Historiated initial-word panel Ha lahma aniya (The Bread of Affliction), and a miniature depicting a family by the Seder table, the master of the house placing the basket of unleavened bread on the head of one of his children.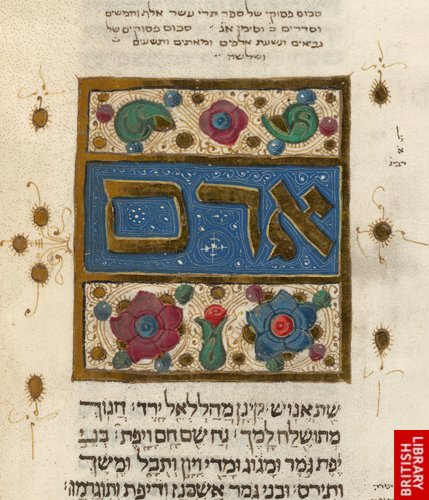 'Duke of Sussex's Italian Bible', Ferrara?, 15th century (Additional MS 15251, f. 313v). Decorated initial-word panel at the beginning of 1 Chronicles.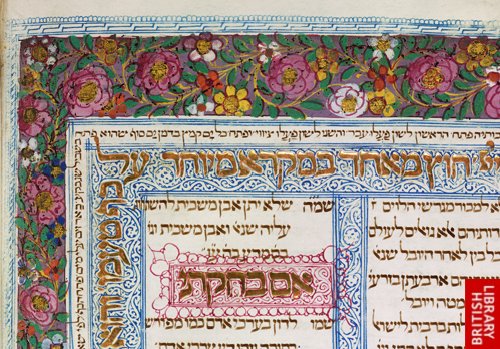 'Lisbon Bible', Lisbon, 1483 (Oriental MS 2626, f. 13v). Detail of a full border.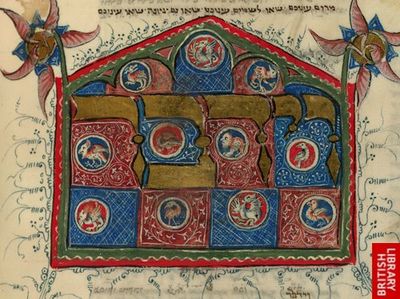 Pentateuch, Germany, 14th century (Oriental MS 2696, f. 257v). Initial-word panel with gold letters, pen-flourishing and medallions inhabited by hybrids, at the beginning of Numbers.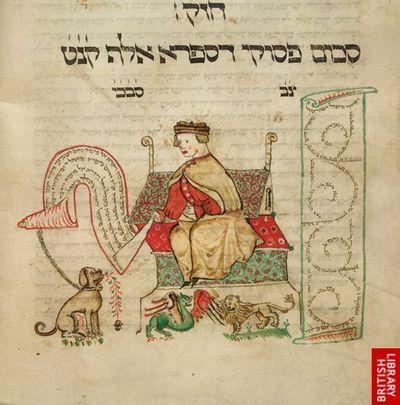 'Coburg Pentateuch', Coburg, 1390-1396 (Additional MS 19776, f. 54v). Miniature of a man sitting on a bench holding a scroll escorted by a dog, a dragon and a lion. The two scrolls contain masoretic notes.

'Tripartite Mahzor', Germany, c. 1322 (Additional MS 22413, f. 3). Historiated initial-word panel of the Receiving the Law with Moses stretching his hands for the tablets, and Aaron and the Israelites waiting at the foot of the mountain.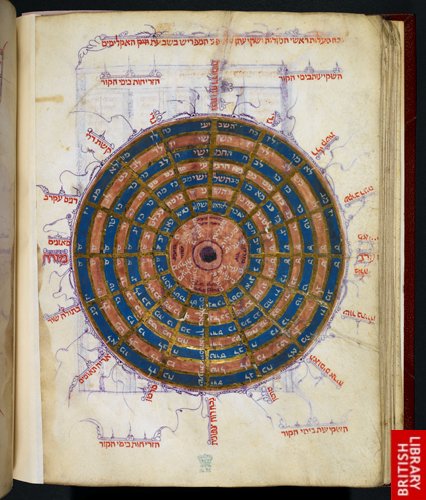 Series of tables, France or Spain, 15th century (Oriental MS 11796, f. 57v). Astronomical and calendrical table.
Here is a list of Hebrew manuscripts in the British Library's Catalogue of Illuminated Manuscripts:
| | |
| --- | --- |
| | Biblical readings from a festival prayer book (mahzor): Germany, 1309 |
| | Biblical readings from a festival prayer book (mahzor): Germany, 1309 |
| | Festival prayer book (mahzor), Ashkenazi rite: Germany or Eastern Mediterranean, 1349 |
| | Miscellany of biblical and other texts ('The Northern French Miscellany'): France, 1277–14th century |
| | Former and Latter Prophets (Neviim): Italy, 14th century |
| | Festival prayer book (mahzor) for Rosh ha-Shanah, Ashkenazi rite: Germany, before 1384 |
| | Levi ben Gershon, Commentary on the Pentateuch: Avignon, 1429 |
| | Haggadah, liturgical poems and biblical readings for Passover ('Barcelona Haggadah'), Sephardic rite: Barcelona, c. 1340 |
| | Eleazar of Worms, Haggadah for Passover ('Ashkenazi Haggadah'), German rite: Ulm?, c. 1460 |
| | Maimonides and others, Miscellany of philosophical works: Viterbo, 1273 |
| | Bible ('Duke of Sussex's Catalan Bible') with masorah magna and parva: Catalonia, 14th century |
| | Bible ('Duke of Sussex's Italian Bible') with masorah magna and parva: Ferrara?, 1448 or 1498 |
| | Duke of Sussex Bible with masorah magna and parva: Catalonia, 14th century |
| | Pentateuch ('Duke of Sussex's German Pentateuch'): Germany, 14th century |
| | Pentateuch, Haftarot and the Five Scrolls (Hamesh megillot): Lisbon, 15th century |
| | Pentateuch with masorah magna and parva: Spain, 14th or 15th century |
| | Pentateuch ('Duke of Sussex's Italian Pentateuch'): Florence, 1441-1467 |
| | Festival prayer book, Italian rite: Italy, 15th century |
| | Prayers for Rosh ha-Shanah and Yom Kippur, Ashkenazi rite ('London Days of Awe Mahzor'): Germany, 13th or 14th century |
| | Zohar on Genesis: Italy, 15th century |
| | Works of Rabbi Samson ben Tzadoq and others: Germany, 1307 |
| | Works of Isaac of Corbeil and others: France, 1392 |
| | Isaac Abravanel, Haggadah for Passover: Hamburg, 1740 |
| | Nahmanides, Commentary on the Pentateuch: Isola, 1491 |
| | Hebrew Grammar: Spain, 15th century |
| | Festival prayer book (mahzor), Italian rite: Italy, 15th century |
| | Pentateuch ('Coburg Pentateuch') with the Five Scrolls (Hamesh megillot), Haftarot, and grammatical treatises: Coburg, 1390-1396 |
| | Nathan ben Joel Palquera, Tzorei ha-guf (The balms of the body): Italy, 1447 |
| | Festival prayer book (mahzor), Italian rite, vol. 1: Florence, 1441 |
| | Festival prayer book (mahzor), Italian rite, vol. 2: Florence, 1441 |
| | Pentateuch ('Yonah Pentateuch'): Germany, 13th century |
| | Hebrew translation of the first two books of Avicenna's Canon: Rome, 15th century |
| | Gan Elohim (The Garden of God): France, 1403 |
| | Joseph Kara, Festival prayer book for Shavuot (Feast of Weeks) and Sukkot (Feast of the Tabernacles), German rite ('Tripartite Mahzor'): Germany, c. 1322 |
| | Solomon ben Isaac, Pentateuch with Targum Onkelos and Rashi's commentary: France, 14th century |
| | Solomon ben Isaac, Former and Latter Prophets with masorah magna and parva, Targum Jonathan and Rashi's commentary: France?, 13th century |
| | Festival prayer book (mahzor), Ashkenazi rite ('Tinted Mahzor'): Germany, 14th century |
| | Festival prayer book (mahzor) for Rosh ha-Shanah, Yom Kippur and Sukkot, Ashkenazi rite: Germany, 14th century |
| | Nahmanides, Commentary on the Pentateuch: Spain or Italy, 15th century |
| | Prayer book (siddur), Italian rite: Italy, 1469 |
| | Prayer book (Forli Siddur) for the entire year, Italian rite: Italy, 1383 |
| | Rabbi Isaac ben Meir of DĂĽren, Festival prayer book: Germany, 1308-1314 |
| | Sefer Maalot ha-Middot (The Book on Degrees of Virtue) by Jehiel ben Jekuthiel: Italy, 1287 |
| | Prayer book, Italian rite: Italy, 1501 |
| | Prayer book, Sephardic rite: Spain, 14th or 15th century |
| | Jacob ben Asher, Fourth Book of Arba'ah Turim: Hoshen ha-Mishpat ('The Breastplate of Judgment'): Italy, 1360 |
| | Pentateuch ('Almanzi Pentateuch') with Haftarot and Five Scrolls (Hamesh megillot): Lisbon, 15th century |
| | Haggadah for Passover ('Golden Haggadah'): Catalonia, 14th century |
| | Solomon ben Isaac ('Rashi'), Commentary on the Pentateuch with the Haftarot on the Five Scrolls: Germany, 1341 |
| | Bible with masorah magna and parva ('Harley Catalan Bible'): Catalonia, 14th century |
| | Solomon ben Isaac (Rashi), Pentateuch with Targum and Rashi's commentary: France, 14th century |
|   |   |
| | Joseph ben Judah Zark, Baal ha-Lashon (The Master of the Language): Italy, 1474 |
| | Baruch ben Isaac of Worms, Sefer ha-Terumah: Germany, 1253/1254 |
| | Books Three and Five of the Canon of Avicenna in Hebrew translation: Spain or Italy, 1479 |
| | Festival prayer book (mahzor): Italy, 1427–1466 |
| | Maimonides, Lisbon Mishneh Torah, vol. 1: Lisbon, 1471-1472 |
| | Maimonides, Lisbon Mishneh Torah, vol. 2: Lisbon, 1471-1472 |
| | Solomon ben Isaac (Rashi), Pentateuch: France, 14th century |
| | Bible with masorah magna and parva: Italy, 13th century |
| | Bible with masorah magna and parva: Italy, 13th century |
| | Jacob ben Asher, Arbaah Turim (The Four Pillars): Italy, 1475 |
| | Jacob ben Asher and Maimonides, Even ha-Ezer (The Stone of Help) and Hoshen Mishpat (The Breastplate of Judgement) of Arbaah Turim (The Four Pillars): Italy, 1475 |
| | Pentateuch ('London Catalan Pentateuch') with masorah magna and parva: Catalonia, 14th century |
| | Prophets with masorah magna and parva: Castellon d'Ampurias, 1396 |
| | Hagiographa with masorah magna and parva: Castellon d'Ampurias, 1396 |
| | Maimonides, Guide of the Perplexed (Moreh Nevukhim) in Samuel ibn Tibbon's translation: Italy, 1283 |
| | Maimonides, Guide of the Perplexed (Moreh Nevukhim) in Samuel ibn Tibbon's translation: Italy, 13th century |
| | Pentateuch with Rashi's commentary and Targum Onkelos : Italy, 15th century |
| | Bible ('King's Bible'): Catalonia, 14th century |
| | Festival prayer book (mahzor) for Rosh ha-Shanah and the Yom Kippur, Ashkenazi rite ('Dragon's Head Mahzor'): Germany, 14th century |
| | Haggadah with commentary and liturgical poems for Passover ('Brother Haggadah'): Catalonia, 14th century |
| | Biblical readings and liturgical poems for Passover: Catalonia, 14th century |
| | Fragment of the Pentateuch with Targum Onkelos and masorah magna and parva: Persia, 11th-12th century |
| | Abraham ibn Ezra, Commentary on the Pentateuch: Iberian Peninsula or Italy, 15th century |
| | Former and Latter Prophets and Hagiographa, with masorah magna and parva: Germany, 13th century |
| | Bible with masorah ('First Ibn Merwas Bible'): Toledo, 1300 |
| | Saadia ben Joseph (Saadia gaon), The Latter Prophets: Yemen, 1475 |
| | Pentateuch with masorah magna and parva: Yemen, 1469 |
| | Pentateuch with Targum Onkelos and masorah magna and parva: Persia or Babylonia, 11th-12th century |
| | Bible with masorah magna and parva: Yemen, 14th century |
| | A portion of the Hagiographa with masorah magna and parva: Yemen, 13th century |
| | Solomon ibn Gabirol and others, Miscellany of ethical texts: Italy, 1382 |
| | Pentateuch with masorah magna and parva: Persia, 1483 |
| | Portions from the Exodus with Arabic translation and commentary: Persia, Babylonia or Egypt, 14th century |
| | Fragments from Exodus: Palestine or Egypt, 10th century |
| | Bible ('Lisbon Bible') with masorah magna and parva: Lisbon, 1483 |
| | Bible ('Lisbon Bible') with masorah magna and parva: Lisbon, 15th century |
| | Bible ('Lisbon Bible') with masorah magna and parva: Lisbon, 15th century |
| | Pentateuch, Five Scrolls (Hamesh megillot) and Haftarot with masorah and commentary: Germany, 14th century |
| | Festival prayer book (mahzor) for Rosh ha-Shanah, Franco-German rite: France, 14th century |
| | Prayer book (siddur), Italian rite: Bertinoro, 1390 |
| | Haggadah for Passover ('Hispano-Moresque Haggadah'): Castile, c. 1300 |
| | Haggadah for Passover ('Sister Haggadah'): Barcelona, 14th century |
| | Bible with masorah: France, 14th century |
| | |
| --- | --- |
| | Decisions of Isaiah of Trani the Younger (Pisqei Rabbi Yeshayah Aharon): Italy, 1374 |
| | Festival prayer book (mahzor) for Rosh ha-Shanah and Yom Kippur, North African rite: North Africa, 15th century |
| | Biblical fragments ('First Gaster Bible') with masorah magna and parva (sections from Psalms): Egypt, 10th century |
| | Biblical fragments ('Second Gaster Bible') with masorah magna and parva (Fragments from the Pentateuch): Egypt, 11th or 12th century |
| | Parts of the Scriptures (Ketuvim): Italy, 15th century |
| | Prayer book with Haggadah and Pirqei Avot, Ashkenazi rite: Italy, 15th century |
| | Prayer book (siddur), Italian rite: Italy, 15th century |
| | Festival prayer book (mahzor) for the whole year, Sephardic rite, with the commentary of Joseph Zaddik: Spain, 15th century |
| | Series of calendrial and astronomical tables: France or Spain, 15th century |
| | Prayer book, Italian rite: Italy, 15th century |
| | Maimonides, The Guide of the Perplexed (Moreh Nevukhim): Catalonia, 14th century |
| | Haggadah for Passover with the commentaries of Isaac Abravanel ('Leipnik Haggadah'): Germany, 1740 |
| | Prayers: England, 1578 |
| | Matfré Ermengau of Béziers, Breviari d'Amor (Catalan prose version): Catalonia, 14th century |