Love Letters at the British Library
What do Anne Boleyn, Horatio Nelson, Charlotte Brontë and Oscar Wilde have in common?
The answer is that love letters in their own hands survive at the British Library, which for the first time have been gathered together in a single volume, Love Letters: 2000 Years of Romance.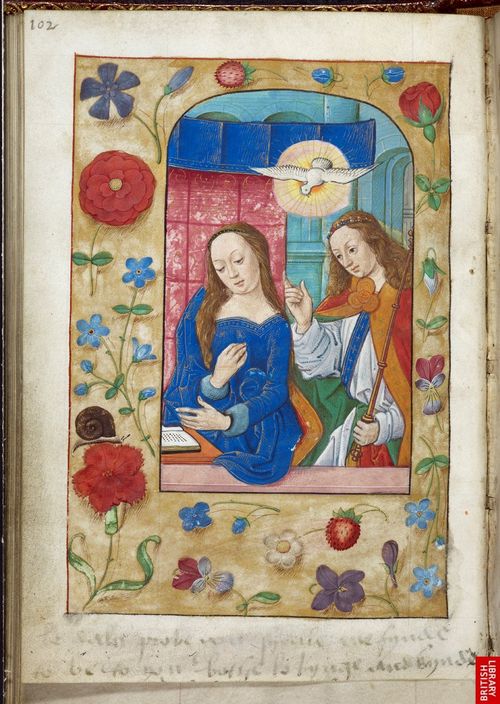 In the margin of this Book of Hours, made in Bruges c. 1500, is a note from Anne Boleyn to Henry VIII, reading 'Be daly prove you shall me fynde / To be to you bothe lovynge and kynde.' London, British Library, MS King's 9, f. 66v.
Edited by Andrea Clarke, Curator of Early Modern Historical Manuscripts at the British Library, Love Letters contains missives dating from 168 BC (Isaias to her husband, Hephaestion) to c. 1980 (a poem written by Ted Hughes to Sylvia Plath), and features images and transcriptions of each letter. Among them is the oldest Valentine, written by Margery Brews to John Paston III in February 1477. See these articles in The Daily Mail ("Charlotte Bronte's lost love letters to married professor were preserved by his wife") and The Daily Telegraph ("Charlotte Bronte's lost love letters revealed"), which focus on one letter in the collection.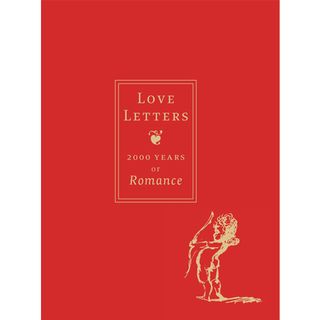 On Saturday, 11 February, Dr Clarke will introduce some of these handwritten love letters in a special event at the British Library (14.30-16.00), where she will be joined by acclaimed biographer Anne Sebba.
Love Letters: 2000 Years of Romance (ISBN 9780712358255) is currently available on special offer from the British Library shop (£7.00, normally £10.00). Here is the full list of contents:
1: Letter from Isaias to her husband, Hephaestion, 29 August 168 BC
2: Margery Brews to John Paston III, February 1477
3: Prince Arthur to Katherine of Aragon, 5 October 1499
4: Pierre Sala, Petit Livre d'Amour (letter to Marguerite Bullioud), c.1500
5: Anne Boleyn and Henry VIII, love notes in a Book of Hours, c.1528
6: Katherine Parr to Henry VIII, July 1544
7: Earl of Essex to Elizabeth I, 18 October 1591
8: Sir Thomas Baskerville to his wife, Mary, 21 August 1595
9: Thomas Knyvett to his wife, Katherine, 26 November 1621
10: George Villiers to James I, 29 August 1623
11: Dorothy Osbourne to Sir William Temple, 15/16 October 1653
12: Sir John Fenwick to his wife, Mary, January 1697
13: Vanessa [Esther van Homrigh] to Jonathan Swift, 1714
14: Horatio Nelson's last letter to Lady Emma Hamilton, 19 October 1805
15: Charles Dickens to his future wife, Catherine Hogarth, May 1835
16: Charlotte Brontë to Professor Constantin Héger, 18 November 1844
17: Oscar Wilde to Lord Alfred Douglas, De Profundis, January 1897
18: Gordon Bottomley to Emily Burton, 17 October 1899
19: Elizabeth Barrett Browning, Sonnet 43 from Sonnets from the Portuguese, c. 1846
20: Christina Rossetti, Valentine poem to her mother, 1884
21: Rupert Brooke to Cathleen Nesbitt, 1913
22: Roger Keyes to his wife, Eva, 10 December 1914
23: Mervyn Peake to his wife, Maeve Gilmore, early 1940s
24: Ted Hughes, poem to Sylvia Plath, c.1980
25: Ralph Richardson to his wife, Meriel Forbes, 1964-70