23 February 2012
Which Royal Manuscripts Should We Digitise?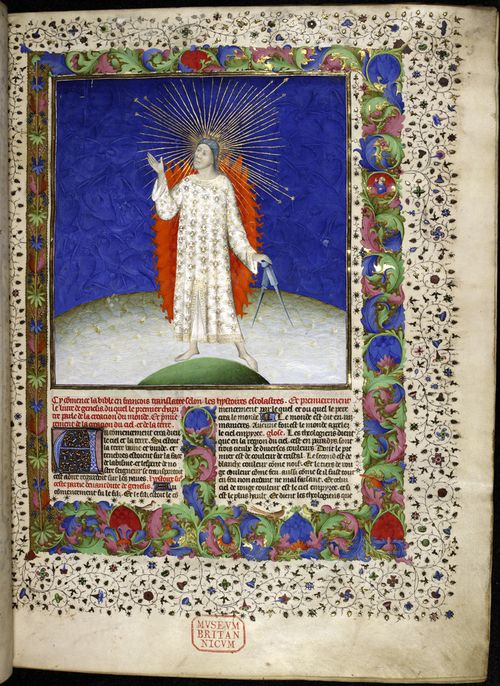 Miniature of God the Creator, from a Bible Historiale, France (Clairfontaine and Paris), 1411, Royal 19 D. iii, vol. 1, f. 3


We are pleased to announce that the British Library has recently been awarded a research grant by the Arts and Humanities Research Council to facilitate on-going research for the Royal project.  Each year the AHRC provides funding from the Government to support research and postgraduate study in the arts and humanities.  Only applications of the highest quality are funded and the range of research supported by this investment of public funds not only provides social and cultural benefits but also contributes to the economic success of the UK. 
The British Library's Royal project is funded by the AHRC as part of its Digital Transformations in Arts and Humanities theme and contributes to a package of measures aimed at developing innovative approaches to archiving, accessing and using data in the arts and humanities.  This package of measures is supported as part of the additional investment to enhance the national e.infrastructure for research, announced by the Government in October 2011.
An important part of this new research grant will enable us to digitise fully a number of the manuscripts that are currently featured in the exhibition Royal Manuscripts: The Genius of Illumination; these manuscripts will soon be freely available to all on our Digitised Manuscripts site.   So far we have selected 41 manuscripts from the current Royal exhibition to be included on Digitised Manuscripts; please see the list below.
One of the principal goals of our follow-on Royal project is to be responsive to current research needs, and to select manuscripts for digitisation that will have the biggest impact in these areas. To that end, we would like to invite your thoughts and ideas about which manuscripts should be included in our final list.   It will be possible to select another 6 - 10 manuscripts to be digitised in full (depending, of course, on their length); we would love to hear your feedback.
We have already selected for digitisation the 41 items in the list below.  Please send your suggestions for other candidates to [email protected] or in the comments to this post.  The only 'rule' is that the manuscript should be one that is currently on display in the exhibition Royal Manuscripts: The Genius of Illumination; for more details on the manuscripts please see our Facebook albums.
Royal Manuscripts for Digitisation
| | |
| --- | --- |
| | The Rochester Bible, England (Rochester), second quarter of the 12th century |
| | The Cnut Gospels, England (Christ Church, Canterbury), c. 1020 |
| | The Smithfield Decretals, France (Toulouse?), c. 1300 and London, c. 1340s |
| | Pandolfo Collenuccio, Apologues, Italy (Rome and Florence), c. 1509 – c. 1517 |
| | Gerald of Wales, Topographia Hibernica, England (Lincoln?), c. 1196 - c. 1223 |
| | Estoire del Saint Graal, France (Saint-Omer or Tournai?), first quarter of the 14th century |
| | Jean de Wavrin, Recueil des croniques d'Engleterre, France (Lille) and Netherlands (Bruges), c. 1470 – c. 1480 |
| | Guyart des Moulins, Bible Historiale (Bible Historiale of Edward IV, part 4), Netherlands (Bruges), 1470 and c. 1479 |
| | Jean de Wavrin, Anciennes et nouvelles chroniques d'Angleterre, Netherlands (Bruges), between 1471 - 1483 |
| | The Talbot Shrewsbury Book, France (Rouen), 1444-1445 |
| | Poems of Charles, Duke of Orléans, Netherlands (Bruges), third quarter of the 15th century (before 1483) |
| | Chroniques de France ou de St Denis, France (Paris), between 1332 – 1350 |
| | Bellum Gallicum (Les commentaires de Cesar), France (Lille) and Netherlands (Bruges), 1473-1476 |
| | Thomas Hoccleve, The Regement of Princes, England, second quarter of the 15th century |
| | Guyart des Moulins, Bible historiale complétée (Genesis - Psalms), France (Paris ?), 1357 |
| | La grant hystoire Cesar, i.e. Les faits des Romains, Netherlands (Bruges), 1479 |
| | John Lydgate, Troy Book and Siege of Thebes, England (London?), c. 1457-1460 |
| | Guyart des Moulins, Bible Historiale (Bible Historiale of Edward IV, part 1), Netherlands (Bruges), 1479 |
| | Guyart des Moulins, Bible Historiale (Bible Historiale of Edward IV, part 2), Netherlands (Bruges), 1479 |
| | Jean Froissart, Chroniques, Netherlands (Bruges), last quarter of the 15th century (before 1483) |
| | Valerius Maximus, Facta et dicta memorabilia, Netherlands (Bruges), 1479 |
| | Guillaume de Lorris and Jean de Meun, Roman de la Rose, France (Paris), c. 1320 – c. 1340 |
| | Le Songe du Vergier, France (Paris), 1378 |
| | Guyart des Moulins, Bible Historiale (Bible Historiale of John the Good), France (Paris), c. 1350 – before 1356 |
| | Guyart des Moulins, Bible Historiale, France (Paris and Clairefontaine), 1411 |
| | The Beaufort/Beauchamp Hours, England (London), c. 1430, before 1443 |
| | The Westminster Psalter, England (Westminster or St Albans), c. 1200 |
| | The Psalter of Humfrey of Gloucester, England (London), second quarter of the 15th century (before 1447) |
| | Guillaume de Lorris, Jean de Meun, Thomas de Bailleul, Roman de la Rose and la Bataille d'Annezin, France (Artois or Picardy), c. 1340 |
| | Histoire ancienne jusq'à César, Italy (Naples), second quarter of the 14th century |
| | Lancelot du Lac, France (Arras ?), first quarter of the 14th century |
| | |
| --- | --- |
| Add 18850 | The Bedford Hours, France (Paris), c. 1410 - 1430 |
| | The Canterbury Royal Bible, England (Canterbury), first half of the 9th century |
| | Motets for Henry VIII, Netherlands (Antwerp?), 1516 |
| | Genealogical Chronicle of the English Kings, England, last quarter of the 13th century |
| | Genealogical Chronicle of the English Kings. England, c. 1300 |
| | Matthew Paris, Historia Anglorum, Chronica majora, Part III, England (St Albans), 1250 – 1259 |
| | The Psalter of Henry VIII, England (London), c. 1540 |
| | The Queen Mary Psalter, England (London / Westminster or East Anglia?), between 1310 - 1320 |
| | |
| --- | --- |
| | Quadripartite Indenture for Henry VII's Chapel (The Harley Indenture), England (London), 1504 |
| | The Bohun Psalter and Hours, England (London?), after 1356 and probably before 1373 |