19 March 2012
The Peasants are Revolting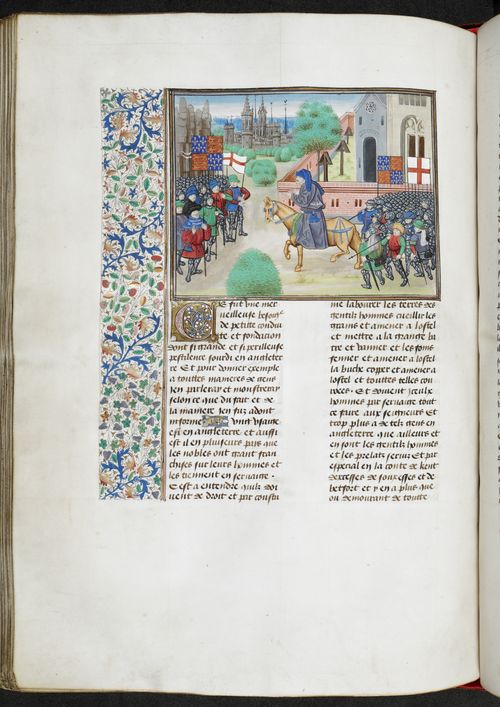 Wat Tyler and John Ball leading the Peasants' Revolt, each inscribed with their name for ease of identification (London, British Library, MS Royal 18 E. I, f. 165v).
English history is littered with protests against the ruling classes, one of the most notorious being the Peasants' Revolt of 1381. This manuscript of Jean Froissart's Chronicle, made in the 15th century and depicting the rebellion, is currently on display in the Sir John Ritblat Gallery: Treasures of the British Library. And the entire manuscript can also be viewed on our Digitised Manuscripts site.
One of the leaders of the revolt was Walter (Wat) Tyler, described by Froissart as "a tiler of houses, an ungracious patron". A native of Kent or Essex, Tyler reputedly instigated the rising by killing a collector of the recently-introduced poll tax, who had indecently assaulted his daughter. A large gathering of rebels marched on Maidstone, Canterbury and London, seizing and beheading Simon Sudbury, the chancellor of England and archbishop of Canterbury, together with Robert Hales, the treasurer of England.
This copy of Froissart's Chronicles illustrates Wat Tyler's demise. Having been summoned to speak with King Richard II (1377–1399) at Smithfield on 15 June 1381, Tyler outlined the rebels' demands, which included the abolition of villeinage and serfdom, and nobody to exercise lordship except the king. A fracas then ensued, in part (it was alleged) because Tyler kept his head covered in the king's presence, leading the mayor of London, William Walworth, to attempt to arrest him. Tyler struck at Walworth with his dagger, but the mayor was wearing armour under his cloak, and in retaliation pierced Tyler's neck with his sword. Reports state that the other rebels quickly dispersed, having been granted a royal pardon. The fatally-wounded Tyler was not so fortunate. Walworth had him dragged from the nearby hospital of St Bartholomew, and summarily executed at Smithfield.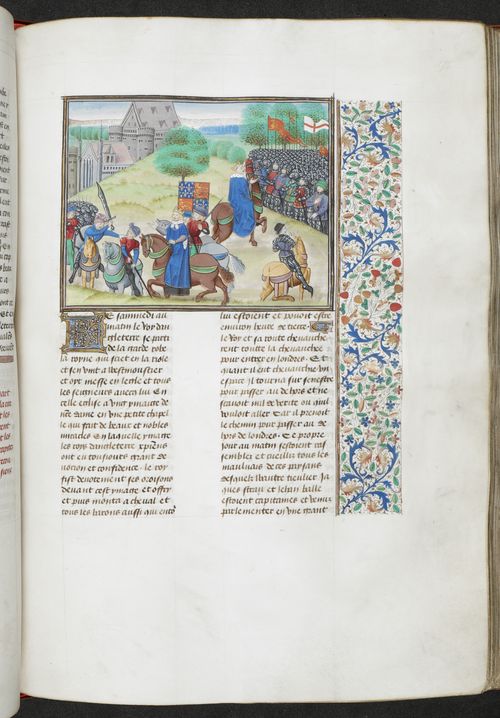 The wounding of Wat Tyler by William Walworth, mayor of London, in the presence of King Richard II (London, British Library, MS Royal 16 E. I, f. 175r).
The Sir John Ritblat Gallery at the British Library is a free exhibition space, open seven days a week. It houses some of the world's most significant books, from Magna Carta and the Gutenberg Bible, to Handel and the Beatles.