11 October 2012
'Virile, if Somewhat Irresponsible' Design: The Marginalia of the Gorleston Psalter
This is the first of a two part-series on this extraordinary manuscript and its extraordinary marginalia.  Please check the blog tomorrow for the second bit!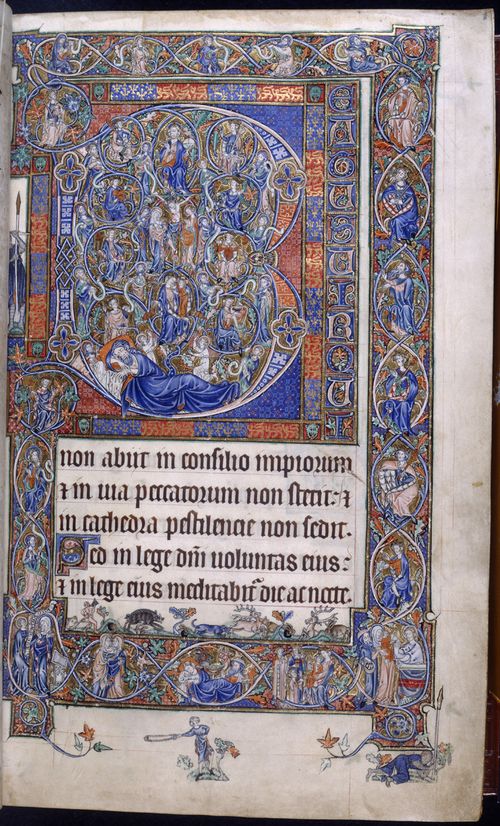 f. 8r:  Historiated initial 'B'(eatus) of the Tree of Jesse, with marginal scenes of a hunt and David and Goliath
If reader enquiries are any indication, the most recent addition to our Digitised Manuscripts site has been eagerly – even impatiently – anticipated.  We are very happy to end the agony of suspense and to let everyone know that the Gorleston Psalter (Add MS 49622) is now online; please click here for the fully-digitised version.
The Gorleston Psalter dates from c. 1310, and has pride of place among a group of similar Psalters which 'are the special glory of the East Anglian school of book-decoration' (according to Sydney Cockerell, who wrote a book about the Gorleston Psalter in 1907 before it entered the British Museum's collections).  The Psalter was originally produced for a person associated with the church of St Andrew's, Gorleston (Norfolk), from which it derives its name, but exactly who this person was remains a mystery.
f. 10r:  Detail of an historiated initial 'C'(um) of an elderly bearded layman in prayer, possibly the manuscript's original patron
A bearded layman makes a number of appearances throughout the manuscript, usually in attitudes of religious devotion (see, for example, f. 10r), and these images may represent the original patron.  One  candidate for this position is Roger Bigod, 5th Earl of Norfolk and Marshal of England (c. 1245 – 1306), but more recently it has been suggested that the honours may lie with John de Warenne, 7th Earl of Surrey (1286 – 1347), whose arms can be seen throughout the manuscript.  Additional evidence for this theory could come from the overwhelming number of rabbits that feature in the Gorleston Psalter, seen occasionally in their warrens – a possible visual pun on the Earl's family name (see below, and the bas-de-page of the Beatus page, at the top).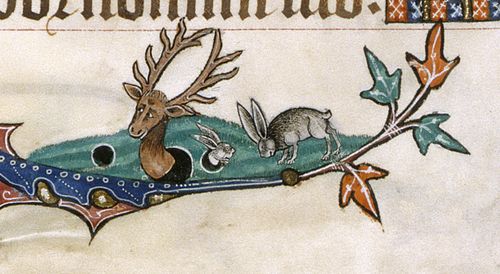 f. 177v:  detail of a marginal scene of rabbits sharing their warren with a stag
Soon after the manuscript's creation it came into the possession of Norwich Cathedral Priory, where an extra miniature, prayers and a litany were added c. 1320-1325 (ff. 7r-7v & ff. 226r-228r).  The original manuscript seems to have been written c. 1310 by a single scribe, who worked in close collaboration with a group of illuminators.  This workshop may have been located in Gorleston itself, and seems to have been a prolific one. A number of other manuscripts have well-established connections to Norfolk in general and Gorleston in particular, including the Stowe Breviary (c. 1322-1325, BL Stowe MS 12), the St Omer Psalter (c. 1330-1340, BL Yates Thompson MS 14), the Douai Psalter (Bibliothèque Municipale, MS 171, almost completely destroyed during WWI), and the famous Macclesfield Psalter (c. 1330, Cambridge, Fitzwilliam Museum, MS 1-2005).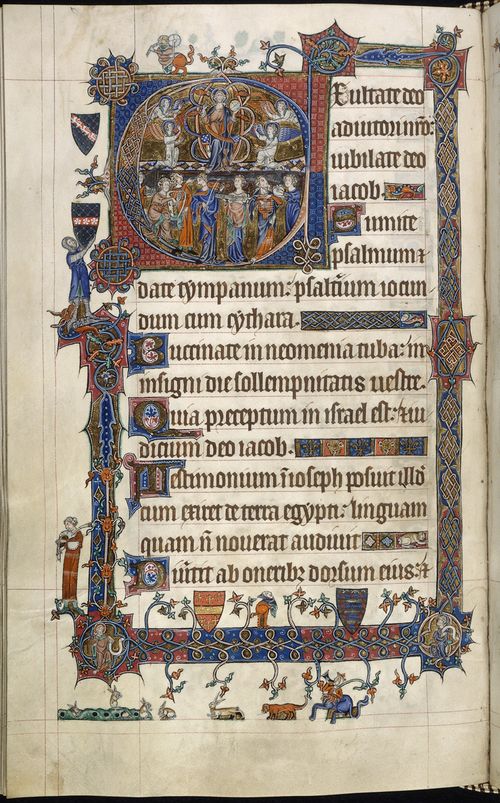 f. 107v:  Historiated initial 'E' of the resurrected Christ with musicians below, and marginal images of musicians and a knight holding arms
The Gorleston Psalter may be among the earliest surviving products of this group, and is typically richly illuminated – or, to quote Cockerell – the Psalter exhibits a 'virile, if somewhat irresponsible' design.  It is not clear which aspect of the manuscript's decoration earned it this semi-pejorative characterization, but I suspect that the most likely culprit is the wild profusion of marginalia and bas-de-page images that are found throughout it.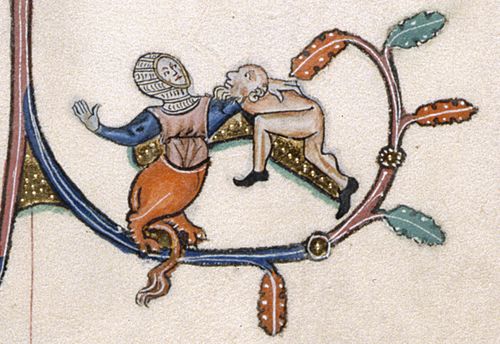 f. 45v:  detail of two marginal hybrid grotesques
f. 190v:  detail of a marginal scene of a fox seizing a duck, with 'sound effects' added in a later hand, reading 'queck' [quack] (with thanks to Erik Kwakkel of Leiden for recently featuring this detail on Twitter)
It is difficult for our modern minds to conceive of a world in which holy miniatures could co-exist with silliness and misbehaviour, but this is certainly the case; close examination of these manuscripts have shown that far from being marginal, these images were a crucial part of the programmes of illumination, planned in advance and carefully executed. But it is not always completely clear what function these marginal images served.  Check in tomorrow for a further exploration of this question - and, of course, many more spectacular images.
- Sarah J Biggs