23 November 2012
Exploring Our Catalogue of Illuminated Manuscripts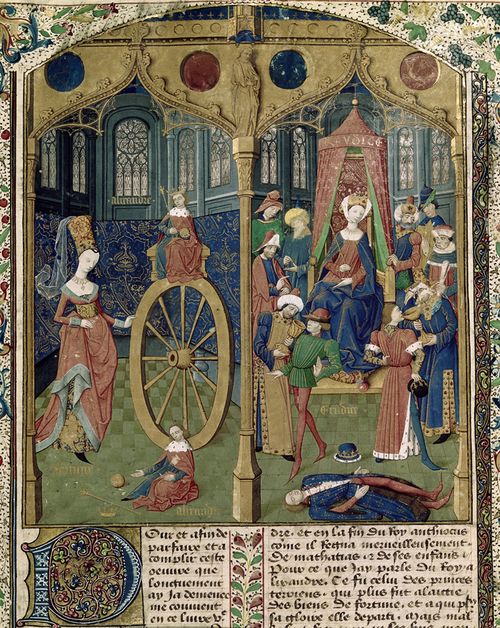 Detail of a miniature of, on the left, Alexander the Great on the Wheel of Fortune, rising to prosperity and falling to ruin, and, on the right, his grandmother Queen Euridyce looking down at her murdered son, Alexander II; from Jean de Courcy, Chronique de la Bouquechardière, France (Normandy, Rouen), 3rd quarter of the 15th century, Harley MS 4376, f. 271r.


The Catalogue of Illuminated Manuscripts is an important online resource for exploring the British Library's manuscript collections.  Begun in 1997, the catalogue focuses primarily on illumination, providing both descriptions of manuscripts' content and a searchable database of images, of everything from text pages to decorated initials to full-page miniatures.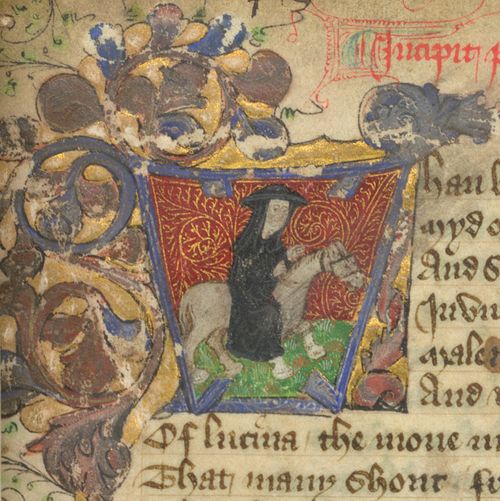 Detail of a miniature of the important 15th-century poet John Lydgate, the 'monk of Bury', riding to Canterbury as one of Chaucer's pilgrims; from John Lydgate, The Siege of Thebes, England, 2nd quarter of the 15th century, Arundel MS 119, f. 1r.


While it was first developed more than a decade ago, the catalogue is far from being a closed document, but continues to grow and expand with the addition of even more images.  The most recent update took place earlier this month, and the catalogue now includes 35,661 images from 4,231 different manuscripts.  Part of this expansion has been funded by the Arts and Humanities Research Council, which last February awarded a grant to the library to support the digitisation of a selection of manuscripts from the recent Royal exhibition.  This has enabled the addition of more than 75 new manuscripts to Digitised Manuscripts, as well as nearly 300 new images to CIM, just from Royal manuscripts alone.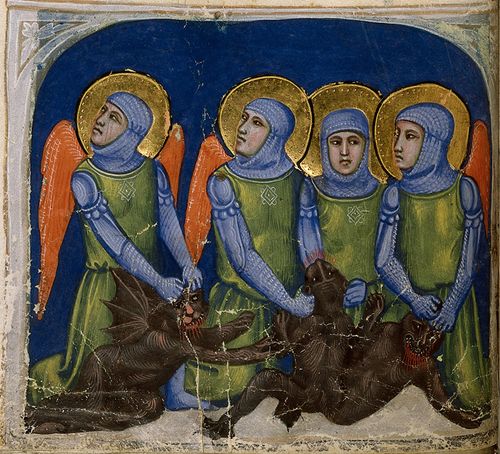 Detail of a miniature of angelic Powers tearing at the heads of demons; from Convenavole da Prato, Regia Carmina (Address to Robert of Anjou), Italy (Tuscany), c. 1335-c. 1340, Royal MS 6 E. ix, f. 6v.  A full digital version of this manuscript is also available on Digitised Manuscripts.


The catalogue is designed to increase public access to the British Library's rich collections, and we want to encourage even greater use and enjoyment of these collections.  Technically these works are still in copyright in the UK until 2040, but given that they are anonymous and many centuries old, the Library has decided to provide the images on the Catalogue of Illuminated Manuscripts under a Public Domain Mark and treat them as public domain works, as would be the case in many other countries.  For more information, please see the library's use and reuse policy for CIM.  We ask that you maintain the library's Public Domain tag, and provide a link or other credit back to the image's source on the British Library's site – help us share these riches even more widely with the world.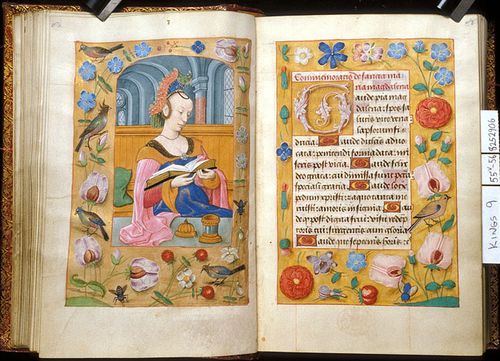 Miniature of Mary Magdalene; from a book of hours, use of Sarum, the Netherlands (Bruges), c. 1500, King's MS 9, ff. 55v-56r.


There are many different ways to enjoy the British Library's collections through the Catalogue of Illuminated Manuscripts.  If you're interested in a particular manuscript, you can search for it directly.  Keyword or advanced searches using specific characteristics of the manuscript or its illumination can also be used to directly locate medieval images from a given region or time period, or even of a particular subject matter.  Or, if you are just interested in exploring, why not take a tour of some collection highlights?  Our curatorial staff have teamed up with other experts to put together a series of virtual exhibitions, exploring topics that range from manuscripts of the Bible to King Arthur and his Knights of the Round Table, to medieval bestiaries.  The most recent tour, written by Joanna Frońska, takes a closer look at some of the gems of illumination in the Royal collection.
Hopefully this post – as well as its accompanying images – gives a taste of the treasures the Catalogue of Illuminated Manuscripts has to offer.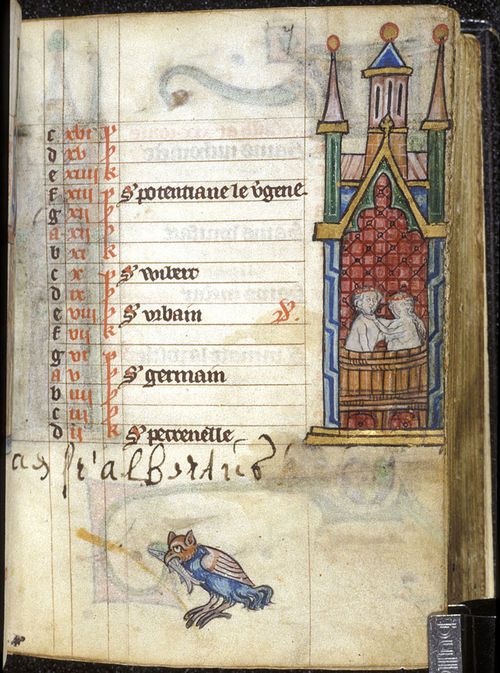 Calendar page from the month of May, with miniatures of a couple taking a bath and a bird holding a fish; from a book of hours (the 'Maastricht Hours'), the Netherlands (Liège), 1st quarter of the 14th century, Stowe MS 17, f. 7r.