29 March 2013
Medieval Anchoresses and the Ancrene Riwle
Sometime in the early 13th century, three laywomen, sisters of noble birth, had themselves enclosed for life in a small chamber in a church somewhere not far from Worcester. They were part of a spiritual movement which began with the desert fathers in the 4th century, whereby holy men and women, known as anchorites (or anchoresses), withdrew completely from the world, choosing a life of severity and solitude consisting of a daily ritual of liturgy and prayers. In a macabre ceremony that included the Office of the Dead, various prayers were said as someone was bricked up in a small room within a church, with only a small window to receive the sacrament and a slit affording a view of the altar. A small number of medieval churches survive with these cells or anchorholds intact, like at St James's church in Shere, Surrey.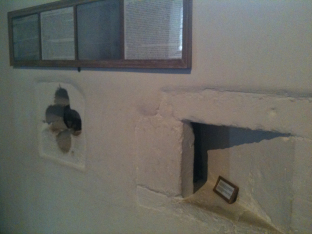 Image courtesy of ourfatherplay.com. 
From the 13th to the 15th centuries, there are records of well over 100 people in England applying to their bishop to become anchorites, with the majority being women. However it would seem that withdrawal from the world did not necessarily mean solitude, as anchoresses had servants who brought them food and messages from outside and their advice and prayers were sought by local people, so that some became central figures in their communities.
We know much of this, and particularly about the three anchoresses in question, because in about 1230 a book of instruction was written for them, known as 'Ancrene Riwle'. It was later adapted for other communities of anchorites under the title 'Ancrene Wisse'. In all, there are 9 surviving manuscripts of the rule in Middle English, 4 in French and 4 in Latin: 15 in total. The British Library has four of the manuscripts in English, including the earliest copy of the original 'Ancrene Riwle' (Cotton MS Cleopatra C VI), dating from 1225-30, which is now available in full on our Digitised Manuscripts site.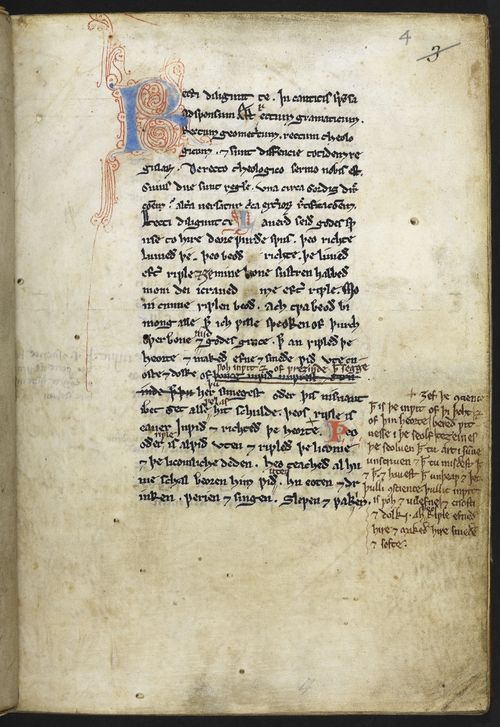 London, British Library, Cotton MS Cleopatra C VI, f. 4r.
This is a book that has been made for daily use, written in an informal script, probably by a cleric, with decorated initials to make navigation around the text easier. A second scribe has made additions and notes in the margins shortly afterwards, and then much later a third scribe has modernised and annotated the text. It contains guidelines for daily prayers and instructions to the anchoress on how to regulate her senses and her inner life; it deals with sin and confession and finally divine love. Practical issues of clothing, food, keeping pets and employing servants are also covered.
One of the most interesting aspects of the Ancrene Wisse is the language in which it is written, a regional and seemingly archaic brand of English in a form that is standardised across a group of religious texts copied in the same area about 150 years after the Norman Conquest. Very little written English survives from this period, when Latin (and increasingly French) was the language of learning and culture. The vocabulary contains loan words from French ('par charite' for through charity) and Norse ('feolahes' for companions) and the style is colloquial, but the spelling is closer to the written form of English from before the Conquest. For this reason there have been many studies made by historical linguists and dialectologists of this text, the original and most famous by the distinguished Old English scholar and writer of Lord of the Rings J. R. R. Tolkien, who in 1929 first identified and described the language of the Ancrene Wisse in a Cambridge manuscript (Corpus Christi College MS 402), also from the early 13th century.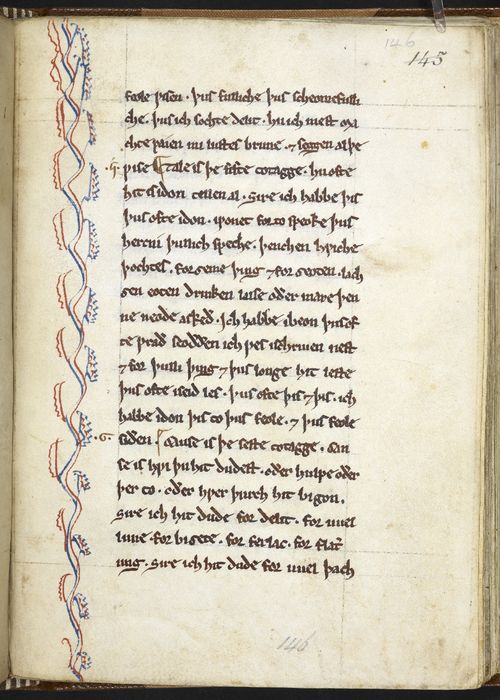 London, British Library, Cotton MS Cleopatra C VI, f. 146r
The British Library has three other manuscripts of the work, two from the same period, 1225-1250, and also in the Cotton collection, one from Worcestershire and one from Cheshire. The second has been adapted and contains pronouns which suggest it may have been for a male audience. Thirdly, a later version attributed to the 15th-century preacher, William Lichfield, is in the Royal collection: Royal MS 8 C I.