05 April 2013
Calling All Manuscript Sleuths: The Macclesfield Alphabet Book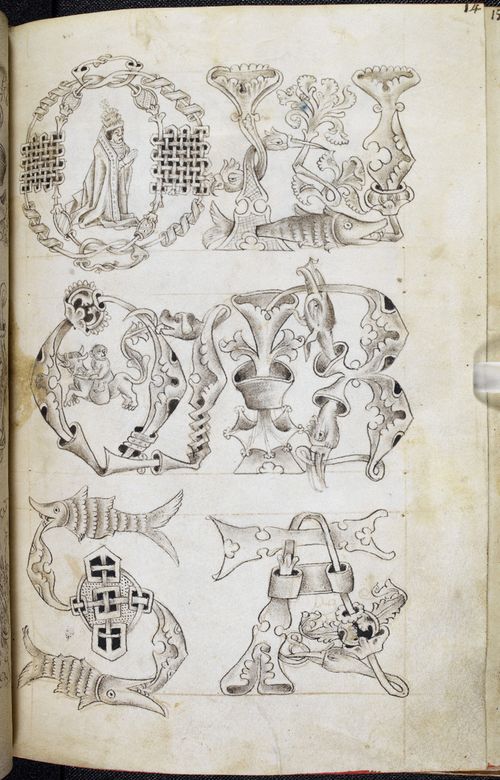 Folio with a portion of a sample alphabet, England, 1475-1525, British Library Add MS 88887, f. 14r
The Macclesfield Alphabet Book is an exquisitely beautiful c. 15th-century 'pattern book'. It contains the most complete set of designs for manuscript decoration known to have survived from late-medieval Britain. It might have been used as a model book for scribes to copy from whilst creating luxury books, or perhaps as a display of an artist's or workshop's skills, to show to potential patrons.  Until a few years ago, its existence was unknown, with the British Library holding the only other known English late medieval pattern book (Sloane MS 1448a, see here for more). Our manuscript, now British Library Additional MS 88887, was in the collection of the Earls of Macclesfield at Shirburn Castle and when it came onto the market in 2009, the Library was able to purchase it using funds raised from benefactors, including the National Heritage Memorial Fund, The Art Fund, and many private individuals.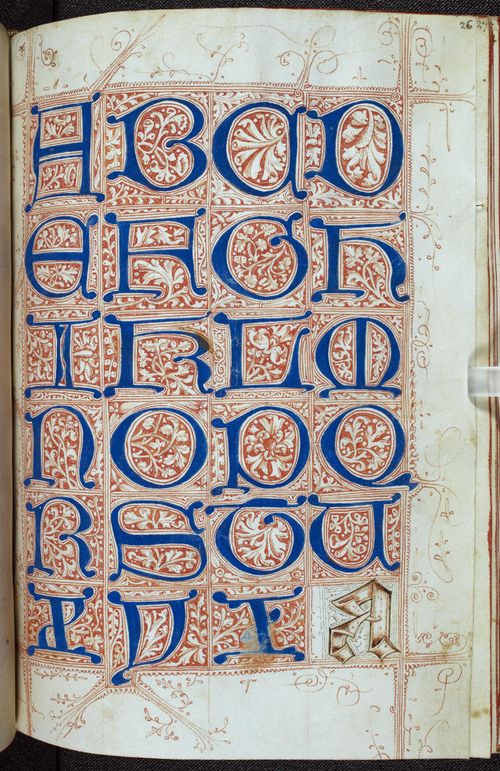 Folio with a sample alphabet, England, 1475-1525, British Library Add MS 88887, f. 26r
The manuscript contains a collection of 14 different sets of specimen initials or letters in alphabetical order in the Gothic script of the 15th century, with later additions in the Humanistic script of the early 16th century. The 'ABCs' are wonderfully illustrated, including letters formed using animals and people. Viewing the images online, one cannot help but be captivated by the inventiveness of the artists, and wonder at the work's real purpose, as some of the designs do not seem to have been created for use in real books.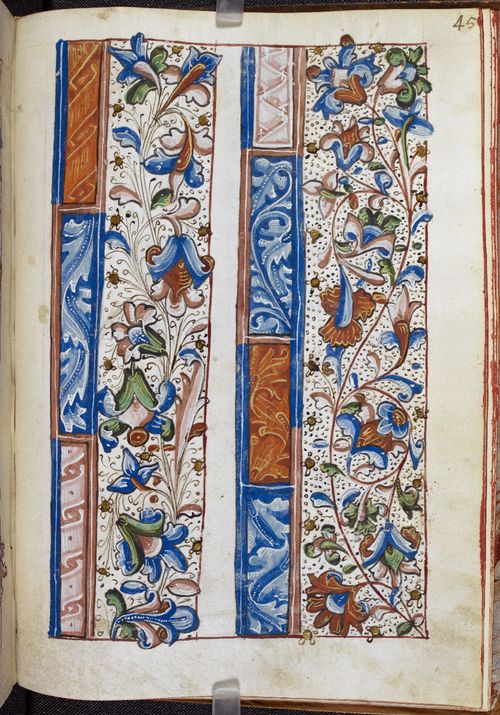 Folio with samples of border decoration, England, 1475-1525, British Library Add MS 88887, f. 45r
Along with the alphabets there are also included colourful designs for the borders and margins of manuscripts.  Additionally, on f. 9v there is a mysterious drawing of an uprooted tree with a shield inscribed 'R.B.' (see below). An emblem, perhaps a rebus in colours with gold with three flowers and two gold gloves hanging down and the word 'cli[m]i[n]g' or 'ch[ar]i[n]g', is on f. 46r (see below). The full significance of these images is yet to be determined, so if there are any manuscript sleuths out there who have the answer, please send us your ideas!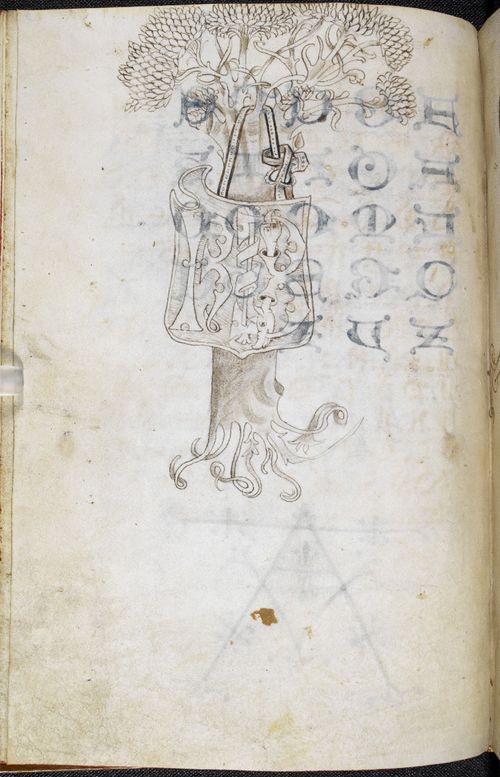 'R.B' emblem, England, 1475-1525, British Library Add MS 88887, f. 9v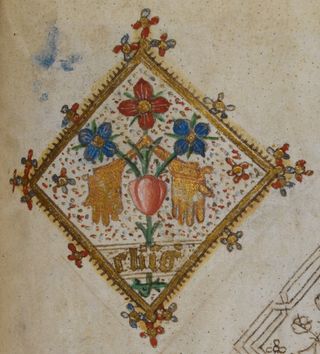 Detail of a rebus, England, 1475-1525, British Library Add MS 88887, f. 46r
- Chantry Westwell