17 April 2013
What's in the Beowulf Manuscript?
We're often asked what the Beowulf manuscript contains. Here's a helpful run-down, which explains how the epic poem we know as Beowulf is part of a wider collection, and how that codex was itself bound in the 17th century with an entirely separate medieval volume.
Essentially, all the components of the "Beowulf manuscript" were put together by the Parliamentarian and antiquarian scholar Sir Robert Cotton (d. 1631). Cotton had at his disposal two independent medieval codices: one dating from the very end of the 10th century or beginning of the 11th, and containing the poem Beowulf and other texts; the second dating from the 12th century, and containing Old English versions of Augustine's Soliloquies and the Gospel of Nicodemus. Cotton had these bound together as part of a single volume, christened Cotton MS Vitellius A XV (once the 15th item on shelf A of a press named after the emperor Vitellius). At the front of that volume were added a leaf removed from a 14th century Psalter, a list of contents, and a medieval endleaf (presumably taken from one of the two medieval compilations).
You can see the whole Beowulf manuscript on our Digitised Manuscripts site. But, for ease of reference, here is a full list of the contents, plus images from selected pages.
Psalter leaf (f. 1: now removed to form Royal MS 13 D I*, f. 37, the remains of the Psalter to which it originally belonged)
England, c. 1350-1360
Early modern endleaf (f. 2)
England, 1st half of the 17th century
Contains a list of contents in the hand of Richard James (d. 1638)
Medieval endleaf (f. 3)
England, 1st half of the 15th century (f. 3r), 2nd half of the 16th century (f. 3v)
Medieval endleaf, containing historical memoranda
"The Southwick Codex" (ff. 4-93)
England (provenance Southwick Priory, Hampshire), 2nd half of the 12th century
Augustine of Hippo, Soliloquia (ff. 4r–59v: imperfect)
Gospel of Nicodemus (ff. 60r–86v: imperfect)
Debate of Saturn and Solomon (ff. 86v–93v)
Homily on St Quintin (f. 93v: imperfect)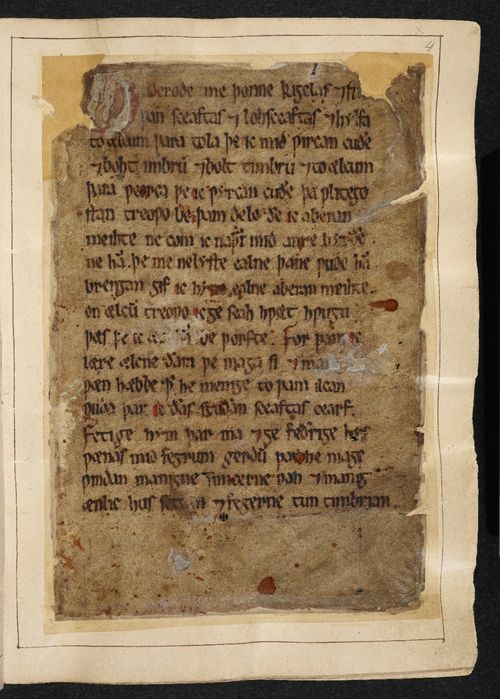 Augustine of Hippo, Soliloquia (London, British Library, MS Cotton Vitellius A XV, f. 4r)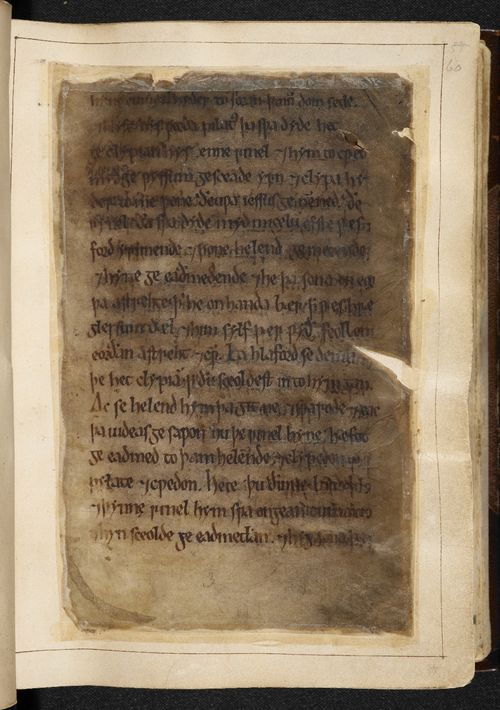 Gospel of Nicodemus (London, British Library, MS Cotton Vitellius A XV, f. 60r)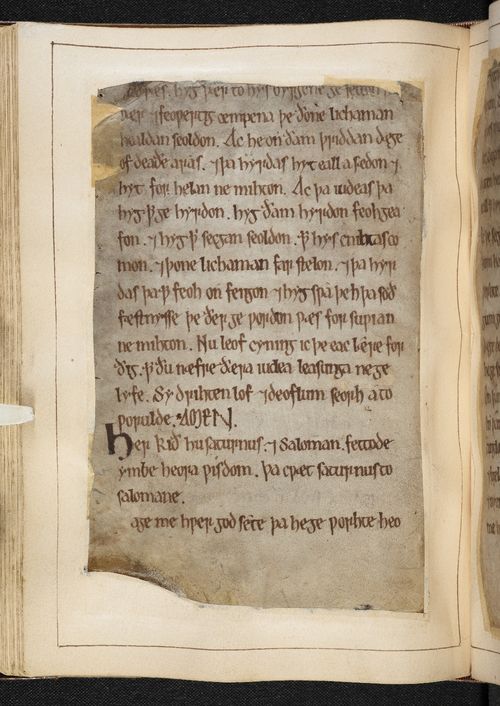 Debate of Saturn and Solomon (London, British Library, MS Cotton Vitellius A XV, f. 86v)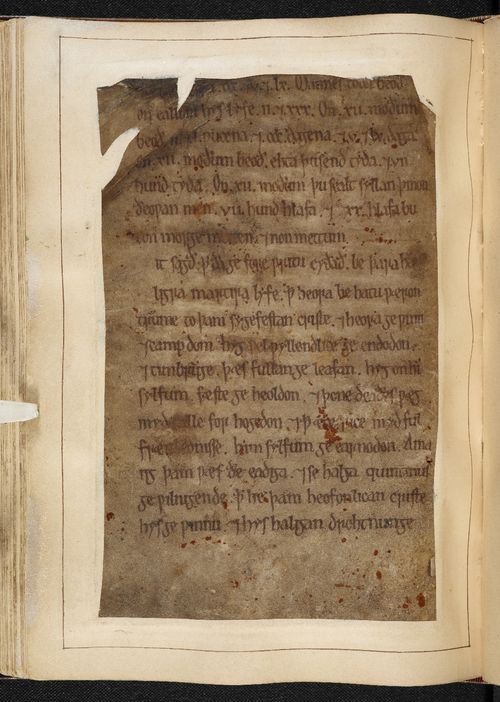 Homily on St Quintin (London, British Library, MS Cotton Vitellius A XV, f. 93v)
"The Nowell Codex" (ff. 94-209, named after its former owner, Laurence Nowell, d. c. 1570)
England, last quarter of the 10th century or 1st quarter of the 11th century
Homily on St Christopher (ff. 94r–98r: imperfect)
Marvels of the East (ff. 98v–106v)
Letter of Alexander to Aristotle (ff. 107r–131v)
Beowulf (ff. 132r–201v)
Judith (ff. 202r–209v: imperfect)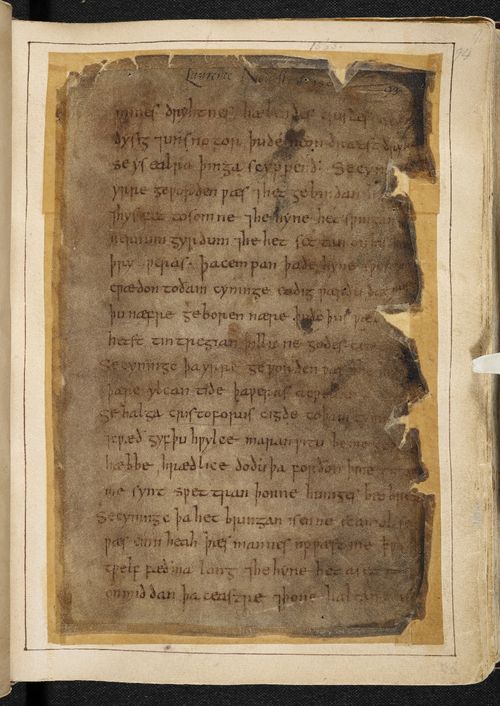 Homily on St Christopher (London, British Library, MS Cotton Vitellius A XV, f. 94r)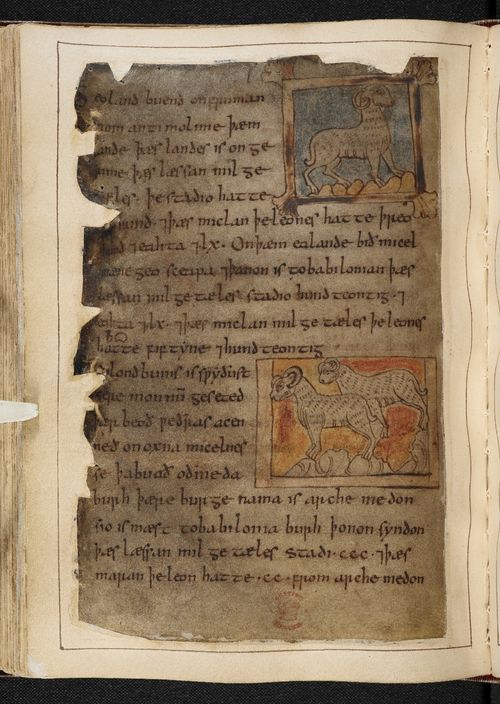 Marvels of the East (London, British Library, MS Cotton Vitellius A XV, f. 98v)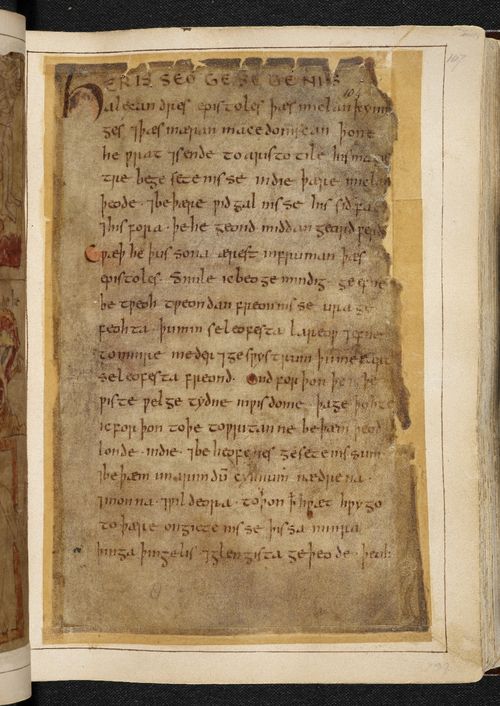 Letter of Alexander to Aristotle (London, British Library, MS Cotton Vitellius A XV, f. 107r)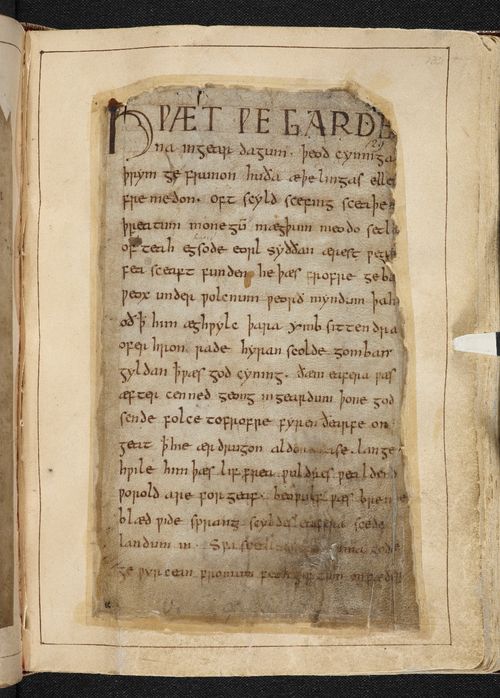 Beowulf (London, British Library, MS Cotton Vitellius A XV, f. 132r)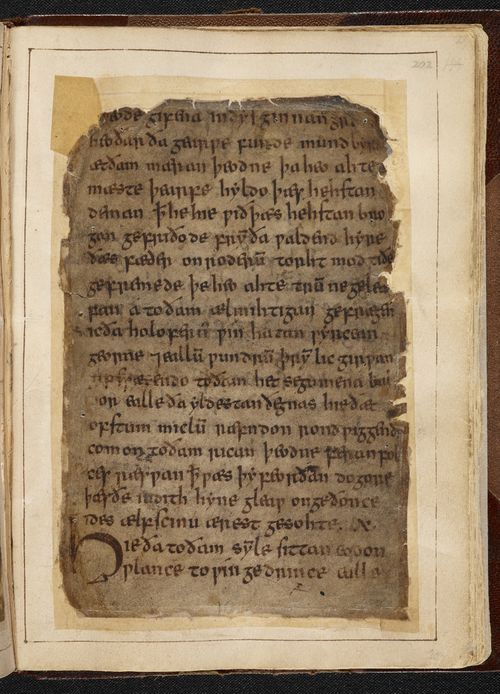 Judith (London, British Library, MS Cotton Vitellius A XV, f. 202r)