Have You Used DigiPal Yet?
The online world is awash with new resources for the study of medieval manuscripts. One such is DigiPal, maintained at King's College, London. As its homepage states, DigiPal (Digital Resource and Database of Palaeography, Manuscripts and Diplomatic) focuses on the handwriting of English manuscripts, particularly those produced between AD 1000 and 1100, during the reigns of Æthelred, Cnut and William the Conqueror.
DigiPal is still in development, but it already has images available from almost 50 medieval books and charters in the British Library's collections. And here is one example: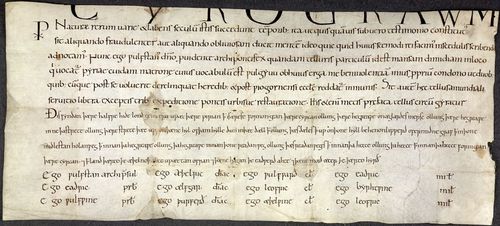 Lease by Archbishop Wulfstan to Wulfgifu of land at Perry Wood in St Martin's-without-Worcester, 1003 x 1023 (London, British Library, Additional Charter 19795, face).
DigiPal enables its users to review and compare individual letter forms, and to examine the work of individual scribes. The site includes a guide on how to use DigiPal (which demonstrates, for instance, how to find manuscripts produced in Worcester and held at the British Library).
We heartily recommend that those of you interested in vernacular, Anglo-Saxon manuscripts consult this site. For more details about the project, its outcomes and rationale, see here. DigiPal already features manuscripts from many other institutions, including Corpus Christi College, Cambridge: for an excellent feature on the project, see the Parker Library blog.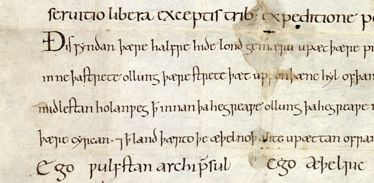 Detail of Archbishop Wulfstan's lease (London, British Library, Additional Charter 19795, face).