10 May 2013
King Offa and the Ceolfrith Bible
Sometime in the 8th century, King Offa of Mercia (reigned 757-796), of Offa's Dyke fame, is reputed to have given a Bible to the monks of Worcester. But where did he obtain it, and what was its subsequent fate? Some answers to these questions are found in a number of manuscripts at the British Library, and they reveal a strange state of affairs, from 7th-century Northumbria to post-medieval Nottinghamshire.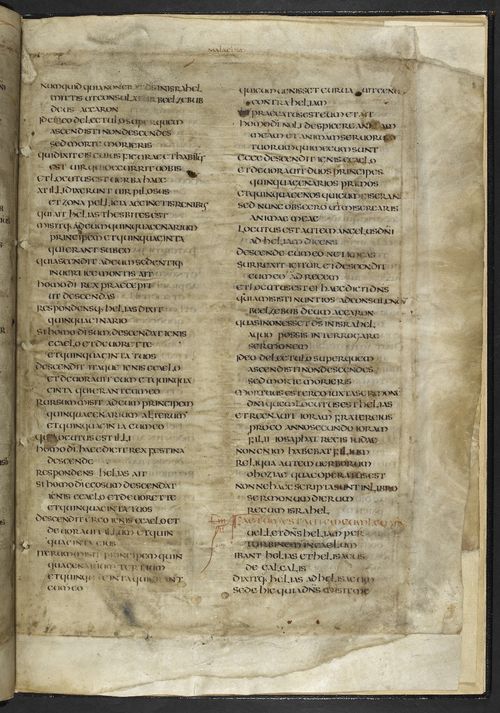 Passage from IV Kings, with a red rubric at the beginning of chapter 2 (London, British Library, MS Additional 45025, f. 3r).
Our story begins with Ceolfrith, saint and abbot of the monastery of Wearmouth-Jarrow in Northumbria from 690 to 716. Ceolfrith was Bede's early mentor, and during his rule the size and wealth of the monastery increased greatly and the number of books in the library doubled. Most famously, Ceolfrith commissioned three large Bibles from his own scriptoria: one for Jarrow, one for Wearmouth and the third for the Pope.
Realising that he was close to death, Ceolfrith resigned from the abbacy in 716 and set out for Rome, where he planned to present one of the Bibles to Pope Gregory II (715-731) and to remain to await his death. But he died en route, at Langres in Burgundy, and the Bible he was carrying instead made its way to the monastery of Monte Amiata in Florence. It is the only one of Ceolfrith's three Bibles to survive intact, and is now in the Biblioteca Medicea Laurenziana at Florence, known as the Codex Amiatinus and the oldest surviving full copy of the Bible in Latin. The image below of Christ in Majesty with the four Evangelists is one of two full-page miniatures from this huge volume, which is over 48cm tall, weighs 35kg and has more than one thousand pages.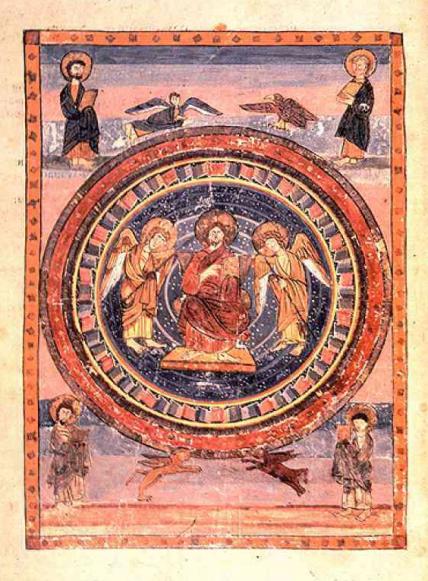 Image of the Codex Amitianus (courtesy of stpaulschurchjarrow.com).
British Library MS Additional 45025 is thought to be part of one of the two other Bibles commissioned by Ceolfrith. Only ten leaves and a fragment of an eleventh survive, from III and IV Kings, but the dimensions of the folios match those of the Codex Amiatinus, and it is written in the same Uncial style of script. Additional 45025 may still have been in Northumbria when the monasteries were sacked by the Vikings, and their libraries destroyed or dispersed. However, the Ceolfrith Bible, as it is now known, was most probably at Worcester Cathedral by the 11th century, when Bishop Wulfstan II (1062-1095) ordered that copies of important documents be added to a precious book described as the  'Great Bible'. Could this manuscript have somehow passed to King Offa, who then donated it to Worcester?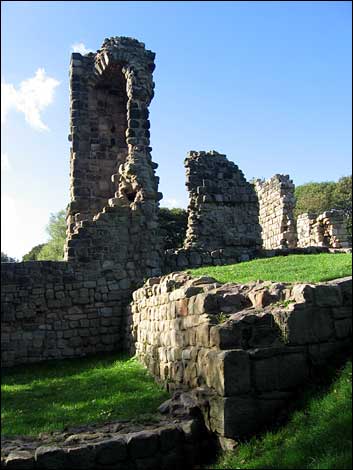 Ruins of St Paul's Abbey, Jarrow, dedicated in 685 (image courtesy of BBC).
No record of the fate of this magnificent early Bible is available until the 16th century, when some leaves were sadly used as covers for deeds pertaining to lands owned by the Willoughby family, Barons Middleton of Wollaton Hall (Nottinghamshire). Three of the ten folios of Additional 45025  have labels written upside down in the margins relating to the documents they contained (see below). The Bible fragment was bought from Lord Middleton in 1937 by the Friends of the National Libraries for the British Museum.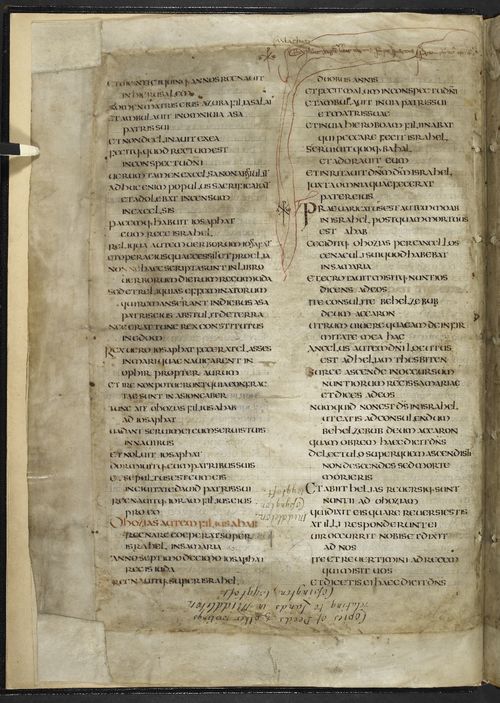 Decorated initial P and Chi Rho monogram (London, British Library, MS Additional 45025, f. 2v).
The leaves of Additional 45025 are sparsely decorated, with initials and first lines in red, and on f. 2v (above) the beginning of IV Kings has the initial P in black with red dots and, between the columns, the Chi Rho monogram, symbol of Christ, flanked by alpha and omega. This page also has a 14th-century note in red marking the end of Book 3 ('Explicit liber tertius') and the beginning of Book 4 ('Incipit quartus').
Another two portions of the same Bible (or its companion) also survive at the British Library, Additional MS 37777 and Loan MS 81. We now know that one of Ceolfrith's three great Bibles came to reside in Italy. The British Library fragments together imply that a second Bible left Wearmouth-Jarrow in the 8th century, passing in turn to King Offa and the monks of Worcester.

You can read more about the Ceolfrith Bible in Leslie Webster & Janet Backhouse (eds.), The Making of England: Anglo-Saxon Art and Culture AD 600-900 (London, 1991), no. 87; Ivor Atkins & Neil R. Ker, eds., Catalogus Librorum Manuscriptorum Bibliothecae Wigorniensis made in 1622-1623 by Patrick Young, librarian to King James I (Cambridge, 1944), pp. 77-79; and Richard Marsden, 'Manus Bedae: Bede's contribution to Ceolfrith's bibles', Anglo-Saxon England, 27 (1998), 65-85.
And you can also find full digital coverage of Additional MS 45025 on our Digitised Manuscripts site!
Chantry Westwell