Why Do We Blog?
Good question. Why do we blog?
The simple answer is we blog in order to tell you, our readers, about our wonderful manuscripts. We are custodians of world-class collections of ancient, medieval and early modern manuscripts; but it may not be immediately obvious to you what we look after at the British Library, and we're trying to do our best to remedy that.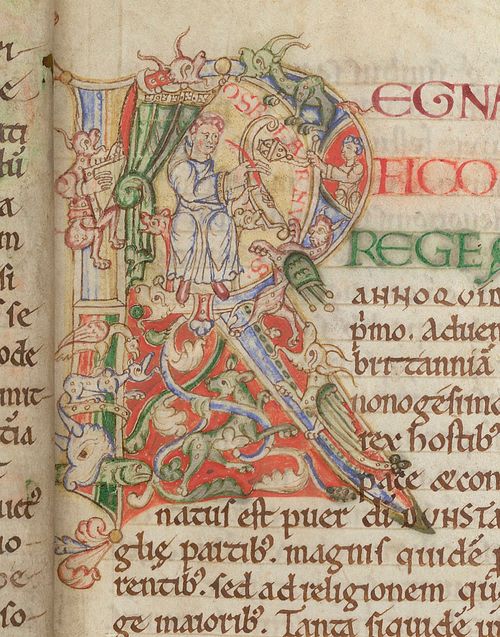 Detail of an historiated initial 'R'(ege) with a seated scribe labelled 'OSBEARNVS', a censing monk, animals, and animal heads: Life of St Dunstan, Canterbury, late 11th or early 12th century (London, British Library, MS Arundel 16, f. 2r).
We use this blog to promote our events and exhibitions, most recently our exhibition on Royal manuscripts. We also like to tell you about our various digitisation projects, and to draw your attention to some of our resources, most notably the British Library's Digitised Manuscripts site and our Catalogue of Illuminated Manuscripts.
This blog has recently undergone a facelift. Signficant changes are the new field labelled "Search this blog", in which you can discover our previous posts, and the ability to subscribe by email. And you can keep up-to-date via our Twitter feed, @blmedieval.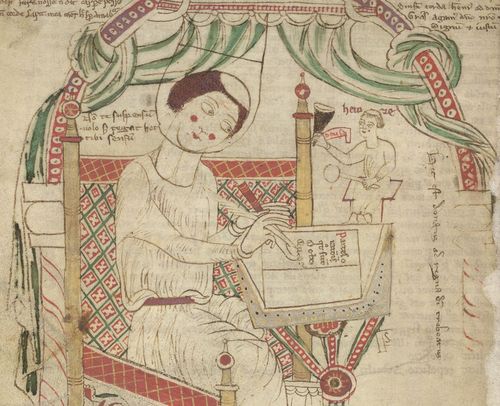 Donatus writing his grammar, his ink-pot held by a monk labelled 'Heinre'(?), at the end of Sedulius Scotus's Expositio super primam edicionem Donati grammatici: Germany, 2nd half of the 12th century (London, British Library, MS Arundel 43, f. 80v).
Are we doing a good job? We hope so -- after all, we have received well-nigh half a million page-views in the last year-and-a-bit -- but please feel free to comment at the end of each post, and using Twitter. Most importantly, we want to encourage your research in and enthusiam for our marvellous medieval manuscripts.
Julian Harrison & Sarah J Biggs