01 June 2013
A Calendar Page for June 2013
For more details on calendar pages or the Golf Book, please see the post for January 2013.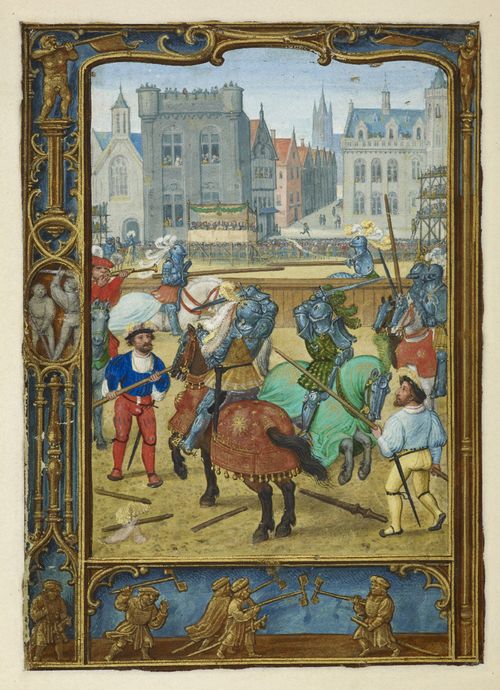 Calendar page for June with a tournament scene, from the Golf Book (Book of Hours, Use of Rome), workshop of Simon Bening, Netherlands (Bruges), c. 1540, Additional MS 24098, f. 23v
A tournament scene is a fairly unsual 'labour' for the month of June, although in keeping with this manuscript's emphasis on aristocratic pursuits.  In the foreground two knights on horseback are engaged in a sword-fight, with their attendants beside them and broken lances on the ground.  Behind them two others are jousting in full armour; in the background throngs of spectators can be seen in the stands, including some multi-storied structures accessible by ladders.  The bravest (or most foolhardy) members of the audience have climbed to the roofs of nearby buildings to get the best view of the tournament. Four men in the bas-de-page are involved in another kind of tournament, riding on hobby-horses and literally tilting with windmills.  On the following folio is a more typical June scene of shepherds shearing their flock, below the saints' days for June and a lobster-like crab for Cancer.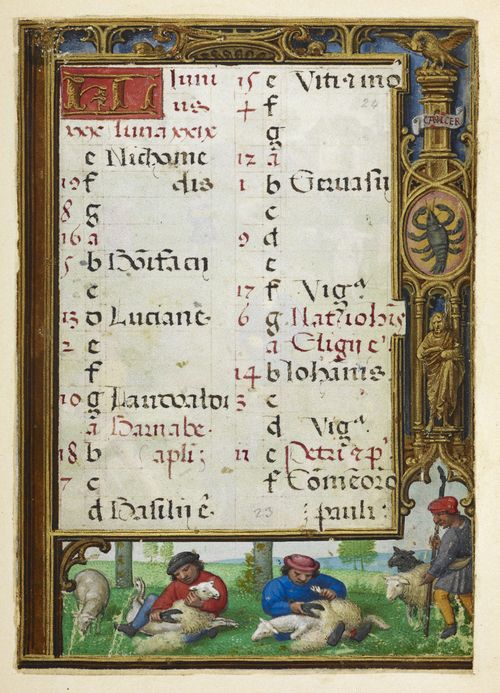 Calendar page for June with a bas-de-page scene of sheep-shearing, from the Golf Book (Book of Hours, Use of Rome), workshop of Simon Bening, Netherlands (Bruges), c. 1540, Additional MS 24098, f. 24r