08 July 2013
A Remarkable Tale of Manuscript Sleuthing: the Ely Farming Memoranda
In a slim box in the manuscripts secure storage at The British Library are three parchment fragments, mounted side-by-side between two pieces of glass in a wooden frame.  Two are about the length and width of a ruler, the other is almost the same length but twice as wide.  On both sides of the parchment are notes in Old English, some damaged and partially erased, written by several different scribes in a reasonably neat Anglo-Saxon script of the early 11th century.  Below the notes are a drawing of the head of a saint, or possibly Christ, in semi-profile, a number of pen-trials such as 'omnium inimcorum suorum dominabit' (a phrase copied by novice scribes to practise writing letters with minims like 'm', 'n', and 'u') and some jotted musical neums, very early examples of musical notation.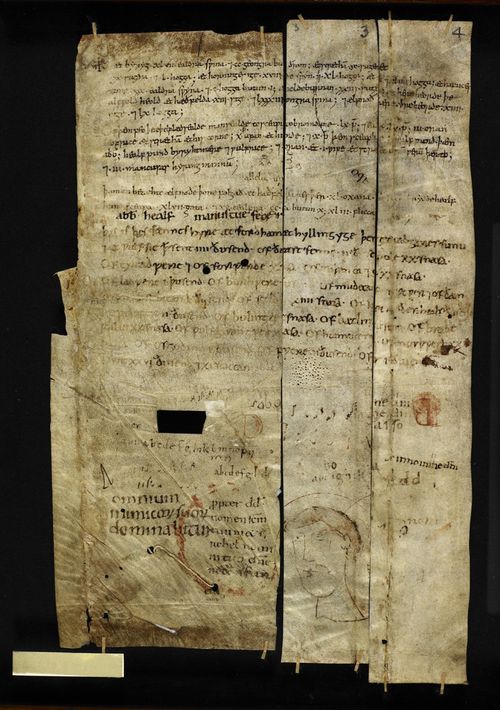 Verso of the three parchment strips, with a pen-drawing of a saint (or Christ), England (The Benedictine abbey of St Peter and St Etheldreda, Ely), c. 1007-1025, Add MS 61735, verso

The Old English notes are a detailed record of goods sent from the monastery at Ely in Cambridgeshire to Thorney Abbey.  These goods include ships and fishing nets, farming tools, wagons, 80 swine and a swineherd (valued at 1 ½ pounds and ½ pound respectively!) along with money to buy land at Thetford mill, oxen, a dairymaid and clothes.  In addition there are inventories of farms and livestock and records of rents payable in numbers of eels.  So what we have here is a very early example of farming records, probably jotted down on the flyleaf of a liturgical book belonging to Ely Abbey.  At a later stage the flyleaf was removed, possibly when the book was destroyed, and was torn into strips to be used in binding.  The two narrow strips were used as sewing guards in an early printed book:  Diophantus Arithmetica  (Basel, 1575), which was rebound in the early 17th century and was owned by James Betton, scientist and Fellow of  Queens' College, Cambridge (1611-28).  Betton donated his scientific library to the college in 1626, and the book remains there to this day (shelfmark D. 2. 7).
In 1902, Professor Skeat, the distinguished Anglo-Saxon philologist of Christ's College, Cambridge, discovered the two binding fragments and published an article about them in the Cambridge Philological Society journal of that year.  But it was not until twenty-three years later that a Professor Stenton, a historian of Reading University College, came across a third piece of the puzzle in the collection of a Lincolnshire gentleman, Captain W R Cragg of Threekingham.  Cragg had assembled various manuscript fragments in an album, some of which he had apparently bought from a junk shop at Sleaford.  A talented manuscript sleuth, Stenton noticed that one parchment strip 'closely resembles certain old English fragments found in 1902 by the late Professor Skeat'.  Once the three strips of parchment were placed side by side (the Cragg portion was later acquired by Queens' College), their importance as a unique record of farming in Anglo-Saxon England was clear.  In addition, the names of monks such as Aelfnoth of Thorney Abbey or that of Aethelflad, wife of King Edmund, are of interest to historians, and four words in Old English occur only in this document (for example, sige: 'sow' and baensaede: 'beanseed').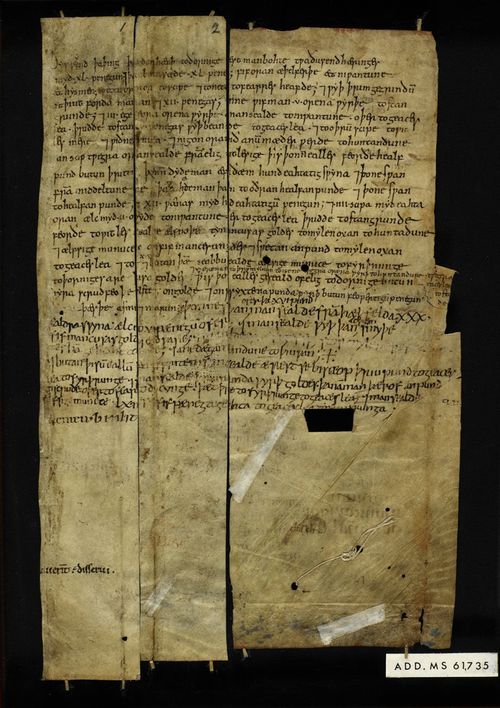 Rectoof the three parchment strips, England (The Benedictine abbey of St Peter and St Etheldreda, Ely), c. 1007-1025, Add MS 61735, recto

The fragments were purchased by the British Library at auction in 1979, and are now part of the library's important collection of Anglo-Saxon documents.  The question is: how many other medieval fragments still remain hidden in old books on dusty shelves, yet to be discovered?
- Chantry Westwell