10 July 2013
Medieval Maps of the Holy Land
P. D. A. Harvey's most recent book, Medieval Maps of the Holy Land, is a richly-illustrated study of eight regional maps of Palestine, drawn between the 12th and the 14th centuries. Some of those maps survive as the work of the original mapmaker, most notably those of Matthew Paris; others are copies or derivatives of original maps that are now lost. Together, as Harvey argues, they are "of considerable interest for the light they throw on the way maps were thought of and constructed in medieval Europe. They contribute too to our understanding of the way Palestine [used purely as a geographical term] was viewed at a period when the crusades gave it particular interest."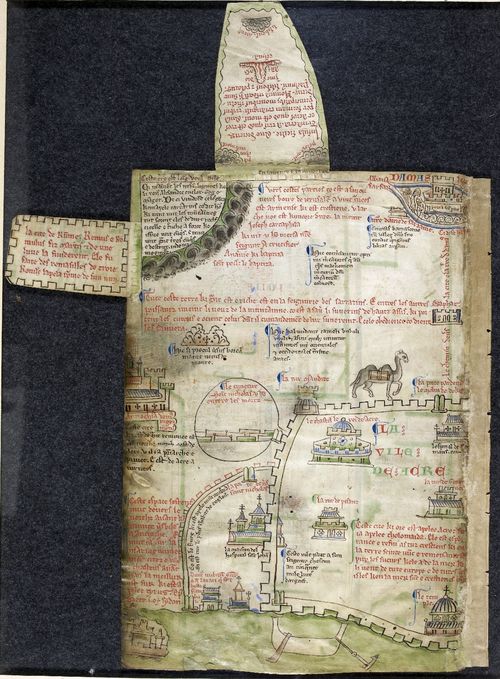 The Acre map of Matthew Paris (London, British Library, MS Royal 14 C VII, f. 4v).
The maps featured are now dispersed worldwide, being held in Florence, London, Oxford, Cambridge, Paris, Brussels, Bruges, the Vatican and New York. For instance, the Ashburnham Libri Map is kept at the Biblioteca Medicea Laurenziana in Florence. Harvey describes how it was examined in Paris by Sir Frederic Madden in 1846, with a view to purchasing it for the British Museum. But the sale fell through when Madden was informed that Guglielmo Libri was not just a collector but also a dealer, and "was suspected to have stolen a portion of the MSS. he possessed."
Two of these medieval maps of Palestine are now cared for by the British Library. The two Tournai maps (Additional MS 10049, f. 64r and f. 64v) were made in the late-12th century, and belonged to the abbey of St Martin at Tournai. The recto supplies a map of Palestine, overlaid and replaced by a map of Asia; the verso has a second map of Palestine, again partly overlaid and replaced by yet another map of Palestine. One notable feature is a parchment patch, covering an original hole, used on one side to depict Crete and the other the Caucasus mountains.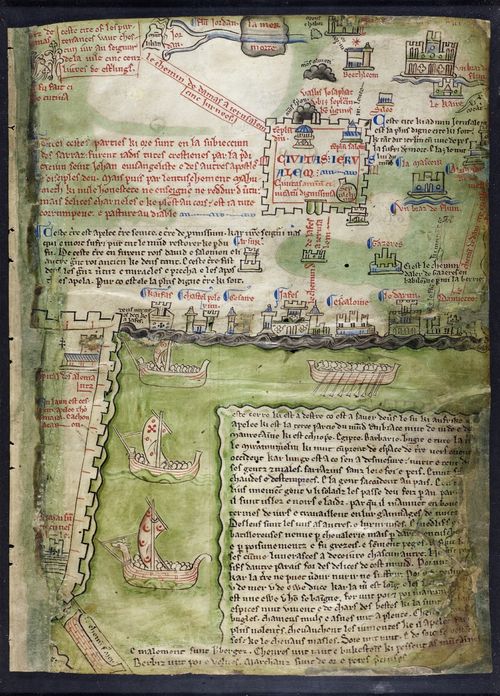 The Acre map of Matthew Paris (London, British Library, MS Royal 14 C VII, f. 5r).
The second British Library map described by Harvey is the Acre map of Matthew Paris (Royal MS 14 C VII, ff. 4v-5r), with other versions surviving at Corpus Christi College, Cambridge. The British Library example can be viewed on our Digitised Manuscripts site. That in Royal 14 C VII is said to be the most carefully executed of the three copies, and probably the first to be drawn, since its inscriptions are shorter and mostly in Latin rather than in French. Also found in the same book is an illustrated itinerary from London to south Italy, depicting the towns en route, mostly one day's journey apart, and with no contemporary or earlier medieval parallel.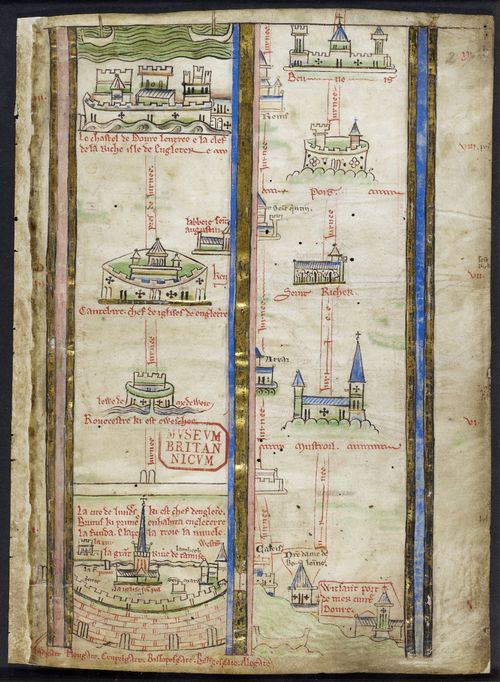 The itinerary from London to Italy (London, British Library, MS Royal 14 C VII, f. 2r).
Medieval Maps of the Holy Land is published by the British Library (ISBN 9780712358248), and is available from the online shop.