A Calendar Page for October 2013
For more details on calendar pages or the Golf Book, please see the post for January 2013.
Wine-making - and the more agreeable labour of wine-tasting - is the focus of the main calendar page for the month of October.  In the full-page miniature, a group of men are at work with a wine-press, and pouring the finished product into nearby casks (one of which is being repaired even as it is filled).  On the left, the wine merchant is offering his wares to a well-dressed customer.  Behind them, beyond a stone wall upon which two peacocks are sitting, a vineyard can be seen, with men still gathering grapes.  In the bas-de-page, men are playing with knucklebones.  On the following page are the usual listing of saints' days and a small painting of two scales for the zodiac sign Libra.  Below, four men are restraining a massive ox in preparation for its slaughter.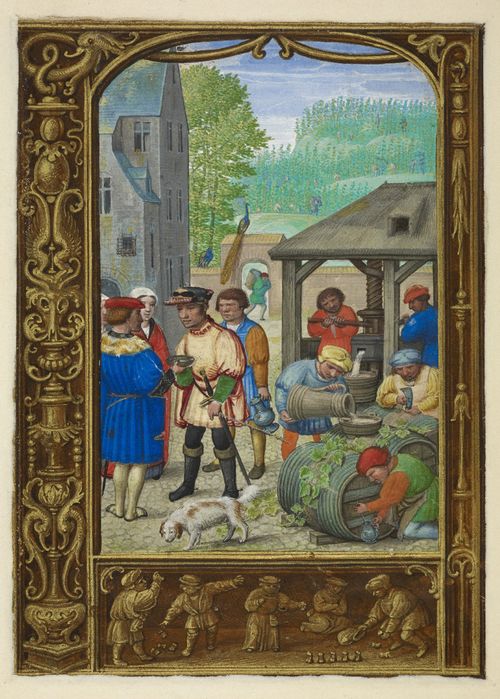 Calendar page for October with a miniature of wine-making, from the Golf Book (Book of Hours, Use of Rome), workshop of Simon Bening, Netherlands (Bruges), c. 1540, Additional MS 24098, f. 27v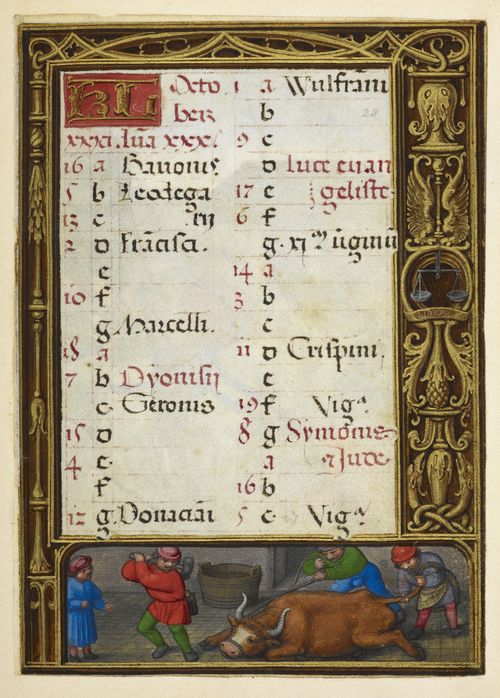 Calendar page for October with a bas-de-page scene of a men slaughtering an ox, from the Golf Book (Book of Hours, Use of Rome), workshop of Simon Bening, Netherlands (Bruges), c. 1540, Additional MS 24098, f. 28r