A Calendar Page for November 2013
For more details on calendar pages or the Golf Book, please see the post for January 2013.
Hunting takes centre stage in these calendar pages for the month of November.  In the full-page miniature, a nobleman can be seen returning from a stag-hunt; his quarry, a magnificently-antlered animal, is in the foreground, draped across a white horse.  This nobleman is accompanied by two retainers and a group of tired-looking hounds, while in the background, peasants can be seen feeding their chickens and pigs, and preparing their farm buildings for winter.  In the bas-de-page, a group of men are bowling - and, it appears, heatedly disputing a recent shot.  On the following page are the saints' days and feasts for November, alongside a roundel containing a centaur archer for the zodiac sign Sagittarius; below, two men are coursing hounds on yet another hunt.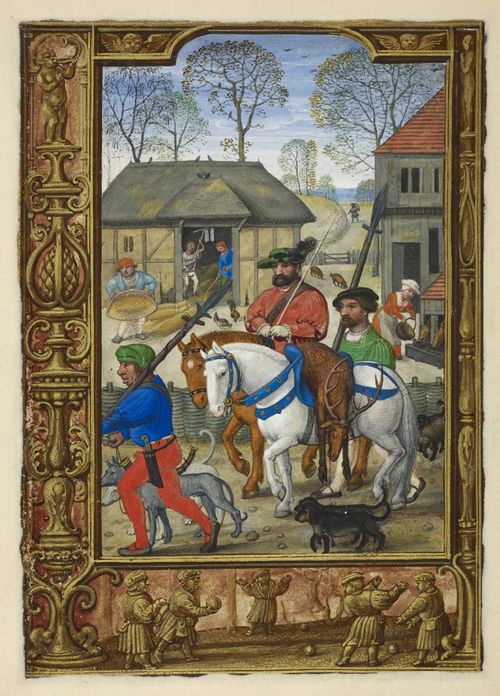 Calendar page for November with a miniature of a nobleman returning from a hunt, from the Golf Book (Book of Hours, Use of Rome), workshop of Simon Bening, Netherlands (Bruges), Additional MS 24098, f. 28v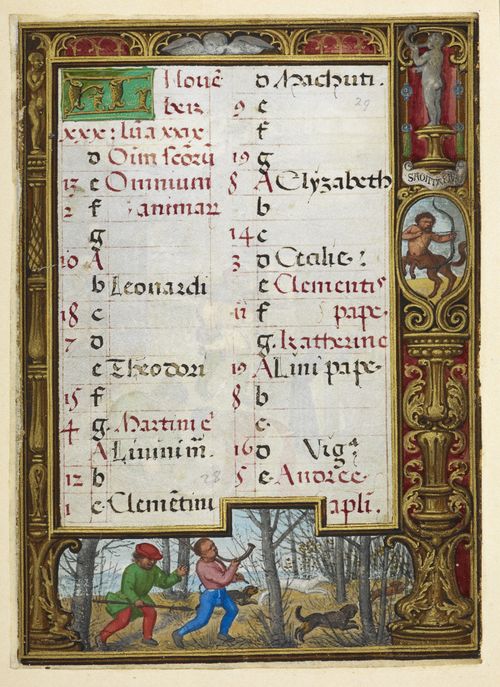 Calendar page for November with a bas-de-page scene of men on a hunt, from the Golf Book (Book of Hours, Use of Rome), workshop of Simon Bening, Netherlands (Bruges), Additional MS 24098, f. 29r
, from the Golf Book (Book of Hours, Use of Rome), workshop of Simon Bening, Netherlands (Bruges), c. 1540,
Additional MS 24098
, f. 27v - See more at: http://britishlibrary.typepad.co.uk/digitisedmanuscripts/2013/10/a-calendar-page-for-october-2013.html#sthash.j6qcTDU7.dpuf
, from the Golf Book (Book of Hours, Use of Rome), workshop of Simon Bening, Netherlands (Bruges), c. 1540,
Additional MS 24098
, f. 27v - See more at: http://britishlibrary.typepad.co.uk/digitisedmanuscripts/2013/10/a-calendar-page-for-october-2013.html#sthash.j6qcTDU7.dpuf