A New Life for Royal Manuscripts
It is always a great pleasure for us in the Medieval and Earlier Manuscripts Section to see the many and varied new ways that people make use of our 'old' material; see, for example, the dozens of retweets on our @BLMedieval Twitter account, or our previous post about a film inspired by the Luttrell Psalter. So, when Turner Prize-winning artist Mark Leckey asked to borrow several banners that had been on display during Royal Manuscripts: The Genius of Illumination for an exhibition he was curating, we were thrilled to participate.
Leckey's exhibition The Universal Addressability of Dumb Things was sponsored by the Hayward Gallery, Southbank Centre, and travelled to Liverpool, Nottingham, and Bexhill on Sea earlier this year. The exhibition explored 'how our relationships with artworks and common objects alike are being transformed through new information technologies' and included works of art from every genre and period. If you weren't able to catch the exhibition, here are a few images of our Royal banners in action!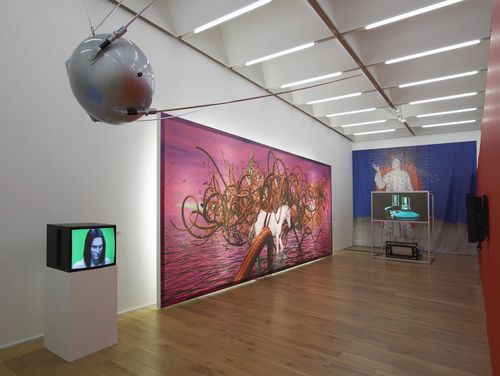 Installation view: The Universal Addressability of Dumb Things curated by Mark Leckey, a Hayward Touring exhibition at Nottingham Contemporary 27 April – 30 June 2013. Photo: Andy Keate
Installation View: The Universal Addressability of Dumb Things curated by Mark Leckey, a Hayward Touring exhibition at De La Warr Pavilion 13 July – 20 October 2013. Photo: Nigel Green
Installation View:  detail of a Mappa mundi from Bartholomaeus Angelicus' De proprietatibus rerum, Royal MS 15 E III, f. 67v, behind Double Dome, 1967 by Derek Boshier, courtesy the Arts Council Collection from The Universal Addressability of Dumb Things curated by Mark Leckey, a Hayward Touring exhibition at Nottingham Contemporary 27 April – 30 June 2013. Photo: Andy Keate