A Calendar Page for December 2013
For more details on calendar pages or the Golf Book, please see the post for January 2013.
The necessary work of preparing for winter continues on this full-page miniature for December.  In the foreground, a man and a woman are slaughtering one of the pigs that was fattened in November, and catching its blood in a pan.  Behind them, people are busy baking bread in a large oven, watched over by attentive birds.  In the background, we can see a stag, hunted by horses and hounds, leaping over a gate.  In the bas-de-page below, several men are playing at what appears to be a most entertaining (if dangerous) game: tug-of-war on sledges.  On the following page can be found a roundel containing a goat for the zodiac sign Capricorn, alongside the saints' days for December.  Interestingly, the feast day of Thomas Becket has remained unaltered, probably because this manuscript was not in England during the Reformation (for more on this question, see our post Erasing Becket).  At the bottom of the folio, two men are sledging on a frozen pond, while others, including a man carrying a white hare, are gathered around a warming fire.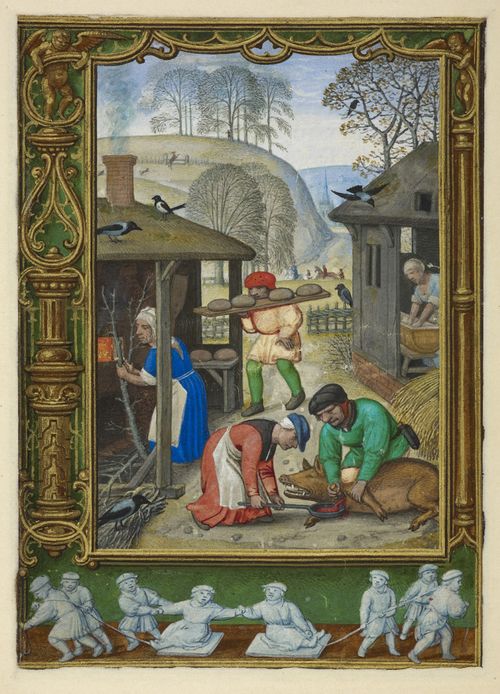 Calendar page for December with a miniature of people slaughtering a pig and baking bread, from the Golf Book (Book of Hours, Use of Rome), workshop of Simon Bening, Netherlands (Bruges), c. 1540, Additional MS 24098, f. 29v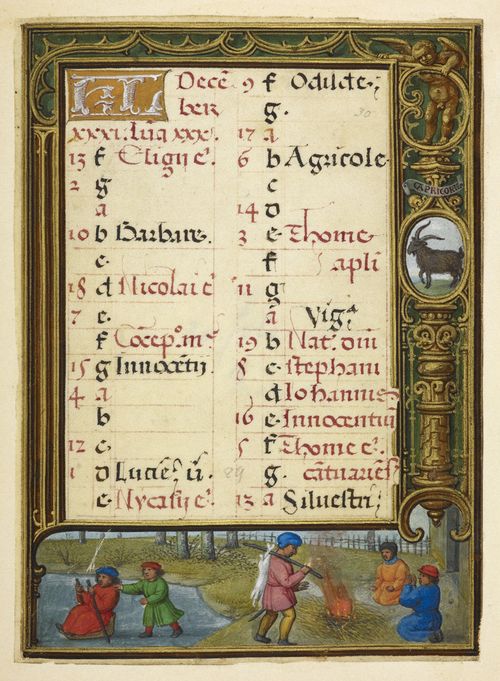 Calendar page for December with a bas-de-page scene of men sledging and warming themselves by a fire, from the Golf Book (Book of Hours, Use of Rome), workshop of Simon Bening, Netherlands (Bruges), c. 1540, Additional MS 24098, f. 30r

from the Golf Book (Book of Hours, Use of Rome), workshop of Simon Bening, Netherlands (Bruges), c. 1540,
Additional MS 24098
, f. 26v - See more at: http://britishlibrary.typepad.co.uk/digitisedmanuscripts/2013/09/a-calendar-page-for-september-2013.html#sthash.jf60B8sQ.dpuf