15 March 2014
The Life of a Mystic
Perhaps the first autobiography ever written in English, this book contains the incredible life story of the female mystic, Margery Kempe, who lived in what is now Kings Lynn, Norfolk from c. 1373 to c. 1440.  The work survives in only one known manuscript, British Library Add MS 61823, written at about the time of her death.  The manuscript's survival story is nearly as eccentric and action-packed as that of its heroine (on which, see below).  It was owned by the Butler Bowden family and the story goes that when Colonel W. Butler Bowden was looking for a ping-pong bat in a cupboard at his family home near Chesterfield in the early 1930s he came across a pile of old books.  Frustrated at the disorder, he threatened to put the whole lot on the bonfire the next day so that bats and balls would be easier to find in future.  Luckily a friend advised him to have the books checked by an expert and shortly afterwards Hope Emily Allen identified one as the 'Book of Margery Kempe', which was previously known only from excerpts printed by Wynkyn de Worde in 1501, and by Henry Pepwell in 1521 (where the author is described as 'a devoute ancres').  A true miracle!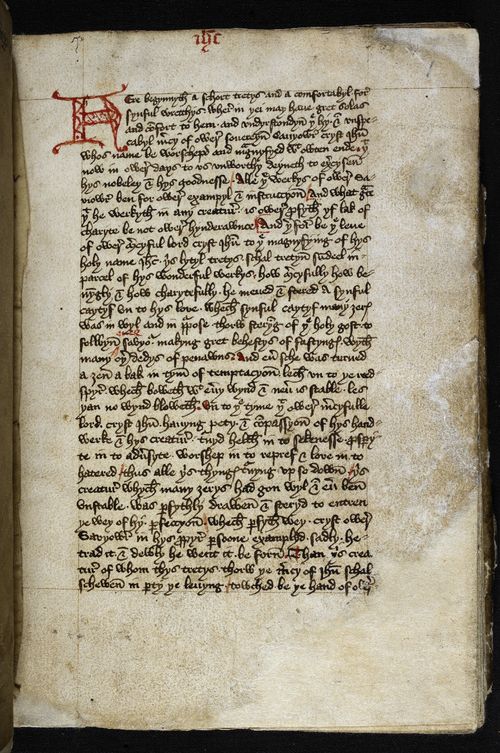 Opening page of the Book of Margery Kempe, Add MS 61823, England (East Anglia), c. 1440, f. 1r
Margery Kempe was the daughter of a merchant named John Brunham and at about the age of twenty she married John Kempe, a brewer and chamberlain of Lynn.  After the birth of her first child, she suffered depression, from which she was cured by a vision of Christ.  She had another thirteen children before she finally persuaded her husband to agree that they should live chastely!  She then donned white robes and sought permission from her bishop, who sent her to see the Archbishop of Canterbury, but there is no record that she took formal vows.  In 1413 she left on a pilgrimage to the Holy Land, living off charity along the way.  In Jerusalem, she visited Calvary and the Holy Sepulchre, where she was overtaken by a fit of uncontrollable crying , which, together with her roaring in church, brought her fame as a mystic, but also provoked hostility, especially in England on her return.  She was constantly in conflict with the establishment in her town, rejecting the conventional values and materialism of her fellow citizens and breaking her links with her family and society.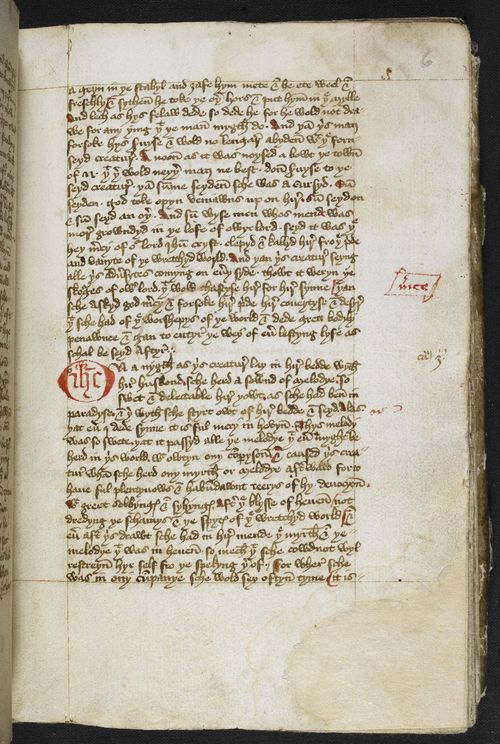 Text page from the Book of Margery Kempe, Add MS 61823, England (East Anglia), c. 1440, f. 6r
As recorded in the book, she set off again on pilgrimage in 1417 to Santiago de Compostela.  On her return from Spain she was accused of heresy several times and imprisoned in Leicester on a charge of Lollardy, and was reportedly mistreated while in prison.  Having argued her innocence before the church authorities on several occasions, she finally was given a letter by the Archbishop of Canterbury, allowing her access to confession and communion.  She returned to Lynn, beset by physical hardships, and lived an intense spiritual life, filled with visions, conversations with Christ and noisy lamentation.  Her husband, perhaps wisely, stayed away, but when he suffered an injury, she nursed him until his death, after which she travelled to Germany with her daughter at the age of almost 60 to see the Holy Blood in Brandenburg and the relics in Aachen.  The last record we have of her is in 1438.  Her book was completed by this time and a 'Margeria Kempe', who may be its author, was admitted to the prestigious Trinity Guild of Lynn.  She is thought to have died shortly after this, but there is no record of her death.  The scribe who wrote down this version of Margery's story identifies himself as Salthows, priest at Lynn in Norfolk and scholars believe this is not the original copy of the work, but was made a little later than the original, perhaps under the author's supervision. 


Detail of the Mount Grace Priory ownership inscription from The Book of Margery Kempe, Add MS 61823, f. iv verso
The verso of the first page of the manuscript contains the rubric, 'Liber Montis Gracie. This boke is of Mountegrace', and has been annotated by four scribes, probably monks associated with the   Carthusian priory of Mount Grace in Yorkshire.  Some of the notes in the margins give us an idea how the book was read by these monks and suggest why it was preserved by them.  One such note provides marginal headings, pointing to key passages in the text, such as 'nota de clamore' when Margery utters her first cry, and here a note with the word 'mirabile' (miracle):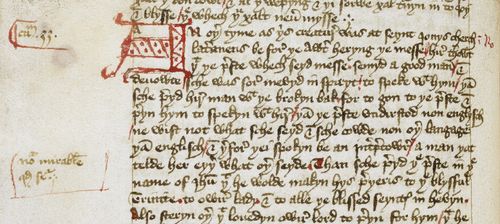 Marginal note in Latin marking a miraculous event in The Book of Margery Kempe, Add MS 61823, f. 40v.
In this passage, Margery is described as being at the Church of St John Lateran in Rome, where she meets a very learned priest, a 'Dewcheman' (German) who 'undirstod non Englycsh ne wist not what sche seyd', and she could  speak 'non other language than Englysch' so they had to speak to each other through an interpreter.  Then, on Margery's advice, the priest prayed for 13 days, at the end of this 'he undirstod what sche seyd in Englysch to hym and sche undirstod what that he
seyd. And yet he undirstod not Englisch that other men spokyn' – a miracle indeed!  But for Margery this was not an occasion to celebrate:  'sche sobbyd boistowsly and cryed ful lowde and horybly'. One wonders what the learned priest's reaction could have been.
Religious eccentric, feminist icon, literary genius, early social reformer – Margery Kempe has been described as all these things by critics approaching her text in different ways.  However we view her, there is no doubt that the work provides an invaluable insight into 15th century urban life and into the religious practices of the period. 
-  Chantry Westwell