24 June 2014
A Greek New Testament Reunited
The third phase of the British Library Greek Manuscripts Digitisation Project began in April of this year. Over the next twelve months we will be adding over 300 more Greek items to Digitised Manuscripts. While the first batch will go live at the end of June, today we thought we'd give you an early glimpse at the project. We have just uploaded to Digitised Manuscripts two very special manuscripts of the New Testament, Add MS 28815 and Egerton MS 3145. These items are a fitting place to start our project since they were once part of the same manuscript (Gregory-Aland 699).
The manuscript itself was created in the mid-10th century, probably in Constantinople. It originally contained portraits of the four Evangelists, one before each Gospel, but now only the portraits of Luke and John survive (along with another bonus portrait of Luke placed before the Acts of the Apostles):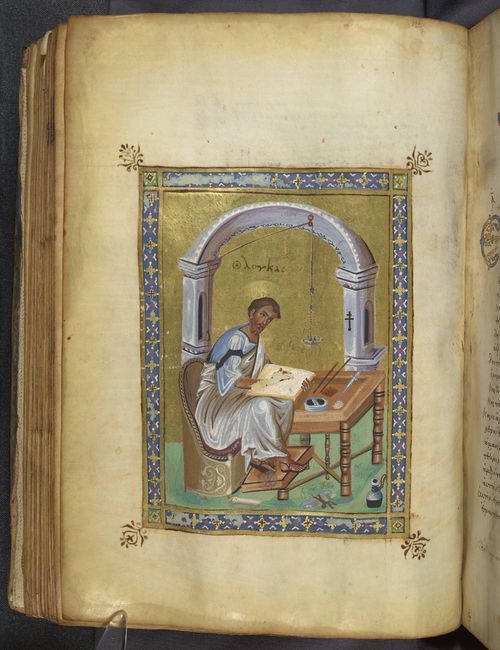 Miniature of Luke, from a New Testament (imperfect), Constantinople, mid-10th century, Add MS 28815, f. 76v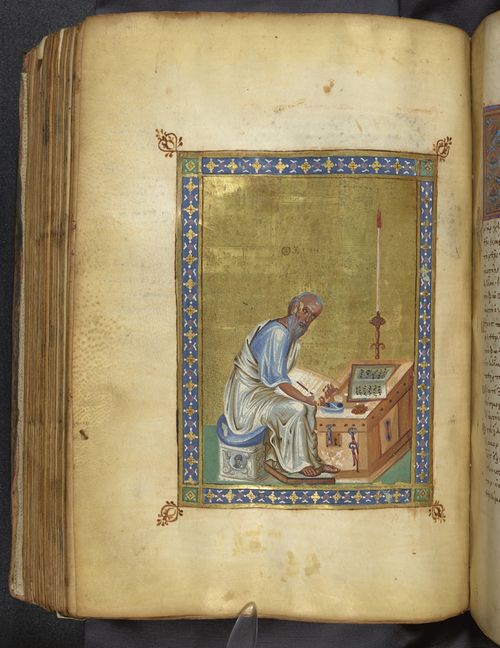 Miniature of John, Add MS 28815, f. 126v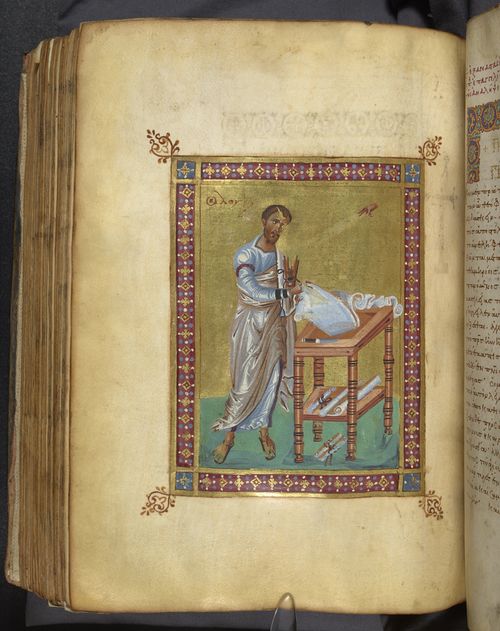 Miniature of Luke, Add MS 28815, f. 162v
In addition, it seems as though the manuscript originally contained chapter titles written in gold on purple parchment. These leaves were mostly torn out, but two stubs remain between f. 75 and f. 76, and traces of the chapter titles can still be seen. Unfortunately, for conservation reasons it was only possible to image the first of these two stubs.

Detail of a stub of purple parchment, Add MS 28815, f. 75*r
Both manuscripts are also blessed with interesting bindings: Egerton MS 3145, when it arrived at the British Museum, was housed in a binding of stamped brown leather over beech boards, covered with green velvet (now kept as Egerton MS 3145/1). This binding however seems to have been made for a larger manuscript.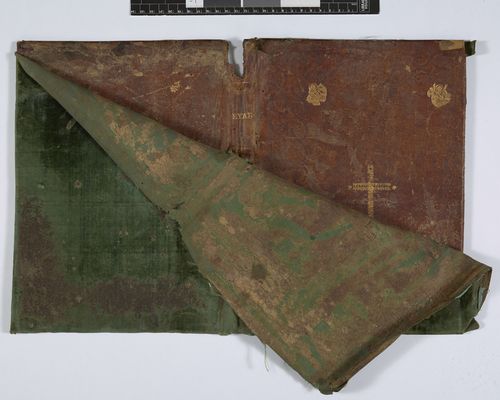 Binding previously attached to Egerton MS 3145, Egerton MS 3145/1
The cover of Add MS 28815, however, has been the subject of a great deal of scholarly attention. Affixed to the binding are silver-gilt plates worked with figures. While these are post-Byzantine, they probably were based on a 14th-century template. In the centre is a gilt plate with the figures of Jesus, the Virgin Mary, and John the Baptist. The plates at the top and the bottom depict the four Evangelists and Peter and Paul. The plates on the side have proven more controversial: it was long believed that they depicted the overthrow of the heretics Nestorius and Noetus. In a recent article, however, Andreas Rhoby has argued that they actually depict scenes from the life of St Demetrius. As always, you can find out more on the British Library catalogue entry, with further bibliography.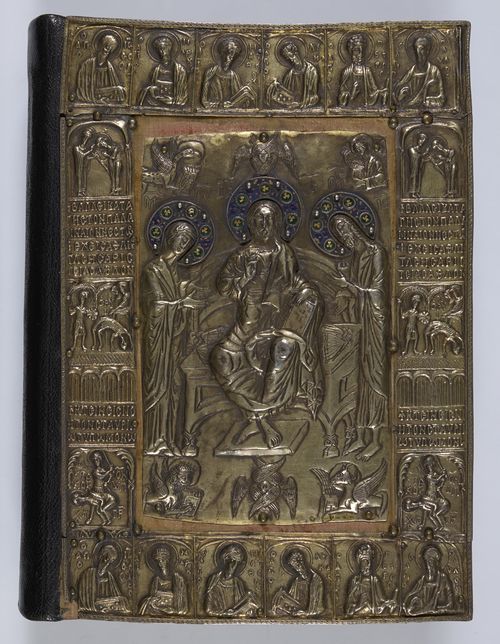 Binding of Add MS 28815
We can't end without giving some background as to how these two manuscripts came to be in the British Library. Add MS 28815-28830 were acquired from Ivor Guest, 1st Baron Wimborne, in 1871. While the exact provenance of Guest's manuscripts is not entirely clear, two (Add MS 28817 and Add MS 28821) can be located in the general region of Epirus, while the iconography and binding of Add MS 28820 and to a lesser extent Add MS 28819 may point to origins in that same area. It is quite likely that the entire collection was acquired in Epirus, probably in Janina.
Egerton MS 3145 was formerly in the possession of Angelina, Baroness Burdett-Coutts, who acquired a large quantity of manuscripts at around the same time through the intermediary of the Reverend Reginald Barnes, from a dealer in Janina. After the death of Burdett-Coutts' husband, about two-thirds of the manuscripts were sold at Sotheby's in 1922 (at which time the British Museum acquired Add MS 40655 and 40656). Twenty-seven manuscripts were given to Sir Roger Cholmeley's School at Highgate, and these were deposited in the British Museum in 1938. At this time the Museum purchased two of the manuscripts – Egerton MS 3145 and Egerton MS 3154. (There are also two other Greek manuscripts formerly owned by Burdett-Coutts in the British Library – Add MS 64797 and Egerton MS 3157).
It may well be that the dealer from whom Burdett-Coutts acquired her manuscripts was the same person who sold manuscripts to Guest, and further research in this area could tell us quite a bit more about the prior history of these two manuscripts. We can be thankful, at least, that they have been reunited in the same institution for the past seventy-six years, and that they can now be viewed online on Digitised Manuscripts.
- Cillian O'Hogan