19 February 2015
Written on the Edge
When you think of a bookshelf, an image comes immediately to mind: books in an orderly row, arranged alphabetically, thematically, or perhaps by height or colour, but (usually!) standing upright, with spines facing outward. But it does not necessarily follow that books were always kept in this way. In fact, our earliest visual evidence for bookshelves, or book storage, suggests that books were laid flat, sometimes on individual shelves, and often with fore-edge or lower edge facing outwards, rather than the spine. Some evidence that this continued to be the case, both in the Latin west and in the Byzantine world, is given by the existence of decorations, titles, or other writing, on the edges of manuscripts.
Egerton MS  2610. Cretan-style decorated fore-edge. Similar decoration can be seen on the edges of Royal MS 1 A XV.
Writing on edges could potentially be of great use to scholars in reconstructing Byzantine libraries, or in assigning provenance. But the barriers to such research are daunting, not least since the details of such writing are not always recorded in catalogue entries.Moreover, the text is often extremely difficult to read, because of the dirt that has accrued on the edges that have faced outwards in a library or study for centuries. And it is a challenge to photograph edges clearly, especially in manuscripts that have been rebound, such that the binding extends beyond the text-block and casts a shadow over the edges. But it would be very interesting to know whether, for instance, the relative brevity or length of titles could give clues as to whether the manuscript was owned by a private individual (who may only have needed one copy of a Nomocanon) or by a monastic or imperial library. In the hopes of making such a study easier, we provide here a brief list of Greek manuscripts in the British Library with writing on the fore-edge or lower edge. Unfortunately, not all of these edges can be seen online at present, but those not online have been transcribed where possible.
Add MS 39609, containing Isaiah of Scetis, Asceticon. Writing on the upper edge: + ΑΒΒΑ(?) ΗΣΑΙΟΥ. Manuscript of the Asceticon of Isaiah of Scetis. From the Karakalou Monastery, Mount Athos.
Add MS 39610, containing John Climacus, Scala Paradisi and Liber ad Pastorem. Writing on the upper edge: […K] ΚΛΗΜΑΚΑΣ. From the Monastery of Simonopetra, Mount Athos.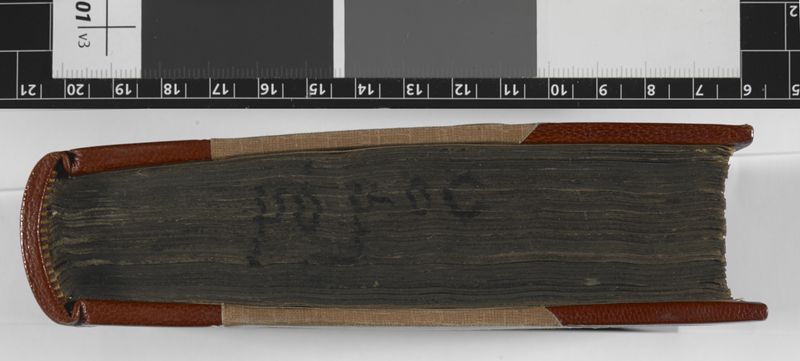 Burney MS 55, containing Manuel Malaxos, Nomocanon. Writing on the upper edge: ΝΟΜΟΣ. Owned by Parthenius, Metropolites of Silistria.
Burney MS 94, containing grammatical and medical texts. Writing on the lower edge: XVIII.(This manuscript was written at Venice, but appears to have been in the possession of a succession of Greek monks, see the catalogue entry).
Burney MS 110, containing Zenobius, Epitome collectionum Luculli Tarrhaei et Didymi. Writing on the fore-edge: ΑΙΣΩΠΟΣ ΚΑΙ ΖΗΝΟΒΙΟΣ. Written in central or northern Italy.
Harley MS 5571, a psalter. Writing on the fore-edge: ΨΑΛΤΗΡΙΟΝ. Owned by Santa Maria in Organo at Verona (Greek and Latin ex-libris).
Harley MS 5582, a psalter. Writing on the fore-edge: + ΨΑΛΤΗ[ΡΙΟΝ] (last few letters barely legible). Written by the monk Sophonias for the hieromonk Ioseph of Syria.
Harley MS 5625, Galen, De Pulsibus. Writing on the fore-edge. ΓΑΛΗ-ΝΟΥ ΜΕΓΑΛΗ ΣΦΥ-ΓΜΙΚΗ.
Harley MS 5630, works of Symeon, Archbishop of Thessalonica 1416/7-1429. Writing on the lower edge: + ΣΥΜΕΩΝ ΤΟΥ ΜΕΓ , ΘΕΟΛΟΓΟΥ ΘΕΣΣΑΛΟΝΙΚΗΣ
Harley MS 5693, Homer's Iliad. Writing on the fore-edge: HOMERUS, and lower edge inscribed '6[6?]'.
-          Cillian O'Hogan