17 December 2015
Medieval Star Wars
It can hardly have escaped your notice that a rather major feature film opened across the world this week.  We all are awash in the sights, sounds, and excitement of the newest Star Wars movie, and as you know, the Medieval Manuscripts department is always eager to join in the fun.  It may seem a stretch to discuss medieval manuscripts in the context of a futuristic saga, but have no fear – we'll give it a good try nonetheless.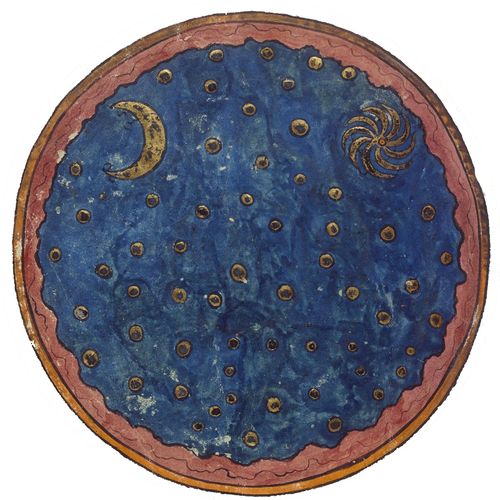 A long time ago in a galaxy far, far away… and you know the rest. Image of stars and the heavens from the Northern French Miscellany, France, 1277-1286, Add MS 11639, f. 517r
The jewel in our Star Wars crown is the very Yoda-like creature below, which can be found in an book of canon law now known as the Smithfield Decretals.  Written probably in Toulouse, the manuscript arrived in London in the early part of the 14th century, where numerous marginal illuminations were added.  When we first meet Yoda in the Empire Strikes Back, his age is given as 900 years, meaning that he would have been about 260 at the time of the illumination of the Smithfield Decretals.  It is therefore entirely possible (if not probable) that this is a portrait drawn from life.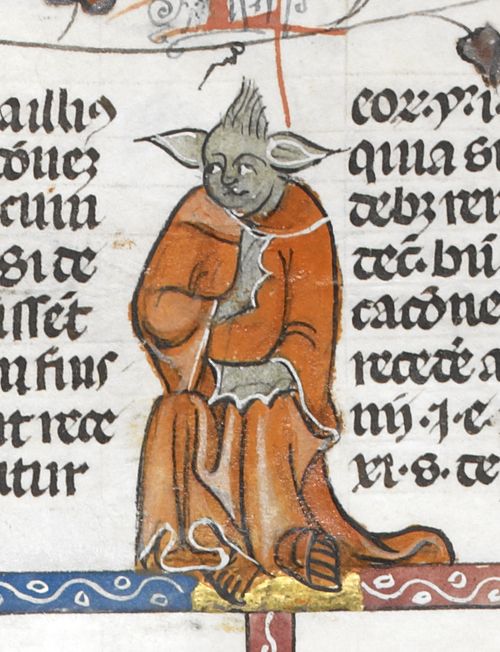 Detail of Yoda (or a look-alike), from the Smithfield Decretals, southern France (with marginal scenes added in London), c. 1300 – c. 1340, Royal MS 10 E IV, f. 30v
Yoda is not the only inhabitant of the Star Wars universe to be found on the pages of our medieval manuscripts.  For example, a brief suspension of disbelief might allow one to see Leia wielding two light-sabres in the lady below.

Detail of a lady, from the St Omer Book of Hours, France, c. 1320, Add MS 36684, f. 3v
Chewbacca has a precursor in the wodewose or wild man, though these medieval half-human creatures did not generally cooperate with humanity quite as well as the noble Wookiee.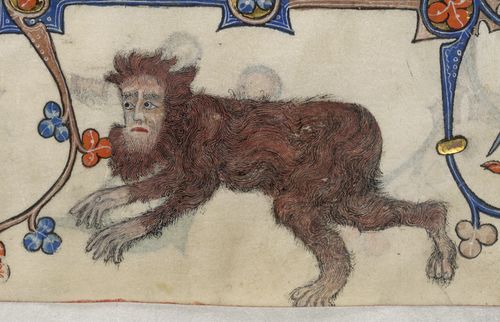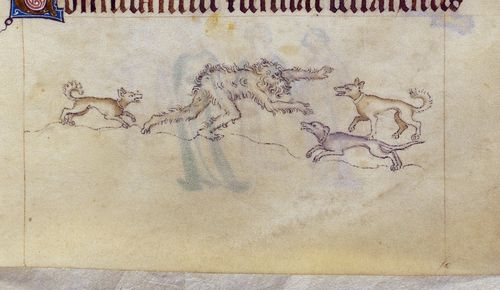 Details of wodewoses, from the Luttrell Psalter, England (Lincolnshire), 1325-1340, Add MS 42130, f. 70r, and from the Queen Mary Psalter, England, 1310-1320, Royal MS 2 B VII, f. 173r
With diligent searching, a whole host of other characters appears:

An early Sith? Detail from the alchemical treatise Splendor Solis, Germany, 1582, Harley MS 3469, f. 18r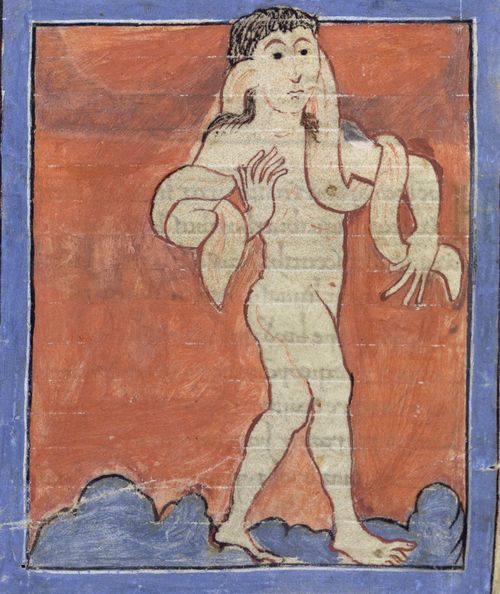 A progenitor of Bib Fortuna: detail of a panotii from the Marvels of the East, England (Canterbury), 2nd quarter of the 11th century, Cotton MS Tiberius B V, f. 83v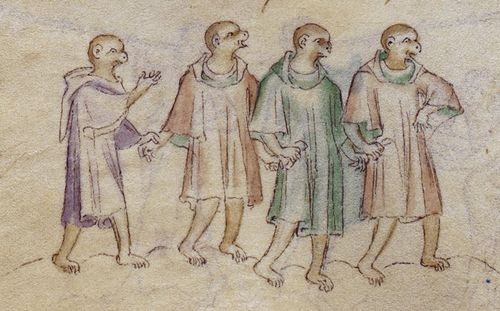 Ewok-ish creatures: from an Italian rite prayer book, Italy, 1383, Add MS 26968, f. 284v, and from the Queen Mary Psalter, Royal MS 2 B VII, f. 179v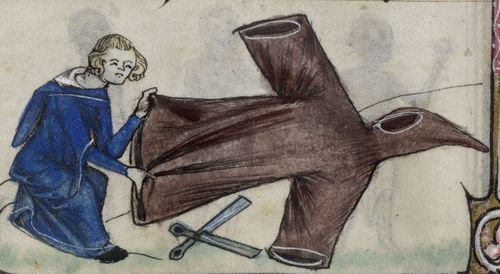 Jedi or Jawa?  Detail from the Taymouth Hours, England (London?), 2nd quarter of the 14th century, Yates Thompson MS 13, f. 180v

A creature at home in Mos Eisley Cantina, from the Luttrell Psalter, Add MS 42130, f.48r

An unguarded (and unhelmeted) Darth Vader, from the Smithfield Decretals, Royal MS 10 E IV, f. 116v
We would love to see or hear about anything else that you might be able to come up with.  As always, you can leave a note in the comments below, or tweet us @BLMedieval.  May the force be with you!