06 July 2014
Homage to a Monk-Archivist
We have another wonderful guest blog this month, this time by Hans Berger who was involved with EAP177 and EAP326, two wonderful photographic projects from Laos. I will let him tell you all about the person who was the inspiration behind it all...
Pha Khamchan Virachitta Maha Thela (1920-2007)
Theravada monk and abbot, collector of Buddhist photographs of Laos
Portrait of Pha Khamchan by Hans Georg Berger 1996
From the 7th-9th July, Buddhist monks and laypeople of Luang Prabang in Northern Laos commemorate Pha Khamchan Virachitta Maha Thela, a highly venerated abbot who passed away seven years ago, and who has been the key figure in a research project of the British Library's Endangered Archives Programme in Luang Prabang, Laos.
Pha Khamchan collected Buddhist Photographs of Laos for over 70 years and saved them during difficult times. In 2006, he agreed to a project of digitisation that now makes a unique body of Lao Buddhist photographs available for research, both inside and outside  Laos. With photographer Hans Georg Berger, he created the Buddhist Archive of Photography in Luang Prabang that now holds more than 35.000 historic photographs and related documents.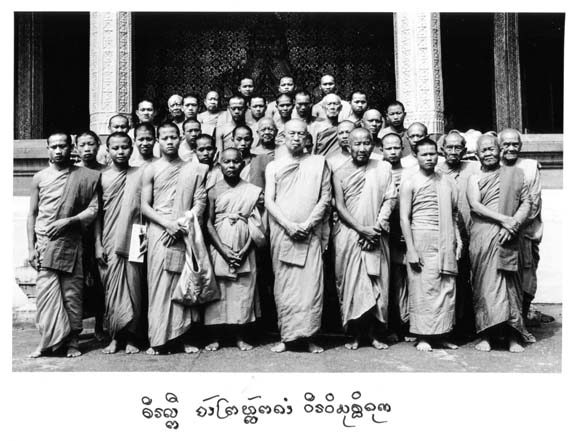 Pha Khamchan and his monastic community in 1996
The digitised photographs are available through the EAP website and at the National Library of Laos. The originals are kept in Luang Prabang.
Buddhist ceremonies take place at Vat Saen Sukharam, a historic monastery of the World Heritage Town of Luang Prabang. Led by Pha One Keo Kittibhaddo, these ceremonies are organised by Pha Khamchan's disciple, Pha Buavan Punnasaro.
Commemoration of Pha Khamchan at the Buddhist Archive of Photography in 2010.
The people of Luang Prabang honour a monk whose conduct and spiritual teaching has been exemplary, as was his profound knowledge of the ancient Lao culture and of its unique traditions and festivals which form the Lao identity.
Do have a look at the fascinating film A  Theravada Vision that shows Hans Berger and the monks preserving the photographic archive.
Open in your default media player
Streaming video in Windows Media format. 1:45
Please note that this video is optimised for viewing over a broadband internet connection.