15 January 2015
New online collections – January 2015 – 4 million images now online!
Happy New Year from the Endangered Archives Programme. As we welcome in the New Year we are also celebrating reaching over 4 million images available in our online collections. The three new projects online this month have moved us over this milestone.  These are EAP532, EAP584 and EAP676. They come from Nigeria, India and Nepal.
The first project is EAP532, it preserved and digitised two collections of records from the Benue valley in Central Nigeria. The first of these collections is the transcribed oral and written records in the private collection of the late renowned scholar of Central Nigeria, Charles Creswell Jacobs. The second is the Methodist Mission's ecclesiastical records in Otukpo.
The CC Jacobs collection is significant in several respects, apart from being the largest individual archival collections on the Central Nigerian region and its peoples, it is also the most systematic and detailed. It contains copies of some files that are currently missing from the National Archives, Kaduna, which deal with the customs and cultures of the largely non-Muslim communities of Central Nigeria.
The Otukpo Mission's collection contains individual and institutional narratives on late nineteenth and early twentieth century anti-slavery efforts of Christian groups to combat the relics of slavery and convert people to Christianity. They also contain commentaries on colonisation and colonial society in Idomaland that are unencumbered by the strictures of colonial bureaucracy. Missionary records are invaluable materials for reconstructing colonial histories beyond the formulaic style of standard colonial archives.
The project created a digital archive of documents from these two collections. Approximately 100,000 digital images of documents were created.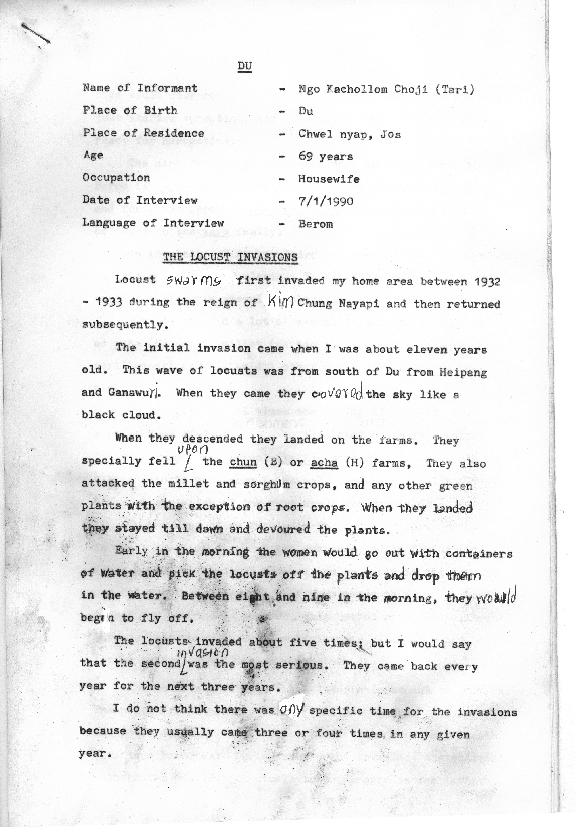 EAP532/1/2/21: The Locust Infestations [November 28, 1934] – Image 1
EAP584.  digitised palm leaf manuscripts from Kerala, India. It carries on the work done by the pilot project EAP208. 
950 palm leaf manuscripts have been digitised in this project, creating approximately 200,000 images. Kerala is a region rich in traditional knowledge and these manuscripts include material from diverse disciplines such as history, the sciences, mathematics, architecture, philosophy and scripture. Most of the manuscripts are around 300-400 years old though some are around 600-700 years old.
A major portion of the manuscripts were held by private collectors in repositories that were old and dust-ridden. They were under threat due to a lack of knowledge for preservation. Until recently, consigning manuscripts into the sea or river on auspicious days was considered the best practice to preserve them, to avoid the sin of witnessing their decay. Workshops on preventive conservation were held for owners, so that they may better safeguard them for the future.

EAP584/1/182: Dharmaśāstraṃ [17th century] – Image 74
EAP676 carried out a survey of Buddhist Sanskrit manuscripts owned by Vajrayana Viharas (Buddhist Temples) and Newar Buddhist families in Lalitpur, Nepal.
Due to the significance of the Buddhist Sanskrit manuscripts of Nepal being the only original sources of Mahayana Buddhism, Buddhist scholars and monks around the world have collected and studied them. Most efforts to date have been focused on researching institutional holdings. However, the prevailing manuscript culture led individual Buddhists to store and preserve them in Viharas and individual Buddhist families. No official information is available on such holdings. Consequently, the manuscripts are gradually decaying. This project surveyed Viharas and individual collections, and provided detailed information about their collections. Important and vulnerable texts were digitised and preserved for future use. This created around 10,000 images of manuscripts which are now available to view online.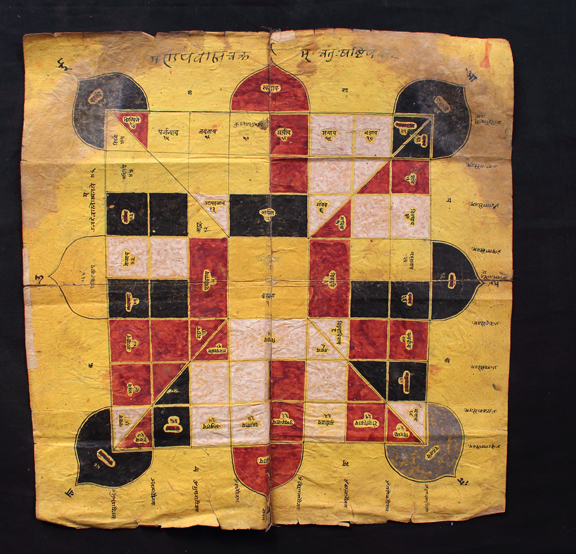 EAP676/2/25: Maṇḍapa Vāstu Cakra – Image 3
Check back next month to see what else has been added!
You can also keep up to date with any new collections by joining our Facebook group.