24 May 2013
New Beatles acquisition at the British Library
We are pleased to announce that the British Library has acquired six manuscripts created by John Lennon. The manuscript collection has been donated to the British Library by Hunter Davies, the writer and journalist whose acclaimed biography of The Beatles was first published in 1968. The collection was donated under the Government's newly launched Cultural Gifts scheme, which allows individuals and companies to donate pre-eminent items to the nation during their lifetime in return for a reduction in their UK tax liability. The scheme has been created to encourage philanthropic giving by individuals during their lifetime. This photograph shows Roly Keating, the Chief Executive of the British Library, Culture Minister, Ed Vaizey MP and Hunter Davies with one of the six manuscripts-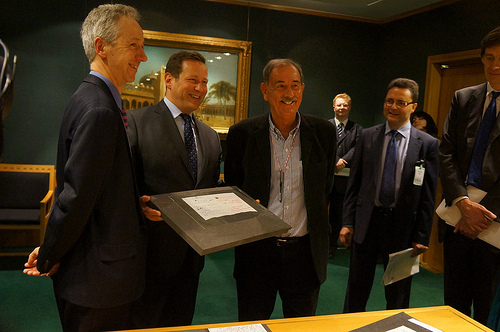 (Image © The Department of Culture, Media and Sport)
The collection consists of three song lyrics, 'In My Life', 'Strawberry Fields Forever' and 'She Said She Said'. The lyrics illustrate Lennon's creative process whilst also showing alternatives to the final recorded versions of the well known songs. 'In My Life' includes references to 'tramsheds with no trams' and to the demolition of 'The Dockers' Umbrella', an affectionate name for the elevated railway which followed the line of the Liverpool Docks. The lyrics of 'She Said She Said' were amended before recording as the band had to remove the word 'crap' to prevent the song from being banned! The lyrics provide us with an insight into Lennon's life in Liverpool. The name 'Strawberry Fields' came from Strawberry Field, a Salvation Army children's home in Liverpool near Lennon's childhood home.
Further context is provided by the two letters and one postcard which make up the donation. The first is part of an unsent letter to Lennon's friend (and former Beatle) Stuart Sutcliffe. Sutcliffe was the original bassist for the band and had met and befriended Lennon when they were both at art college in Liverpool. The Beatles spent extended periods playing in Hamburg in the early 1960s and after leaving the band Sutcliffe decided to stay in Germany. This letter was probably sent by Lennon after the Beatles had returned to England. It is a rather rambling letter to a much missed friend and includes some sketches by Lennon -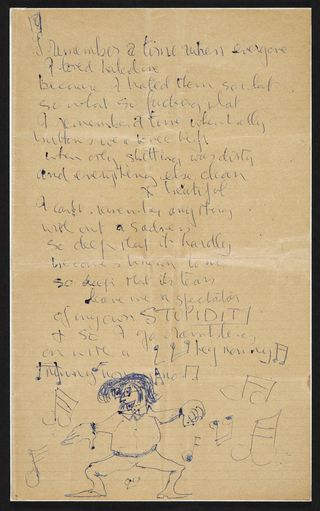 (Letter image © Yoko Ono Lennon)
Tragically Sutcliffe died of a brain harmorrhage in 1962 aged 21. Lennon gave the letter to Hunter Davies in 1966 when he was writing The Beatles' biography.
In the second letter, which was written to Hunter in 1968, Lennon requests that certain information be removed from the biography. The letter reveals Lennon's concerns for the privacy of his family, specifically for his half-sisters Julia and Jackie Dykins, his mother's daughters with her common-law husband, John Dykins. The final item is a postcard sent to Hunter and his wife, Margaret Forster by Lennon and his first wife, Cynthia. The Beatles were in Rishikesh in India, staying with Maharishi Mahesh Yogi and attending seminars on Transcendental Meditation. I'm not sure that Margaret Forster would have been pleased that the card was addressed to 'Hunter Davies and Thingy'!
This new collection can currently be seen in the Sir John Ritblat Gallery: Treasures of the British Library where it can be found in addition to the existing Beatles display. Please come along and see the items for yourself. Also see the press release on the Library website for more images.