15 May 2014
Discovering Literature - British Library literary treasures go digital
Today is the launch of our amazing new resource, Discovering Literature!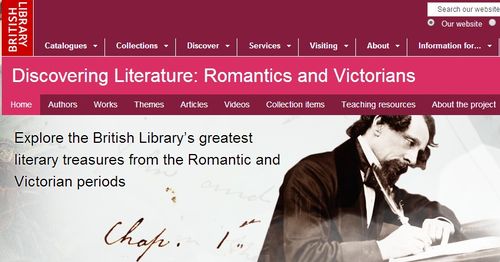 Discovering Literature features some of our greatest literary treasures through original manuscripts, first editions, and letters and other documents like newspaper cuttings that help to place the work in an historical context. Our aim was to bring the literature to life and to give people an insight into how some of these incredibly iconic works were created.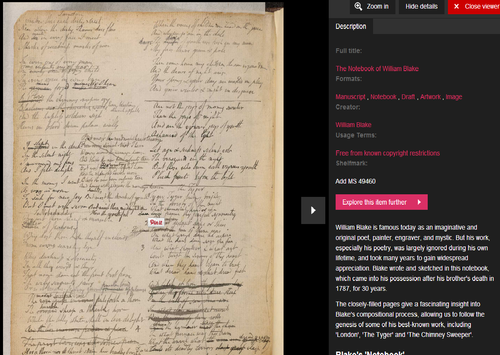 William Blake - draft of 'The Tyger' in his notebook
Library staff have been working with teachers, university professors and other experts for months to develop the resource, and it features detailed explanations and essays about the various authors, works and themes. There are also some documentary films, made on location at places like the Bronte Parsonage, Haworth, and the Dickens Museum.
The website currently covers the Romantic and Victorian era but we'll be expanding it in the future to cover the whole of English literature from Beowulf to the present day. One of our aims is to get young people inspired by the UK's literary heritage, at home and at school, and many of its selected texts support the UK curricula for GCSE, A Level and undergraduate teaching of English Literature. But we're also hoping that there'll be something for everyone to be interested in on the site.
 Here are some of the highlights:
Manuscripts of Jane Eyre, the preface to Dickens's Oliver Twist, Thomas Hardy's Tess of the d'Urbervilles, Jane Austen's Persuasion, an early draft of Oscar Wilde's The Importance of Being Earnest, and the poetry of Shelley, Wordsworth and Keats
An 1809 dictionary of criminal slang including words found in the works of Charles Dickens, for example 'twist' - meaning 'hanged' – from  Oliver Twist
Papers of Jane Austen, including her notes detailing other people's opinions of her work, including one peer describing Pride and Prejudice as 'downright nonsense'
William Blake's notebook, including drafts of his iconic poems 'London', 'The Tyger' and 'The Chimney Sweeper' and many of his drawings
The largest collection of Brontë childhood writings, including miniature notebooks detailing their fantasy worlds of Gondol and Angria, diary entries and letters describing their family life
A lock of Percy Bysshe Shelley's hair
Over the next few weeks we'll be featuring some of the amazing items you can find on Discovering Literature, and telling you about them in a bit more detail.