01 May 2014
The Spirit Voice of Sir Arthur Conan Doyle
The Drama and Literature Recordings section of the British Library aims to collect recordings of literary and other interesting spoken word material as extensively as possible.
However, as Toby Oakes, a previous British Library curator of spoken word recordings, once put it in his article 'Recording the Paranormal' (Playback, Winter 2002): '(Although) we deal with the voices of the dead every day ... our subjects tend to have been alive at the time of recording.'
This was the opening sentence of a report on the Library's then recent acquisition of a batch of 60 tapes made by Dr Konstantin Raudive, who believed that the dead could communicate with the living through the medium of radio waves.
The tapes are available for listening but are not easy to navigate. Newcomers wishing to explore the world of EVP (Electronic Voice Phenomenon), as it is known, are instead referred to the commercial CD 'The Ghost Orchid: An Introduction to EVP' (PARC CD1, 1991), which collects many examples of the genre, including the recordings first issued on vinyl by Raudive in 1971 on the EP 'Breakthrough' (subtitled 'An Amazing Experiment in Electronic Communication with the Dead'), which accompanied his book of the same title.
The recorded evidence is not especially convincing, being short comments or fragments that without the accompanying spoken 'translation' would probably not strike the listener as having any meaningful content.
A recent book on the subject, Rorschach Audio by Joe Banks (Disinformation, 2012), is also recommended. Banks seeks to understand why it is that someone might be psychologically disposed to find the recorded evidence for EVP to be credible, and comes up with some interesting conclusions.
The Library holds copies of all the above items, and much more in a similar vein: including the 3-CD set issued by Berlin label supposé 'Okkulte Stimmen - Mediale Musik: Recordings of Unseen Intelligences 1905-2007', and the 'Art After Death' series of CDs, for which Californian artists Chris Kubick and Anne Walsh recorded mediums channelling the voices of, among others, the artist Yves Klein.  
We also hold a video recording of the talk Joe Banks gave at the Library on 28 June 2013. 
Would Sir Arthur Conan Doyle have believed in EVP? Quite probably. He certainly believed - in his own words, 'beyond all doubt' - that the dead could communicate with the living. On his only commercially issued spoken word disc he devoted more of his recorded talk to his belief in spiritualism than he did to his most famous creation, Sherlock Holmes.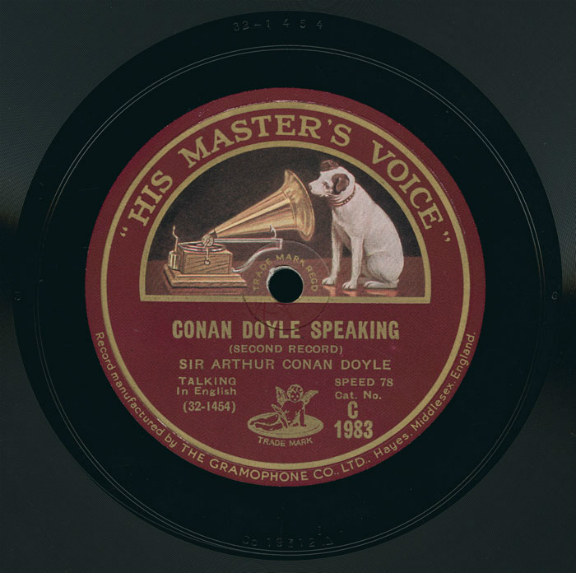 Listen to Sir Arthur Conan Doyle on spiritualism
Conan Doyle recorded the above on 14 May 1930, just two months before his death.
In July 1930, one week after Conan Doyle's death, thousands of people attended a séance at the Royal Albert Hall at which a medium claimed to have communicated with him (an event featured in Julian Barnes's 2005 novel  Arthur & George).
Four years later, on 28 April 1934, a séance held by Noah Zerdin at the Aeolian Hall, New Bond Street, attracted a capacity audience of 560 people, with many turned away. It was  the first large gathering of its kind to be recorded, and Conan Doyle was one of 44 people heard speaking from the 'other side'.    
Listen to the spirit voice of Sir Arthur Conan Doyle
Noah Zerdin (1888-1972) was, coincidentally, like Raudive, a Latvian. In 1906 he fled the Tsarist regime in Russia for London and established a successful business in Oxford Street as a furrier. It was only after a devastating fire, in which his wife Bertha died and his business was destroyed, that he began holding séances, apparently believing that he had successfully made contact with his late wife. This seeming link between an individual's experience of profound trauma and their willingness to believe in the supernatural is one of the themes explored by Joe Banks in Rorschach Audio.
The Aeolian Hall proceedings were professionally recorded on 26 acetate discs. These were to lay undisturbed in a trunk for 67 years before being discovered in 2001 by Dan Zerdin (Noah's son). The discovery led to a fascinating BBC Radio 4 documentary What Grandad Did in the Dark, first broadcast 4 January 2002, and the discs were subsequently donated by Dan to the British Library.
Both the radio documentary and the original discs are available to listen to at the British Library, but you may need to make an appointment.
With thanks to Dan Zerdin