Mácha and Máj
Byl pozdní večer – první máj –
večerní máj – byl lásky čas…
It was late eve – the first of May
Evening in May – it was love's hour…
These words, the opening lines of Karel Hynek Mácha's  Máj (May) are as familiar to Czechs as Wordsworth's "I wandered lonely as a cloud…" to English readers. Every year on 1 May visitors to Petřín Hill  in the heart of Prague may observe a ritual which has persisted for many years: young couples approach the statue of the poet, solemnly kiss, and lay a flower at its feet. This touchingly sentimental gesture, though, has little in common with the spirit of the poem itself or of its author, both of which are far darker and more complex than it would suggest.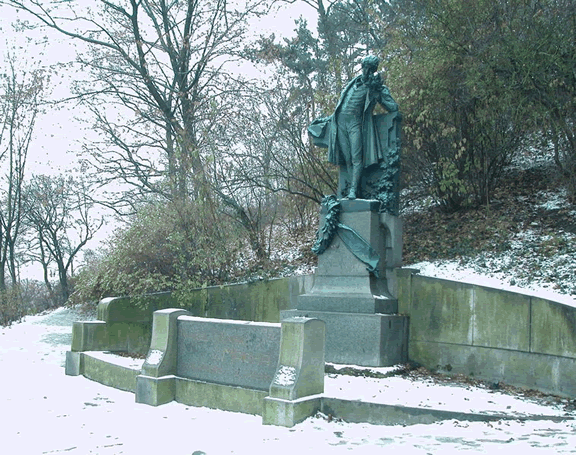 Above: Statue of Karel Hynek Mácha in Petřín Park, Prague. Photo by Daniel Hulme (ZuluOne) from Wikimedia Commons
Like many of the Romantic poets, Mácha's life was short. Born in 1810 in Prague of comparatively humble origins (his father was a foreman in a mill),  he was a bright student whose talents earned him a place at Prague's Charles University  to read law. However, his enthusiasm for literature, especially Byron and Schiller, led him to take part in amateur theatricals, to explore the countryside on long walks, including a tour on foot to Italy, and to plan a literary career. A practical obstacle came in the form of his relationship with Eleonora Šomková, an apothecary's daughter, which resulted in the birth of a son and the necessity to support his offspring. Withdrawing to the small country town of Litoměřice, he took up a post as a lawyer's clerk.  A few weeks later, he lent his aid to a group of townsfolk extinguishing a burning building; according to one account he caught a chill which turned to pneumonia, though another  claims that he quenched his thirst by drinking from one of the fire-buckets with less romantic consequences. Whatever the cause of his death, it occurred on 6 November 1836, the day before the wedding was to have taken place.
Máj, which appeared shortly before his death, mystified prospective publishers, and in the end the poet had to publish it at his own expense. It consists of four cantos and two intermezzi, and its idyllic opening soon gives way to a more sinister note. Jarmila, awaiting her lover Vilém on the shores of a lake, sees a boat approaching and joyfully hails it, only to find that the boatman is not her beloved but one of his band of brigands, who tells her that the "terrible lord of the forests" is to die the next day and curses her for her part in his death. The scene changes to the dungeon where Vilém is spending his last night in chains, about to be executed for the murder of his father, who, it transpires, was Jarmila's seducer. In a ghoulish intermezzo the forces of nature anticipate the coming of a new ghost, and on the morrow the condemned man, surrounded by the beauty of a spring morning, dies by the sword, his head and limbs displayed on a wheel as a warning to the crowds who have gathered to see justice done. The narrative is framed by the traveller Hynek's description of visiting the place on New Year's Eve many years later, seeing the bleached skull still on its spike, and learning its story from a local innkeeper, and ends with a return to the peaceful evening landscape of the beginning, but with the lake troubled by ripples which suggest that Jarmila may have plunged into its depths.
Mácha was buried in a pauper's grave in Litoměřice, but in 1938, the year of the German occupation, his remains were exhumed and reinterred in the Vyšehrad cemetery in Prague, the resting-place of many of the greatest Czech writers and composers. Today, neatly planted with begonias, his grave strikes an incongruously tidy note despite the epitaph, taken from his own poem: "Dalekáť cesta má, marné volání!" (Far leads my journey, and vain 'tis to call).
Susan Halstead, Curator Czech/Slovak Studies