Marketing tools
One of the British Library's latest antiquarian acquisitions, purchased jointly by European Studies and our Curator of Bookbindings, is a very rare example of a book cover dating from the 18th century. Actually, it isn't really a book cover at all, but a single board, about A4 size, covered with a fine piece of calf's leather. It is sumptuously decorated with 33 different bookbinder's tools, all in gold, which makes it look rather expensive.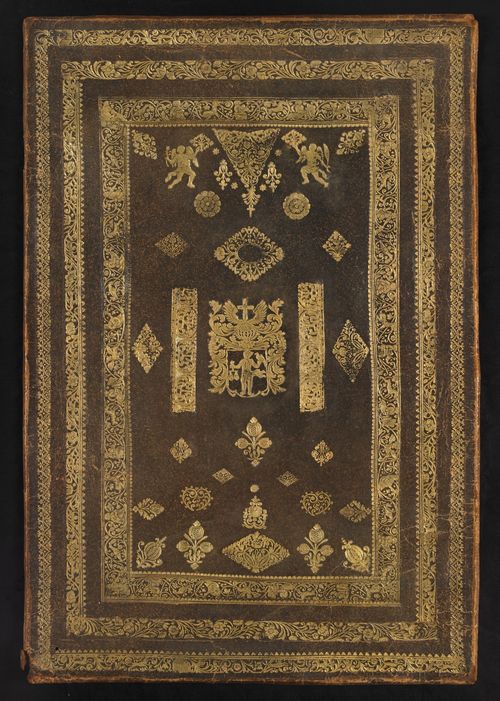 Amongst the decorations are scrolls of a hunting scene – including, unusually, a hunting lodge; another scroll depicts musicians playing various instruments, interspersed with animals both real and mythological. In the centre there is a coat of arms, as yet unidentified, surrounded by intricate corner and spine pieces depicting pomegranates, angels, vases, etc.

The leather is in very good condition: there are no visible tears or cracks, and the gilding is undamaged. It must have been passed on and cherished from one generation to the next, something very unusual for bookbinding samples which were more commonly discarded when no longer needed. But this was no ordinary sample piece, we think, and that may well be the reason why it survived.

So who made it and why? Experts we consulted offered two possibilities.

First, it could be a test-piece by a bookbinder's apprentice. Could be – but he must have stood in very good stead with his master to be given such a prime piece of leather to work on. In general apprentices had to make do with offcuts.

The second possibility is that a master bookbinder made it in order to show off his skills to rich potential clients. Therefore he used a high-quality piece of leather and as many different tools as he possibly could.

Tools used by bookbinders differ from one region to another. Although the individual tools used on this sample are not as yet identified and cannot therefore be linked to a particular binder, the experts told us that they are very similar to those used in 18th-century Amsterdam and Utrecht, and that it is almost certain the piece was made in one of these two cities.

An image of the cover will appear in our online Bindings Database  to join over 200 18th century Dutch bindings already listed there from both the BL and the Royal Library in The Hague.

We hope that this sample book cover will stimulate the interest of researchers and practitioners in the fields of bookbinding and gilding. Personally I hope that it will also inspire young people to develop their creative skills to make similarly beautiful and enduring items.

We would like to extend our thanks to the Friends of the British Library for their support in purchasing an item which is unique in itself and a perfect complement to our existing collections.

Reference: Jan Storm van Leeuwen, De achttiende-eeuwse Haagse boekband in de Koninklijke Bibliotheek en het Rijksmuseum Meermanno-Westreenianum=the Hague bookbindings of the eighteenth century in the Royal Library and the Rijksmuseum Meermanno-Westreenianum ('s-Gravenhage, 1976). [British Library 667.m.27]

Marja Kingma, Curator Dutch Language Collections.