Forward-thinking Fashion with London College of Fashion and ASOS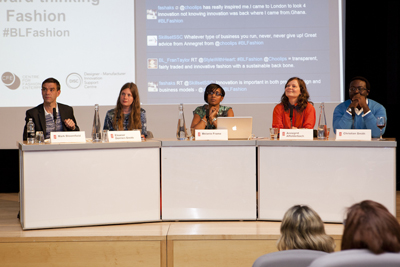 Image: Our panel of speakers take to the stage
 On Monday night we hosted a fabulous ethical and sustainable fashion event, in partnership with London College of Fashion Centre for Fashion Enterprise and DISC.
Our panel talked about their experiences of both starting and running their own ethical businesses and working as part of a large company. We asked them to focus in particular on how they use new technology, business models, manufacturing techniques and materials to be more ethical.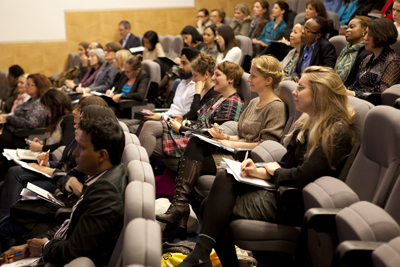 Image: Our ethical fashion audience
Mark Bloomfield, Electrobloom
Mark has worked in the fashion industry for many years creating wearable accessories for Vivienne Westwood, Matthew Williamson and Asprey. He now runs his own jewellery business, Electrobloom. Inspired by how the worlds of nature, art, technology and science collide, he produces unique jewellery designs using 3D printing. 
He talked about the challenges for fashion start-ups, including large start-up costs (you need to be at least two seasons ahead) and the dependency on sales to allow you to come up with new work.
Mark found that 3D printing provides a perfect contrast to this; you can make products on demand locally at any scale; nothing is made if it has not been ordered; you are not tied in to long production processes with suppliers. In addition, there are fantastic communities of interest around 3D production centres and you can involve the customer in the whole process to create bespoke pieces. 
 I thought the potential for 3D printing to move beyond plastics to gold, silver, ceramics and glass was really fascinating.
Eleanor Dorrien-Smith, Partimi
Eleanor was drawn to sustainability from a young age. She graduated from Central Saint Martins with a BA in Fashion and Print in June 2008 and worked for Mary Katrantzou, Tata Naka and John Galliano before setting up Partimi.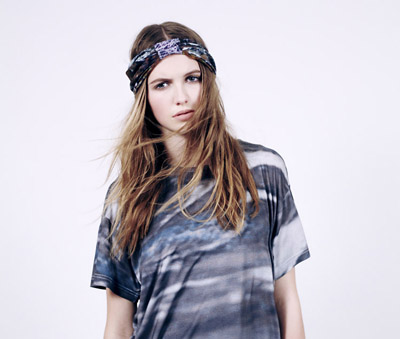 Image: Partimi range

After creating a capsule collection for US retailer Anthropologie, the Partimi ready-to-wear collection was launched in 2010. It is now in its fourth season having just exhibited the Autumn/ Winter 2012 Collection at Paris Fashion Week.  Partimi has also received press attention from Vogue UK, Vogue Italia, i-D, Tank Magazine and Marie Claire.
Eleanor talked about how challenging it can be to raise the funds to start your own fashion range. Saving money gained from working in full-time employment was the main way that she was able to fund her start-up.
Her tips were aimed at creative practitioners. Although you may have lots of fantastic ideas, you can't forget the business side of things. You need to make sure that you look at ways to reduce costs and ensure that although you are running an ethical business, that it still makes good business sense.
Chrisian Smith, ASOS
Christian is Corporate Responsibility Manager at ASOS and has an MSc in Environment and Sustainable Development from UCL. I was very happy to find out that he has used the British Library's social science collections for his research for his MSc.
His work at ASOS includes measurement of greenhouse gas emissions, helping the company to understand where its impacts are and where there is room for improvement.  He talked about the Green Room at ASOS and how it shows off some of the hottest designers in ethical fashion today.
Christian gave us lots of stats and information about the ethical fashion sector:
Despite the recession, ethical fashion grew 30% in two years to reach £1.8 bn in 2009.
3 in 4 UK adults are interested in ethical clothing, but only 6% have noticed ethical fashion being sold on the high street.
Lastly, he showed some great examples of ethical products. Highlights for me included Stella McCartney's biodegradable shoes and the more unusual fish skin trainers.
Annegret Affolderbach, Choolips
Annegrat started her career by realising that she was not happy with the status quo of the fashion industry and wanted to change it. She is extremely creative: she spent a year collecting post-it notes in her room to express her ideas and values to inform her decisions. Her goal is to create mindful products that are both harmonious to the people creating and consuming them.
Her fashion brand, Choolips, trades fairly, produces locally and has small water and carbon footprints. She is interested in helping to revive ancient textile traditions.
Her 'Golden Coast' collection is inspired by the soul of Ghana's streets: its music and its people. Fairly traded, it is printed in Ghana by local batikers and tailored by seamstresses and tailors in Kenya.
She gave the audience a few final thoughts to take away with them: look at what's available to you locally, never give up and keep an open mind. 
Watch this space:  YouTube videos of this event will be available online shortly.
Read Manager of the Business & IP Centre Neil Infield's blog on Forward-thinking Fashion