How the British Library can help fashion designers and researchers
With our upcoming LATE at the Library: Fashion Flashback, part of our Spring Festival 2013, we thought it would be a great time to tell you how the Library can help you as a fashion designer or researcher.

Be inspired
Inspiration can be found everywhere and our collections showcase not just fashion items from different eras and different countries but also prints, colours, shapes and textures. For example our Japanese collection contains original kimono pattern book designs from before the twentieth century and the most wonderful print designs, abstract lotus flowers and beautiful Japanese and Chinese calligraphy.  
We have extensive archives of fashion magazines ranging from the early nineteenth century up to modern day including Vogue, Harper's Bazaar, i-D and Elle. These original magazines have been maintained and looked after carefully by our newspaper collections curators and show the changing yet slightly cyclical nature of fashion.
Anyone is welcome to use our collections, you just need to gain a free Reader Pass and come and use our Reading Rooms in London. To get a pass, you need to bring the correct ID to the Library and have an idea of what types of material you would like to see.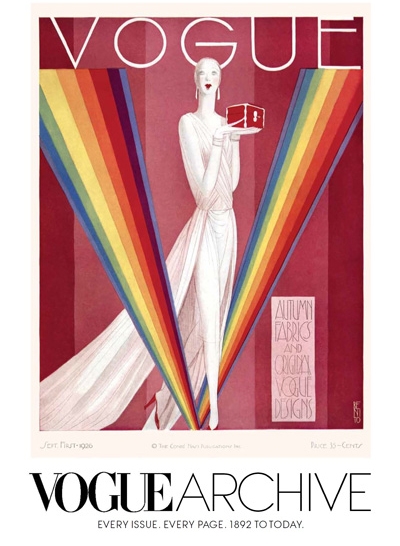 Image: American Vogue archive available in our Reading Rooms

Get help with the business side of things
Not only can the Library provide inspiration, our Business and IP Centre can show you how to implement your ideas, explaining patents, trademarks, designs, marketing and business planning. The Centre is based on the first floor of the Library. We run workshops and events where you can meet like-minded people and other fashion industry experts and newbies. One of our upcoming events, together with Insider Trends will be looking at the retail trends in the fashion industry. We have previously held events with ASOS and London College of Fashion, looking at ethical and sustainable fashion. Christian Smith, Asos' Corporate Social Responsibility manager used our CSR books and journals in our Social Science reading room for his research and was then able to apply it to his work as ASOS. Other partners we work with include Central St. Martins, who are joint organisers of our Fashion LATE, and the Ethical Fashion Forum.
You can also read our fashion related blogs
Have you used the British library for fashion design or research?  If so, get in touch with me at frances.taylor-at-bl.uk