British Library Olga Hirsch decorated papers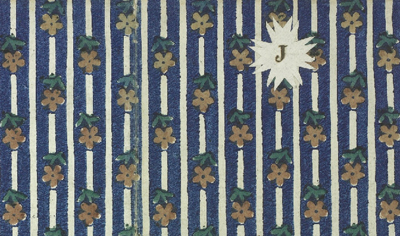 Decorative paper has long been used for covers and end-leaves in books and they vary hugely depending on the country and period. The Library is very fortunate to have the beautiful collection of Olga Hirsch Decorated Papers in our collection, which includes examples of marbled, embossed, block printed and paste papers from countries all around the world, from Japan to Italy.  We have over 3,500 sheets of paper and around 130 books in paper wrappers or with decorated end-leaves.
Olga Hirsch, nee Ladenburg, came from a prominent Frankfurt family. After her marriage to industrialist and music collector Paul Hirsch in 1911, she became intrigued by the decorated papers used to cover music scores in her husband's library and began to research and collect them. During the 1930s, the family moved from Germany to Cambridge and the British Library subsequently acquired both the music library and decorated paper collection.
The collection itself is fragile and may only be seen by arrangement with one of our curators, although you can also view them on our Images Online website.
The papers are quite diverse and very beautiful in their range.  Here are some of my favourites.