Did you know we have knitting patterns at the British Library?
Everyone would expect the Library to have an amazing collection of books and journals, but what a lot of people don't know is that we also have some really amazing items like knitting patterns.
My colleagues who write the fantastic Untold Lives blog recently wrote a piece on our curator Andy Simon's work to catalogue our 1930s knitting patterns and some of the weird and wonderful things he has discovered (Carry On themed Barbara Windsor patterns anyone?). 
It reminded me of our knitting event we ran last year for Spring Festival where you could come and see a range of our collections, and have a go at making one of the pieces for yourself (see our video below).
So what exactly is in our knitting collection and how can you access it? These are some of the things you can find in the collection:
Collections of knitting and crochet patterns from the early 1900s
Knitting pattern books.
Knitting and fashion magazines published in the UK
Some of my favourites include Mary Quant patterns, and 1920s glamorous film-style photographs of mittens and hats.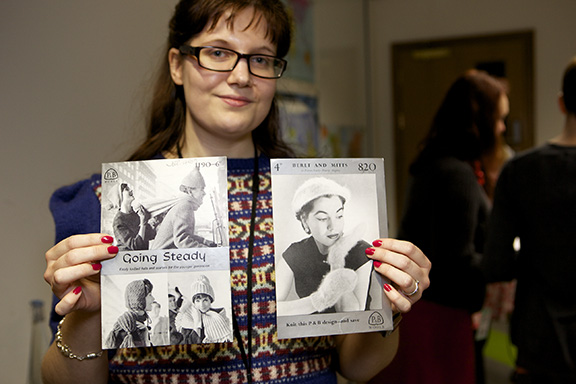 Image: Photo of our curator Tanya Kirk with some of our patterns

If you want to order books or magazines, you need to know the title you are looking for and search for them within our catalogue. To use the Reading Rooms, you just need to come to our building in London and get a Reader Pass.
If you want to see the patterns themselves, we recommend you start by searching in our catalogue using the term 'knitting patterns' and then click on 'journals' on the left-hand side. It will bring a up a range of records including Lister and Co, Stitchcraft, Jaeger, Rowan and Vogue. 
Although you can't search by garment type or style (our patterns are currently held in boxes rather than individually catalogued), you can use the links on the left hand side to narrow your search by date or by publisher.
 If you have trouble ordering any of the items, you can get in touch with our Reference teams directly.  Find out more at http://www.bl.uk/reshelp/inrrooms/stp/refteam/refteam.html