Interview with Olivia Twaites - Propaganda design competition winner
Last night we presented Kingston University graduate Olivia Twaites her prize of £1,500 for her winning British Library and Arts Thread Propaganda design competition entry Shred Heads.
Find out more about Olivia in the interview below and come and see the Propaganda exhibition - it closes next week!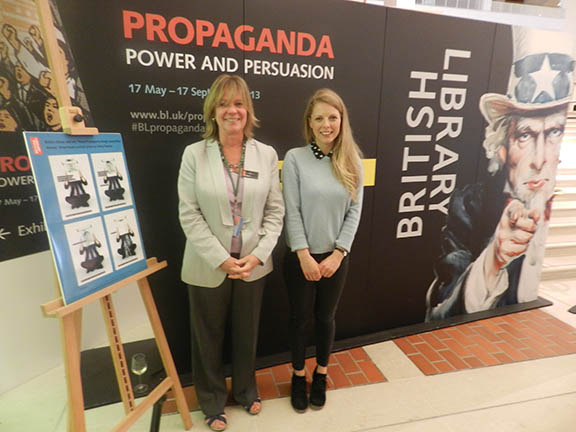 Head of Social Sciences and curator of Propaganda: Power and Persuasion Jude England and Olivia Twaites. 
Tell us about your creative process for this competition.
The project evolved from conversations I'd had with some close friends of mine, who told me they were feeling unhappy and unfulfilled in their full time jobs. It was obvious to me that this unhappiness was more than just a feeling of dissatisfaction and was perhaps something deeper.

After hearing these first hand experiences I wanted to find out what information is available online for those who suspect they may be suffering from work related depression. I also wanted to look into what research has been undertaken to test possible links between depression and certain types of employment.

The majority of my research was online, on health websites and forums. It is reassuring to know that there is an enormous amount of support available for people who may find themselves in this situation – the psychological impact of our day to day routines and how they can affect us is widely documented and understood.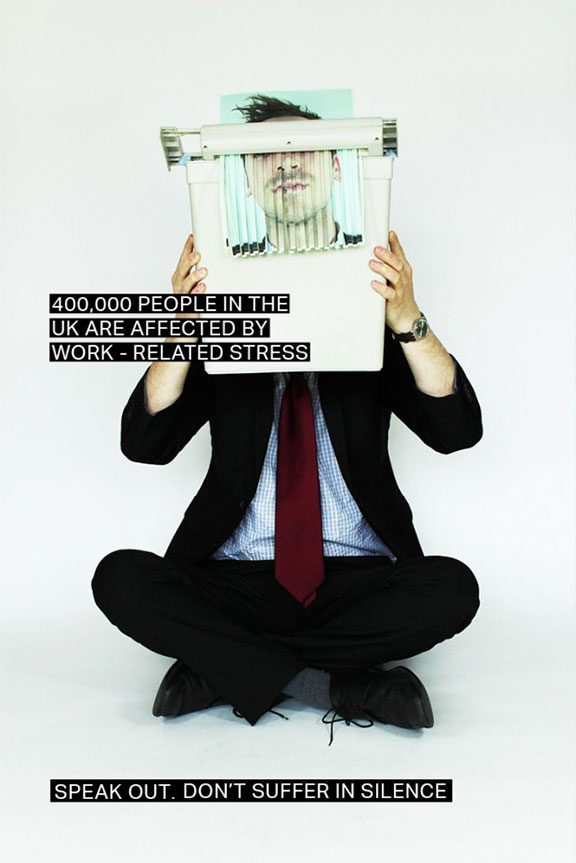 How does digital content inspire you compared to seeing the real thing?
I generally tend to feel more inspired seeing a physical exhibition than I do looking at images online. I think it is important to experience it, and 9 times out of 10, there is something unique to the venue or exhibition going on, that you would otherwise miss online. I think our concentration spans are limited when looking at online media and so the work often doesn't get the attention it deserves, so in my mind it's best to go out and see it exhibited when possible.

What was it like studying graphic design at Kingston University? Can you tell us about your projects?

Since graduating, I keep getting asked the same question, "Do you think your degree was worth it?" I can honestly say, yes it most definitely was.

I am reassured whenever I look back on the work I produced during my first and second years and seeing the noticeable difference in quality when compared to the work I was producing in my final year. I clearly learned a lot, and I don't think I could have reached where I am now without doing the course.

Sure, anyone can learn how to use the software, but the critiques, group work and discussions develop your understanding of how to think creatively and conceptually. A course like the one at Kingston also encourages you to work collaboratively, which is an essential skill.

You are interning at communications company Matter & Co. What's the experience like?
I'm loving being in London and working. The company has already provided me with an eclectic mix of projects and tasks to get my teeth into. It is brilliant to be putting everything I've learnt in to practice.

At the moment I think that there is some confusion over the difference between an internship and work experience. I was always under the impression that an internship was set up to provide the prospect of a job if the intern was suitable. These days it seems that the term 'internship' can apply to a few weeks of unpaid work or a full year of paid work in the form of a graduate scheme with a different name.

It is in the benefit of both the employer and the intern if the intern is paid, even if it's the minimum wage. An intern is likely to put in a lot more effort into their work if they are paid, out of loyalty and out of a sense of self-worth.