Guest blog - Central Saint Martins fashion students visit Georgians Revealed
Our current exhibition, Georgians Revealed: Life, Style and the Making of Modern Britain is a wonderful source of inspiration and information for those in the fashion world, especially students. Last week Year 1 Fashion History and Theory students from Central Saint Martins viewed the exhibition and have provided us with this guest blog about their experience.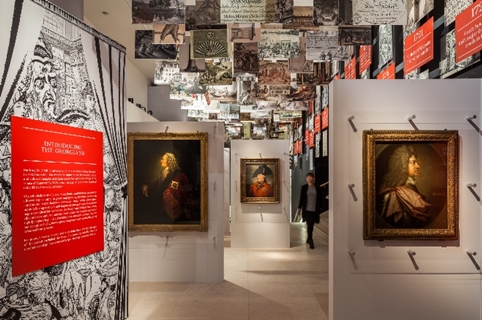 Georgians Revealed - via Design Week 
The exhibition deals with all-encompassing aspects of Georgian life. From surprisingly sordid pursuits to polite etiquette and celebrity culture, previously subtle links between Georgian culture and modern society became increasingly evident as we made our way around the exhibition.
Initially, we were guided through a chronological timeline of Georgian society, presented alongside grandiose portraits of the four Georges on loan from the National Portrait Gallery. This room gave us a brief but concise introduction to Georgian life. The next gallery, 'Public places, private spaces', was curated based on the themes of developing architecture and horticulture in 18th-century England. Visually, the space succeeded in presenting us with material furnishings and objects, coherently displayed alongside British Library collection items from the period.

Le Beau Monde, 1806-1808, British Library

Most relevant to our group was the 'Inventing Fashion' section, a bit further down in the exhibition. Featuring 18th-century costume reproductions designed by Janie Lightfoot and Juyeon Lee, the display also featured fantastic items such as 'an original Lady's pocket book from the mid-1700s and The Gallery of Fashion by Nicholas Heideloff (1794).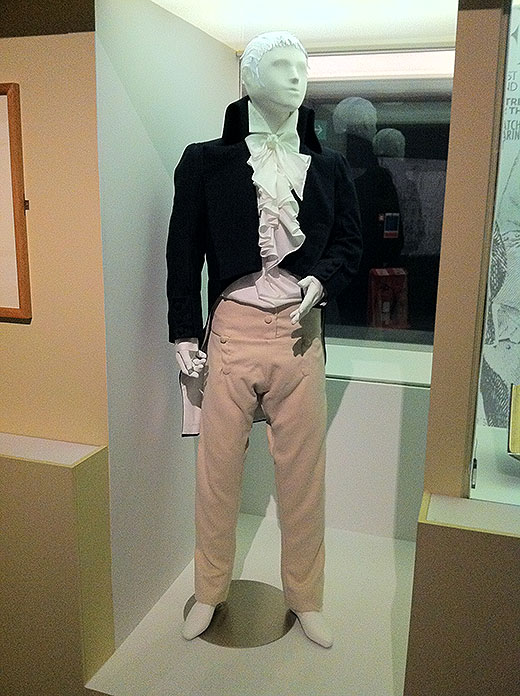 The focus on menswear was also quite enlightening: we saw a reproduction of a male costume dating from 1808-10 (above); this was especially useful to us because it enabled a 360-degree view of the tailoring. People in Georgian society placed great emphasis on etiquette; this can be shown through The Rudiments of Genteel Behaviour (1737) below, displayed alongside the costume. Many of these values are visible in society today.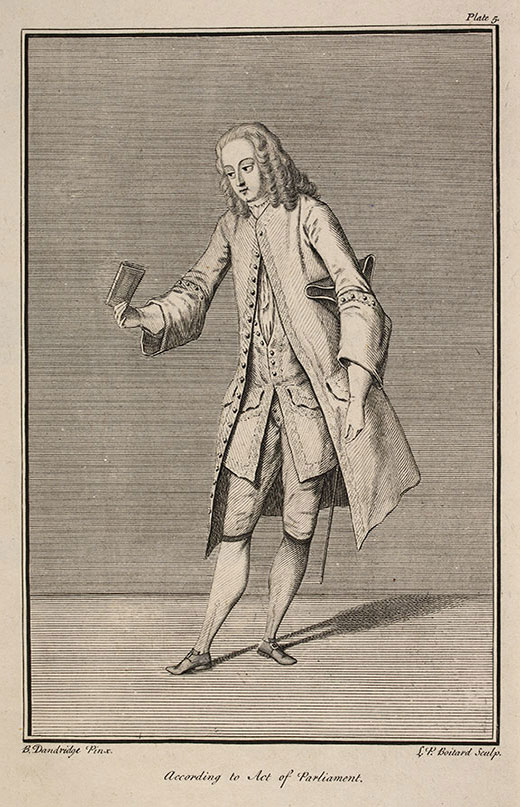 We were able to experience the vast accomplishments of the period which were highlighted through the impressive graphic displays designed by illustrator Gregori Saavedra. These displays celebrated the different varieties of entertainment such as the masquerades, playing the violin and cards, and reading for pleasure. The displays allowed us to understand how Georgian society has influenced our modern way of life so greatly.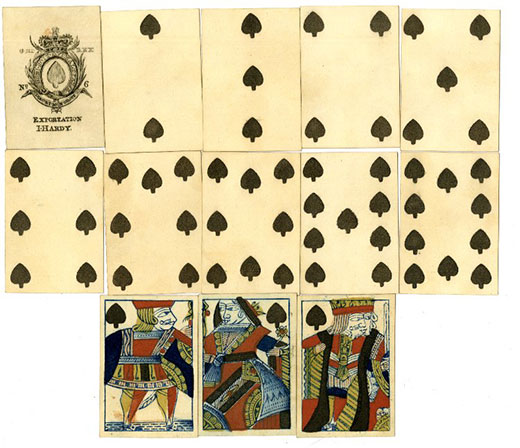 Pack of playing cards. 1775-1800 © British Museum

Georgians Revealed is on until 11 March 2014. We encourage everyone to come by and experience this wonderfully-curated glimpse into 18th-century life for yourselves.
Guest blog by Year 1 Central Saint Martins Fashion History and Theory students