British Library x Arts Thread Comics Unmasked competition
DEADLINE FOR ENTRIES: SUNDAY, 20 APRIL 2014 MIDNIGHT GMT 
To enter visit artsthread.com

Dear Readers, I am very excited to announce our Comics Unmasked competition in partnership with the good people at Arts Thread.
This is a fantastic opportunity for budding illustrators and artists to get their work seen by big names in the comic world including award-winning comic book artist Dave Gibbons (Watchmen, 2000 AD), managing director and publisher Emma Hayley (SelfMadeHero), journalist Paul Gravett and author John Harris Dunning. 
The winner will receive a cash prize of £1,000 for creating an original comic inspired by our upcoming Spring exhibition Comics Unmasked: Art and Anarchy in the UK - the UK's biggest exhibition of British comics.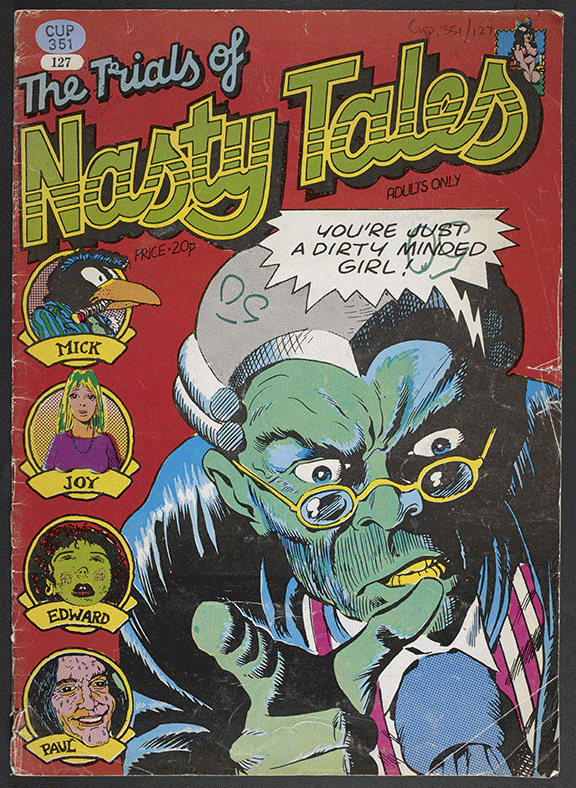 The Trials of Nasty Tales, 1973, cover art (c) Dave Gibbons

Co-curator John Harris Dunning says, "This show is a call to arms – we're trying to encourage creative disobedience that challenges the status quo. Comics have never been more influential."
The brief:
Create a 9-panel comic exploring one of the six themes in the British Library's Comics Unmasked exhibition.
The themes:
Mischief & Mayhem - The public expectation of 'comical' comics and familiar characters – a look at the more subversive side of humour, from gentle slapstick right through to the boundaries of acceptability with blasphemy, gratuitous violence and gore.
To See Ourselves - Social class and prejudices have frequently been explored in comics – whether seriously and humorously. Comics are sometimes one of the few places where certain social groups can see themselves in print.

Politics: Power and The People - Comics have been used to political ends: to illustrate an ideology or movement, to radicalise society and to attempt to attract members to a party or pressure group.

We Can Be Heroes - 18th and 19th century popular literature often presented criminals as romantic heroes, a seditious tradition that continues into comics. British comic book heroes today can surprise: they're often not the expected muscular straight white male, and their values may be far from wholesome. In recent decades British comic writers and artists have worked in the USA, where they have re-interpreted the superhero genre, adding new twists to well-known characters and creating others that question the All-American dream.
Let's Talk About Sex - Earliest British erotic comics date from the 1940s and 50s, and draw on earlier traditions of pornographic illustrated books. We look at the progression from mail-order titillation through to comics strips in 'girlie magazines', semi-legal gay male comics, and obscene underground titles.
Breakdowns - There is a long relationship between drug taking, magic, and comics, resulting in stories that move into other dimensions and artwork that explodes out of the traditional panel structure. Experimentation has led to cross-fertilisation with other art forms; new possibilities are opening up with the move into digital publishing.
Entry requirements:
Location: open to applicants worldwide. 
Age: 16+
Experience: Student, graduate or anyone working professionally for less than 3 years in the design industry.
Deadline:
Sunday, 20 April 2014, Midnight GMT

For the full brief and to enter, visit artsthread.com