Interview with Fionnuala Doran - winner of Comics Unmasked Arts Thread x British Library competition
We love supporting young creatives through competitions that use our collections as inspiration. Royal College of Art student Fionnuala Doran won the top prize in our Comics Unmasked competition in partnership with Arts Thread for her 9-panel comic The Story of Roger Casement. Here she tells us more about her her work. 
*** Are you a creative writer and/or illustrator and want to have a go at making a graphic novel? Maybe you already have one ready to pitch to publishers? We're hosting a series of evening short courses inside the Comics Unmasked exhibition gallery focusing on the inspirational and practical sides of creating graphic novels. Find out more here. ***
What inspired you to tell The Story of Roger Casement?

I've been interested in Roger Casement and how his life seemed so oddly out of place in Edwardian Britain for a long time. I originally planned a mini comic on the story of Roger Casement's work in the Congo and South America, juxtaposed with his secret 'black diary' life way back in 2010 (below), but because I was working full time it never really went anywhere apart from the back burner. When I saw the brief for the competition I was stumped, but then I thought back to the one pager I had laid out ages ago and with a bit of a rejig, it seemed to fit the brief nicely.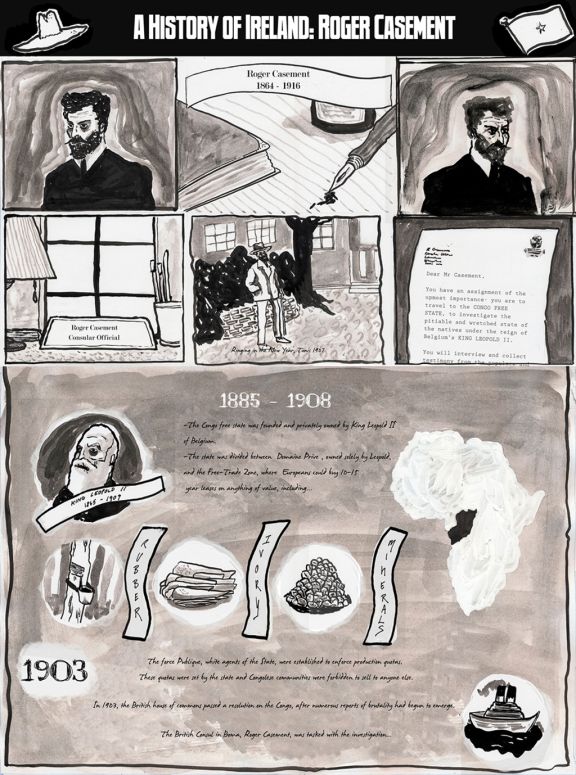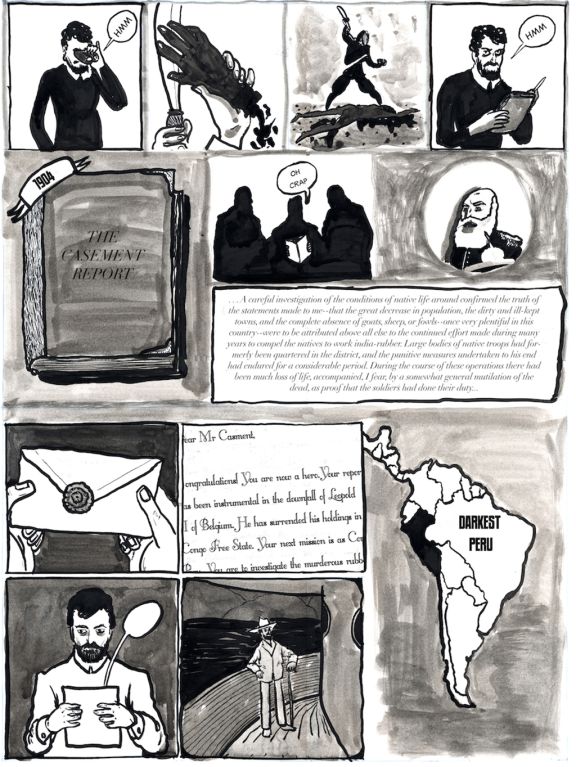 Did you draw the comic by hand or using digital tools?

I drew about 75% by hand. The other 25% was using my drawing tablet and Photoshop. I usually try to work mostly by hand but sometimes its easier to correct mistakes digitally. I always find myself misspelling things in speech bubbles, for instance.
You're doing an MA in visual communication at the Royal College of Art – how's that going? Did it help with this entry?

It's going really well! There's a small but friendly community of comic and zine makers here - we're actually working on an illustrated/comics/photography/reportage magazine, which we're currently running a Kickstarter campaign to promote. I've made two mini comics during my first year, and the time I put into structuring and composing really paid off when preparing my Arts Thread x British Library entry, I think. It's good to get feedback and have the time to be reflective about what you're making, especially when it's something as structurally complex as a comic.


Above from 'The Assumption' - Doran's graphic novellete in progress,  2014

Tell us about your experience drawing – I know you also did a BA in fine & applied art. Have you been drawing since you were very young?
My mum says I was drawing before I could talk! My sister, brother and I all used to make our own comics, actually. It's like second nature now.
What is your dream career?

I'd love to go on and publish my own comics/graphic novels - proper, long-form ones. So far the longest I've completed has been 16 pages, but hopefully in the second year of my MA I'll get the chance to complete my first full-length comic. 
For those who are new to comics and graphic novels, what titles do you recommend?

Persepolis is a great one for first time comic readers. Marjane Satrapi's voice is so charming and the art is accesible but also expressive. I know a lot of people who wouldn't consider themselves comic readers who've read Persepolis. Also, Scott Pilgrim is amazingly great fun. I like to think they're both 'gateway' comics that get you geared up for the harder stuff.


*** Creating graphic novels evening short courses 19, 25, 26 June and 2 July 2014 - find out more here. ***