Woodrow Phoenix turns the pages of She Lives at the British Library
Today at 18.00 and on Tuesday 22 July British comics artist Woodrow Phoenix will be turning the pages of his giant book She Lives which is on display in our Comics Unmasked exhibition. If you're in the gallery do pop by - this is a great opportunity to see all the pages up close and chat with Woodrow. He kindly gave us an interview below. 


SHE LIVES - a fast preview of a very big book by Woodrow Phoenix from superadaptoid on Vimeo.
What is your favourite exhibit or theme in Comics Unmasked?
The 15th century Bible that British Library curator Adrian Edwards unearthed from the Library's collection is absolutely beautiful and without a doubt real comics. The design and layout of those two pages is more modern than a lot of what we see from the 19th and early 20th centuries. It has given me a lot to think about and I would love to see the other pages of this volume, I'm going to put in a request!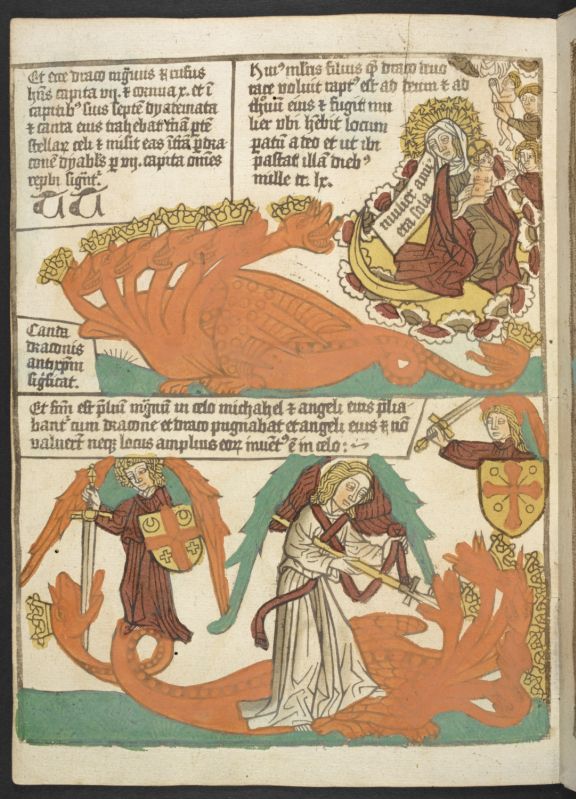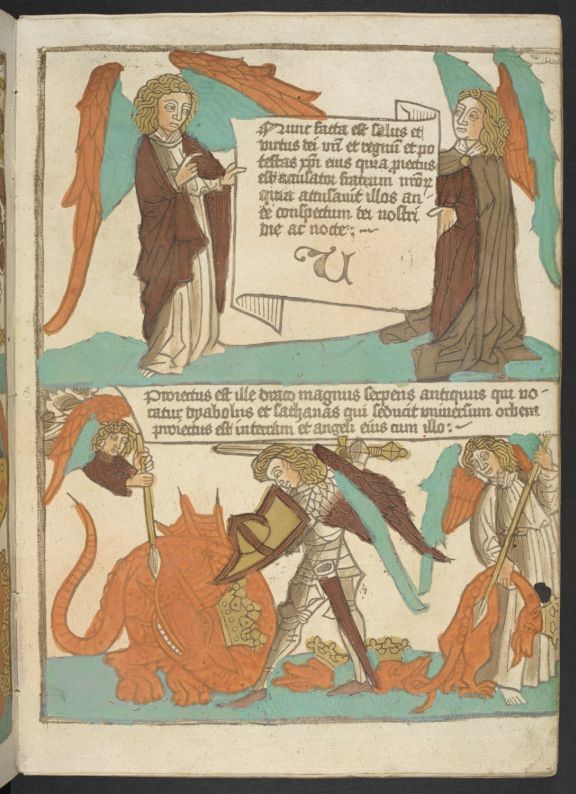 Block-book edition of the Book of Revelation. [Germany, 1470?]. British Library Shelfmark: IB.14
What role do libraries play in your life? 
Libraries were pretty central to my life as a child. I learnt to read when I was three so by the time I started school I had read every book in the house. The school library was an incredible idea. All these books that I could look at! I got used to this idea very quickly and read my way through many of them in the course of the year. I was the kind of kid who took home the maximum number of books every week. I remember my first visit with my mother to Lewisham Central library which was like a kind of nirvana. There were three public libraries within two miles of our house and I had library cards for all of them.

When I was researching my book Rumble Strip about cars, roads and how we use them, I used my British Library Reader Pass  to look at traffic data and statistics. And also to pull up books that I was just curious about seeing. Library reading rooms are some of my very favourite places to be.
For those new to comics and graphic novels, what titles would you recommend?
I designed Rumble Strip to be completely accessible to people who have never read a comic book before. It has worked very well on that level because it's about a subject that affects every one of us every day, it doesn't require any specialist knowledge or interests to be relevant to you. I feel especially pleased that it is the first comic book that my 80-year-old mother was able to read, and importantly, enjoy. It works just as well for twenty-something hipsters so that's pretty good. Rated 'E' for Everyone! (Rumble Strip, Myriad Editions, £12.99 is available in the British Library Shop)
I also recommend another book I worked on called Nelson, which is a collective graphic novel written and drawn by 54 different authors. It gives a really great overview of what comics are doing in the UK right now, with a compelling story about a woman born in 1967. There is one chapter for every year of her life right up to 2011, and each chapter is written and drawn by a different person so it's a wonderfully varied and surprising collection. (Nelson, Blank Slate Books, £18.99)
Luke Pearson's series of books about a girl called Hilda, published by Nobrow, are brilliant. They are children's books that adults will get a lot out of as well, as they have all kinds of little resonances in them. They take place in a Scandinavian landscape of mountains and woods that's a cross between Moomin Valley and a Miyazaki cartoon. (Hilda and the Midnight Giant, Hilda and the Troll, Hilda and the Bird Parade and Hilda and The Black Hound, Nobrow/Flying Eye Books, £11.99)
What was the most challenging and enjoyable aspects of creating She Lives?

Pretty much every aspect of making that book was challenging! I had to start the process by making the book itself before I could work in it. Wrestling giant sheets of paper around, trying to make them lie flat and wondering what would happen when I put glue on them was terrifying and fun at the same time. Maybe we could make Extreme Bookbinding into a new sport?

It was surprisingly physical to work on drawings at that size. I was covering so much paper, I was doing a lot of bending and stretching and I would be exhausted at the end of every day. But I did really enjoy doing something that used all of my body rather than just a bit from my elbow to my fingers. It was almost as if I was inside the artwork in a more painterly kind of way. And I derived great satisfaction from taking a giant blank page and turning it almost completely black with ink. 
It took 19 months to make, which is a very long time for me. Usually my longest projects last seven or eight months. So it felt endless and at times I wondered if I would ever finish it. Now that it's done and sitting in a case I am slightly sad that it's over. Only slightly though!
Book now for short courses on creating graphic novels!

Becoming a Graphic Novelist - Who is in charge? The dynamics of image and text
Thu 19 June 2014, 18.30 - 20.30

Becoming a Graphic Novelist - Subverting Stereotypes
Wed 25 Jun 2014, 18.30 - 20.30

Mastering the Graphic Novel - Playing with Fire: Sex, Subversion and the Self
Thu 26 June 2014, 18.30 - 20.30

Mastering the Graphic Novel - Pushing the Boundaries: From Pitch to Publication
Wed 2 July 2014, 18.30 - 20.30