Interview with Dave McKean on Terror and Wonder: The Gothic Imagination
As I mentioned in a recent post, Dave McKean designed the wonderfully macabre artwork for our Terror and Wonder: The Gothic imagination exhibition artwork. That means that his image appears in all our marketing materials, from leaflets to tube posters. I asked him a few questions...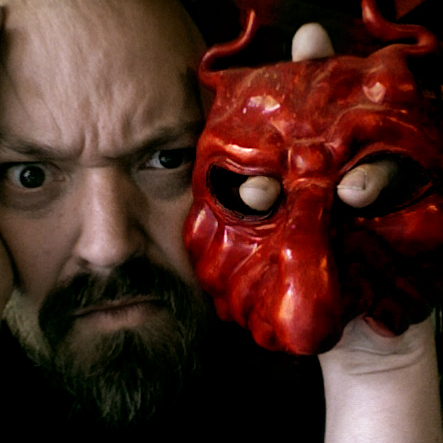 Hi Dave. Can you tell us a little bit about yourself?
I have worked for the past 25 years as an illustrator, artist, photographer, designer, writer, musician, composer and film maker. I've illustrated around 50 books for an assortment of authors including Ray Bradbury, Heston Blumenthal, Richard Dawkins, Neil Gaiman, Stephen King, David Almond, SF Said and John Cale, and I've made hundreds of CD and book covers including the entire run of Neil Gaiman's popular Sandman series. I've written and directed three features and several shorts, including MirrorMask for the Jim Henson Company/Sony, The Gospel of Us with Michael Sheen and my new film Luna.
How did you first get involved with the British Library and the Terror and Wonder exhibition?
I was asked to design the previous exhibition, Comics Unmasked, by co-curator Paul Gravett. I really enjoyed working with the British Library, and problem solving on such a large scale. The curators of the Gothic show were also interested in aspects of my work, especially my illustrations for Neil's book Coraline, so then it seemed possible that I could do the poster as well.
Can you tell us about the creative process behind the artwork?
I drew out six or seven rough ideas, trying to find an image that was not a single specific character or story, some way of representing the breadth of work in the exhibition, but touched on key Gothic texts - Dracula, Jekyll and Hyde, and for me, The Hands of Orlac. Something that suggested the psychological aspects of these stories seemed appropriate. I also wanted a simple, bold, almost silhouetted flowing image, something that would stand out in a variety of formats and sizes. The drawing was made in ink and graphite and simply toned in Photoshop. The strange shadowy smoky face was an abstract ink stain, distorted into a face in Photoshop.
What are you particularly excited about seeing in the exhibition?
The design and presentation of the narrative. It was a steep learning curve for me creating the Comics show, so I'm now very interested to see how others approach storytelling in an exhibition space. And of course, I'm sure the British Library archives have unearthed another fascinating collection of work.
What's coming up next for you? I know you're speaking at one of our upcoming events.

Yes, I'll be speaking with Vaughan Oliver, one of the most important influences on my early art school self, and he still is to this day, so I'm a bit daunted. I have a new film out called Luna, currently doing a small indi tour of the UK via PictureHouse. I have an exhibition of drawings in Paris at Galerie Martel, a new book of covers out from DC Comics called Dream States, and new collection of short stories out from Dark Horse Comics, Pictures that Tick Vol.2, I'm planning a new film with the theatre company Wildworks, and drawing more comics, including a new graphic novel inspired by the wonderful expressionist film the Cabinet of Dr Caligari. I'm hoping to create a new performance piece for the British Library as well, as part of the Gothic exhibition.
You can see Dave's artwork for Terror and Wonder: The Gothic Imagination below.