Beginner's guide to Fashion Trend Forecasting with Geraldine Wharry
Over the last few years I've worked closely with fashion forecaster Geraldine Wharry; she helps the British Library analyse its collections in the context of the latest trends, and help educate SMEs on how trends can impact their business. She is creative director of Trend Atelier, a trend forecasting consultancy based in London with clients ranging from WGSN to Samsung.
On Wed 03 December 2014, Geraldine will be running the next instalment of her sell-out workshop: Fashion Forecasting: Trend hunting and gathering in the Business & IP Centre. The session will cover key design trends for 2016/2017 set to influence womenswear, menswear, accessories and footwear, interiors and graphics. Attendees will also get direction on colour and textile designs and see the latest ways designers are using technology and artisanship.
So what is fashion forecasting? Here is Geraldine's overview.
Identifying a trend is a continuous effort of compiling observations. I call it "hunting and gathering". It requires a lot of curiosity and interest in a wide array of subjects ranging from art and design, reaching over to science, technology, socio-economics, architecture, retail, food as well as travel to name a few.
Whilst gathering facts, at the root of it is also a personal intuition and an eye for what's next, that can't be taught or necessarily explained. Personally I'm constantly collecting ideas and images and have built an archive over many years of designing and researching. Once I see there is a flurry of images with a particular concept running through, it's very easy to see this is a trend, although sometimes a single image can be so powerful that it triggers an instant conviction.
Within that process, there is a compass to guide trend forecasters. The first step is to understand the difference between short-term forecasting and long-term forecasting. This differentiation is key as the timing of a trend prediction is everything. With fashion trends now omnipresent on the internet and having an immediate global impact on consumers, often stemming from bloggers, celebrities and the wide coverage of catwalk shows, there is what we call the "Close-to-Season" fashion cycle. Some trends get massive attention in the press, on the high street and can last a year or so until they suffer from "over exposure" and consumers are ready to go to the next trend. The way these trends can continue past that time frame is if they are updated, which also makes the job of a fashion forecaster a "trend tracker", guiding clients on how to "refresh" a successful trend.
On the flip side of the coin, some trends are very forward thinking, more embedded in art, innovation in materials, developments in science and technology, consumer behaviours. We call these "Macro trends" or "Big ideas" and they require in-depth investigation and research for what is emerging. Trend forecasting agencies or creative consultants like myself outline future scenarios based on research compiled from experts all over the world, combing through hundreds of references. For this, the creative vision required is strengthened and validated by attending industry events, panel talks, exhibitions as well as brainstorming with thought leaders. This research can take months.
Another element to keep in mind is that some trends are perennial and so embedded in our common fashion vocabulary that they never fully go away, for example fifties fashion or military inspired clothing. One of my favourite and iconic trend forecasters, Lidewij Edelkoort, says "trend forecasting is much like archaeology but to the future". We forecast future trends, but we also look to the past. It is important for trend forecasters to have a very good knowledge of what was designed 10 years, 40 years or over 100 years ago. Every trend has its roots somewhere in history. So whilst you're looking forward, you're also referencing the past and the resonance and space between the two make for a very rich statement. This is something I often do when working on trend reports for key shapes or key details. I research fashion history books, blogs, or interior design for example and it's very interesting to see the commonalities with what's being designed today. You realize it's one big creative loop that is constantly growing and updating itself.
The biggest challenge more recently has been the increasing amount of trends converging. Angelo Vaccarelo's article for the Business of Fashion, states "In today's hyper-saturated, ultra-fragmented landscape, talking about trends is, frankly, pointless […] everything is happening at once". Which in itself is a trend. We are indeed experiencing a hybrid fashion cycle made of different trends and aesthetics co-existing in a complex eco-system. And trend forecasters are there to make sense of this and guide fashion companies to make the most relevant choices for their brand d.n.a. and consumer taste. In addition, Spring catwalks contain Fall clothing and vice-versa. So it's possible in the future we won't forecast trends as seasonally as we used to.
So we have reached an interesting time in fashion and thus the world of trend forecasting. Somewhat of a paradox. Suzi Menkes pointed this out regarding individual style stating "there is no longer a time gap between when a small segment of fashion-conscious people pick up a trend and when it is all over the sidewalks". Because of instant globalization, we are witnessing a level of sameness, whether it's on the streets, in fashion editorials and shop floors from New York to Bangkok, Paris and London. However, there are many influences seen in fashion right now and the looks can be very eclectic. I call it the "Cut & Paste" era of dragging and dropping images and mixing fashion messages. For trend forecasters, this is an exciting challenge. Of course we are very inspired by bloggers and viral phenomena on the Internet, but we also have to make sense of all of this, promote innovation and think outside of the box. Otherwise, what would be our added value?
Trend forecasting is a highly creative and intellectual field that is also very grounded in factual research and the practicalities of business. I'm a very creative person, but also very pragmatic – sometimes my left and right brain completely merge. Our role is to inspire as well as enable the right business decisions for companies navigating an extremely competitive and fast changing landscape. The design industry relies heavily on us to back up their business decisions with research and data on for example their colour choices for the next season. This could make or break their sales numbers. Although I believe we are in a highly challenging therefore thought provoking cycle, companies are still very shy about taking risks. So trend forecasters bring that extra level of confidence. Through my trend seminars and courses, it's almost like I've become a motivational speaker which is very interesting and something I didn't necessarily plan for but happened organically when I became a trend forecaster.
Here is a sneak peak at the key concepts for SS16 and early AW16/17 which Geraldine Wharry will present at her next trend forecasting seminar in our Business & IP Centre.
WARPED NATURE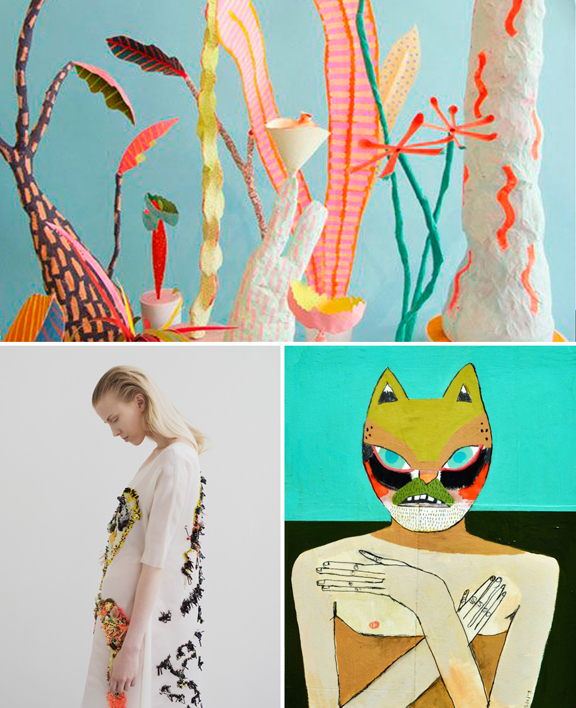 MODERN FABLES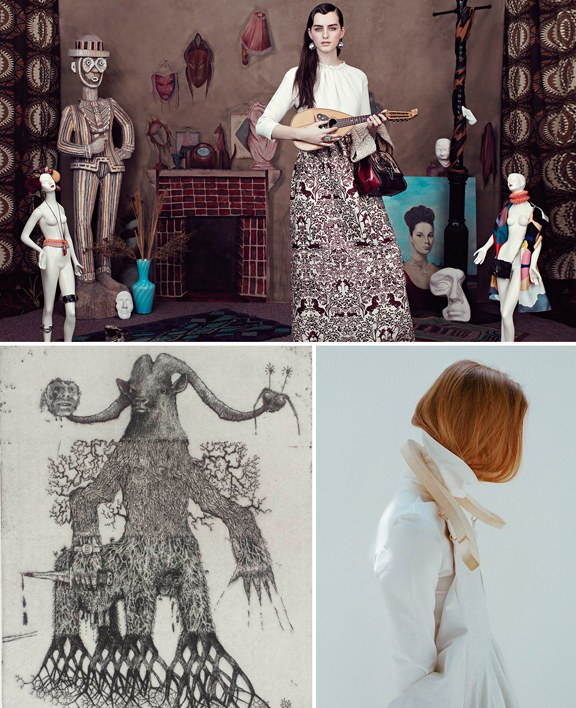 SUBVERTED CLASSICS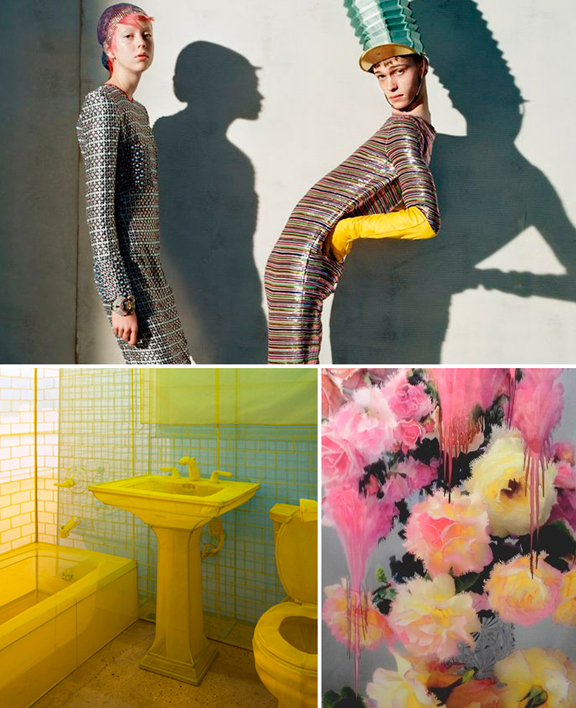 MODESTY SOLUTIONS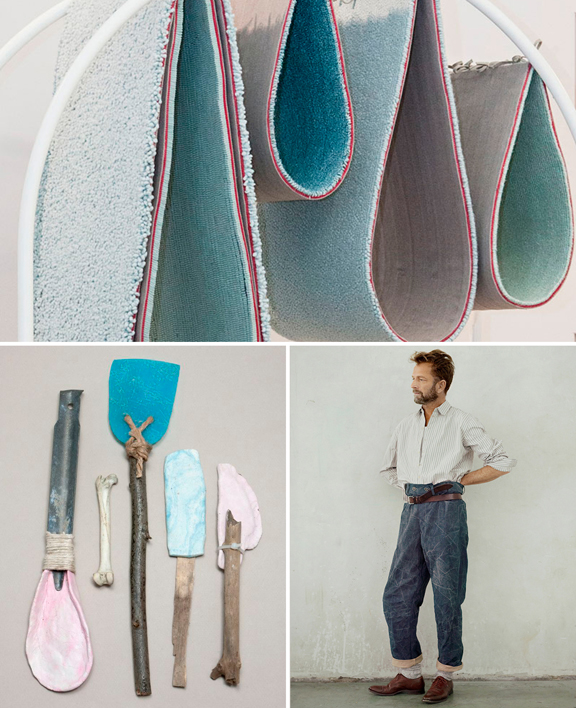 You can find out more about Geraldine on her website, blog and on Twitter.