21 November 2014
Networking across the nation
All this week we've been celebrating Global Entrepreneurship Week, which is when people and organisations around the world highlight entrepreneurship in all its forms. Did you know that the British Library at St Pancras houses a Business & IP Centre on the first floor, which has welcomed over 400,000 small businesses and entrepreneurs since it opened in 2006?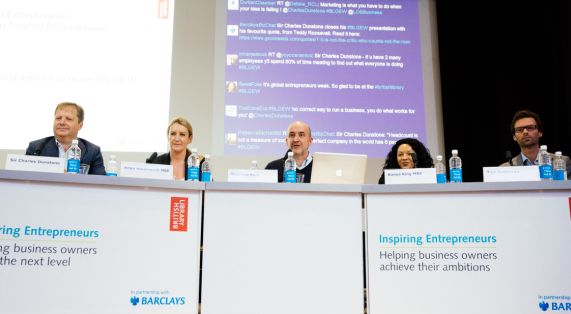 The panel at our Inspiring Entrepreneurs event on Monday 17 November, L-R: Sir Charles Dunstone, Anya Hindmarch MBE, Matthew Rock (chairing), Kanya King MBE, Tom Pellereau [photo: Luca Sage]
The theme of this year's week of events has been 'Get connected' and that's what the Business & IP Centre does every week of the year.  We act as an enterprise hub in the heart of London, which connects people to our collections, expertise, business contacts and many relevant organisations beyond the Library.
Small businesses are the backbone of the UK economy. Together they make up 99% of the 5 million businesses, and represent almost 60% of private sector employment.  However, the latest statistics show that being a start-up is a risky business, with fewer than four in ten making it past the first three years.
That's a lot of time, money and shattered dreams that could so easily have been avoided. Here at the British Library, we have demonstrated that using our information, expertise and networks can increase people's chances of setting up a successful business by a factor of four.
In the eight years since it opened, the Centre has built an excellent track record in supporting entrepreneurs and small business owners – from all walks of life – to start, and grow, their businesses. At the core of our service are the Library's world-class business and intellectual property collections, and our expertise, all of which enable enterprising individuals to research, protect, develop and commercialise their ideas in a trusted and accessible environment. The information is supplemented by free or highly discounted workshops, one-to-one advice, mentoring and networking events, delivered by Library staff and business experts.
Our most recent evaluation, conducted by Adroit Economics, showed that between April 2006 and March 2012, the Centre helped to create 2,775 businesses, of which 40% were owned by women, 29% by ethnic minority groups and 10% by people with a disability. An additional 3,345 jobs were created in new and existing businesses, and overall, these businesses increased their turnover by £153 million, which in turn made a contribution of £47.1 million in gross value added to London's economy.1
Building on this model, which was inspired by the New York Public Library's Science Industry & Business Library, the British Library is establishing a national network of co-branded centres, which takes advantage of the existing public library information services and infrastructure, including some truly iconic buildings. The network currently comprises Birmingham, Manchester, Liverpool, Newcastle, Leeds and Sheffield, all of which are part of the UK Patent Library network2, as well as 10 satellite community projects. The project was kick-started with funding from the Intellectual Property Office, the Department for Communities and Local Government and the Arts Council England.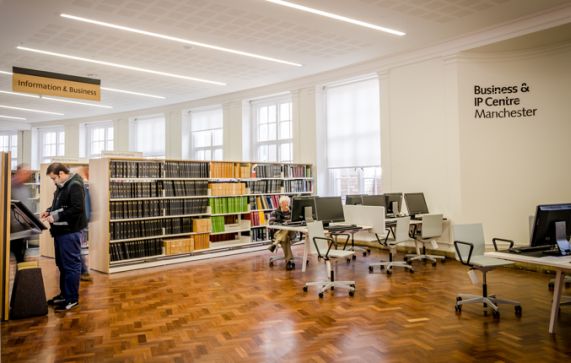 The Business & IP Centre in Manchester Central Library, part of the growing national network of co-branded centres
The national network has also attracted support from the private sector and in March last year, we signed a partnership agreement with Barclays to roll out our flagship Inspiring Entrepreneurs events programme, with a combination of live screenings and local events in each partner city library, as well as live webcasting to a national and international audience. This includes 'Question Time for Entrepreneurs', which took place on Monday and featured a stellar panel of role model entrepreneurs, comprising Sir Charles Dunstone, founder of Carphone Warehouse, Kanya King MBE, founder of the Mobo Awards, Anya Hindmarch MBE,  founder of the eponymous luxury handbag brand and Tom Pellereau, one of Lord Sugar's 'apprentices' who has launched a successful nail care range. 
While libraries are more often associated with books than business, this project is unlocking the potential of city and community libraries to support innovation and job creation in their local economies. Further, each library is sharing knowhow and expertise in order to build the network's services and keep abreast of developments; for example, some libraries are incorporating incubation and 'maker spaces', with 3D printers and other equipment to facilitate prototyping and desktop manufacturing.
Our vision is that, by 2020, there will exist a network of co-branded centres throughout the UK, where face-to-face support will be backed up by webinars, webcasts and one-to-one advice via Skype. The centres will be the 'front door' to trusted, face-to-face business support, and an essential part of the local growth hubs, which are being established across the country. Entrepreneurs and small businesses will be able to access critical business and intellectual property information, as well as a proven and consistent quality of service – with a local twist – right across the UK.  That's what I call getting connected!
Isabel Oswell
Head of Business Audiences
1. Source: Adroit Economics, based on Seven Up Census, April 2012
2. There are 13 Patent Libraries (PATLIBs) in the UK, which are coordinated by the Intellectual Property Office and provide users with local access to information and advice on patents, trademarks, designs and copyright.