20 March 2015
#ShareMyThesis winners announced
Dinosaurs, pirates, education and energy – these were just some of the topics covered by entries to our #ShareMyThesis competition launched in January 2015. The British Library and our partners Research Councils UK and Vitae challenged PhD students past and present to summarize why their PhD research was important in a single tweet of 140 characters or less. Today we announced the winners: 1st place was awarded to Sarah Wiseman from UCL whose research into number entry errors was summarised in the following tweet: "Typing numbers wrongly in hospitals can kill people. Understanding why it happens can help design better systems and stop it!"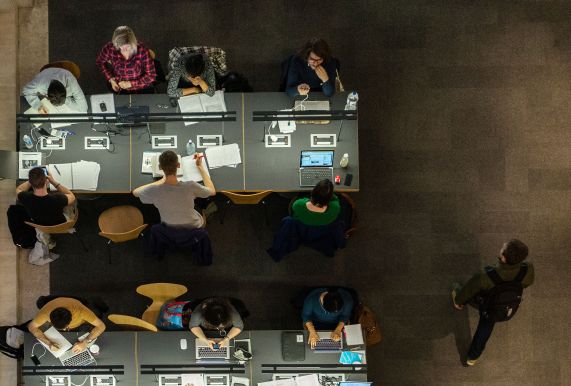 Researchers at St Pancras. Photo by Tony Antoniou.
Researchers are increasingly required to communicate their research succinctly and clearly to non-specialist audiences - a skill that the British Library strongly values. Challenging our entrants to condense four years of hard work into a single tweet took this to the extreme but the best of them managed to successfully convey the value of their work within the 140 character limit.
One of the aims of the #ShareMyThesis competition was to highlight the range of PhD research from around the globe and we think it did just that. We received nearly 2000 tweets from as far afield as Brazil, covering subjects from asteroids to Zionism, far exceeding our expectations. After whittling down the 2000 entries, we invited the people who submitted the eight best original tweets to write a 600 word article, elaborating on their tweet and explaining why their research is important. Our panel of judges then decided on their three favourites, which you can read here.
One of the core purposes of the British Library's recently-launched strategy is to "support and stimulate research of all kinds"; producers and users of PhD theses are, therefore, significant audiences. As the provider of the electronic thesis service EThOS, we offer access to over 380,000 PhD theses from across the UK. However, our own work has shown that users under-estimate the value of the PhD thesis in comparison with other more formally published research outputs such as journal articles or books. By asking researchers to tweet why their research is important we wanted to showcase the fantastic and original research that happens during the course of a doctorate and shed light on the wealth of unpublished information available for use. Additionally, we wanted to raise awareness of the EThOS service, which can be accessed online, from anywhere in the world, making it a particularly valuable tool for contemporary researchers. Those who use it find it incredibly useful but we know that there are still researchers who do not (yet!) know it exists.
If you have a spare half hour I recommend taking a look back through the #ShareMyThesis tweets. The entries give a real sense of the diversity of PhD research that is going on and offers a window into their wider impact. But what is most apparent is that, despite their brevity, these tweets reveal the researchers' infectious enthusiasm and passion for their research topic.
Dr Katie Howe
Research Engagement Manager - Science, Technology and Medicine