16 June 2015
20 millionth item ordered into the Reading Rooms
The British Library recently achieved a remarkable milestone: just before Easter, the 20 millionth collection item was ordered and delivered via our automated book retrieval system (ABRS) to a Reader at St Pancras.
The ABRS has been the backbone of our ordering and retrieval operations since the Reading Rooms opened in 1997, and helps ensure that we deliver hundreds of thousands of collection items every year within 70 minutes (for items held on-site). It also enables orders from our Boston Spa site in West Yorkshire, including collections held in the Additional Storage Building and the National Newspaper Building, which are delivered to Readers within 48 hours.
The 20 millionth item was Nineteenth-century painters and painting by Geraldine Norman (shelfmark: q78/1657) and was ordered into Humanities 1 by Dr Amelia Yeates, Senior Lecturer Art History at Liverpool Hope University.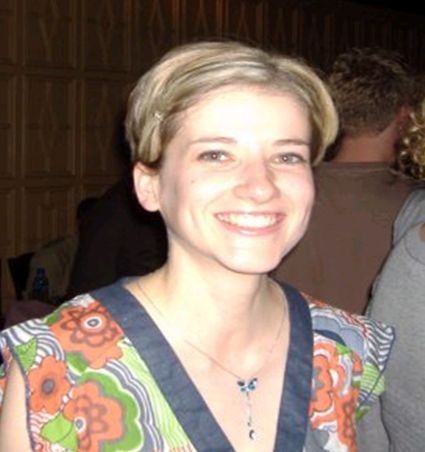 Dr Amelia Yeates, Senior Lecturer Art History at Liverpool Hope University, who requested the 20 millionth item into the British Library Reading Rooms at St Pancras.
Dr Yeates has been using the Library for more than 10 years. Her main research interest is nineteenth-century British art and she is co-editor of Pre-Raphaelite Masculinities: Constructions of Masculinity in Art and Literature with Serena Trowbridge (Ashgate 2014).
"I'm thrilled to have made the 20 millionth request," said Dr Yeates. "I've been coming to the BL since I was a doctoral student and use the reading rooms for primary, secondary and reference sources that aren't easily accessible at other libraries. I like the BL because of the ease of accessing so many sources – many of which are unavailable elsewhere. I also like the environment in the reading rooms and convenient location of the St Pancras building."
The first ever Reader request satisfied by ABRS was for Les paysans de Languedoc by Emmanuel Le Roy Ladurie, which was supplied on 24 November 1997, shortly after the building went into service.
Last year the ABRS enabled 1,278,988 requests to Reading Rooms ranging from Asian & African Studies to the Business & IP Centre. The largest number of requests (452,721) was ordered to Rare Books and Music.
A 10-minute video clip of requests received in real time by the automated book retrieval system (ABRS).
As described in our vision for the Library to 2023, Living Knowledge, we will ensure that our on-site facilities and Reading Rooms continue to keep pace with the changing needs of researchers. While protecting the unique spaces that our Reading Rooms offer, we're also looking at facilitating new, more collaborative ways of working, opening up research spaces that allow different types of study – as can be seen already in the Newsroom.
Jerry Shillito
Head of Reader and Reference Services