Opening up the Library through international fellowships
The British Library's collections tell a tale of global culture, in all its forms, from many perspectives. Our international engagement work, a key part of our Living Knowledge vision, aims to make these collections available to as many people as possible, anywhere in the world.
This week, in the latest step to deepen that engagement, we're entering a new partnership that will bring talented scholars and professionals from Asia and Africa to work with us at the Library in London.
This agreement marks the first time a cultural institution has teamed up with Chevening, the UK government's international awards scheme aimed at developing global leaders. This unique partnership will provide one-year professional placements at the British Library between 2016 and 2019. The first applications are open today, and successful scholars will start next September.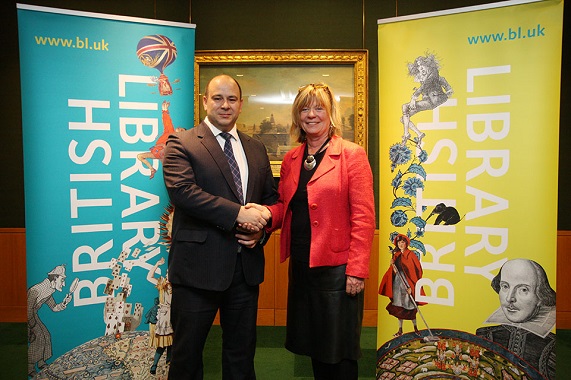 Tom Carney (Head of Campaigns and Evaluation at the FCO) and Jude England (Head of Research Engagement, British Library) after signing the partnership agreement.
The Chevening programme, which is funded by the Foreign and Commonwealth Office, gives outstanding scholars with leadership potential from around the world the chance to study or research at UK universities or institutions. There are some 44,000 Chevening alumni worldwide, a huge social and professional network which crosses continents, languages and professions.
We're offering two fellowships at the Library in 2016. One post will focus on our South Asian news and media collection, working with our Asian and African Collections team to assess both historical and contemporary news, and help decide how to manage and develop the collection in the long term. The other fellow will work on a research project looking at how developments in open data, which is changing the way we create and use research, might benefit libraries across the world. Both fellowships are open to candidates from Africa and South Asia – click the link at the bottom of this post for more details.
The new fellowships will capitalise on the unparalleled breadth and depth of the Library's collections, as well as the expertise of our staff. They will enable new types of research, inform our strategy for the long term, and help grow our visibility with young professionals from around the world.  We hope that the Chevening-BL Professional Fellowship Programme will build a community of fellows who will be ambassadors for the value of professional development at the British Library.
I've been co-ordinating the Library's work on this partnership, but it has been a real team effort over the last eight months to bring everything together. It wouldn't have been possible without the support of colleagues in our Collections, Higher Education, HR, Communications and Legal teams, and our Head of Research Engagement Jude England, who signed the agreement with Chevening yesterday. We're very grateful to our counterparts at Chevening and the Foreign Office, too, for all their work to make this happen. 
Applications are open until 10 February 2016. If you're interested in applying or would like to find out more, visit the British Library's profile on the Chevening website.
Allan Sudlow
Head of Research Development